Teen Mom
Jenelle Evans Says Relationship With Mom Barbara 'Out the Window' After David Eason Abuse Allegation!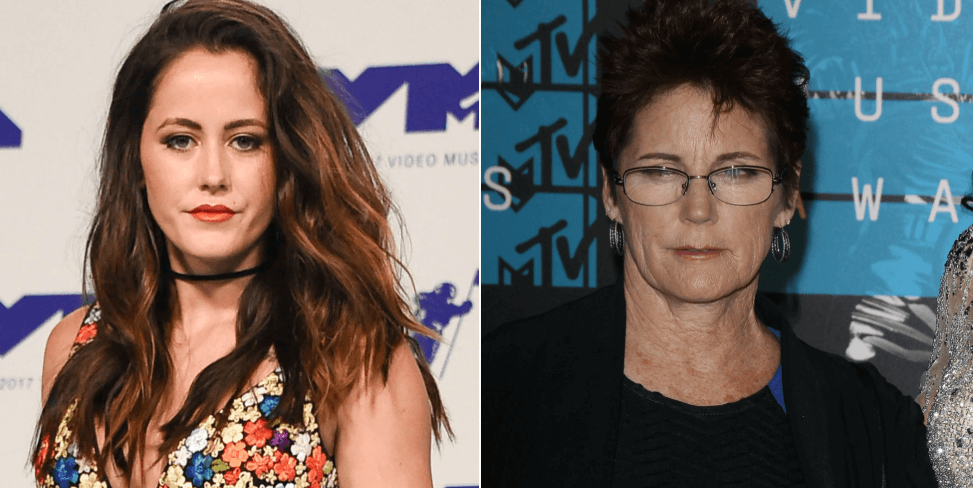 Jenelle Evans is fading herself into black, in an ongoing struggle to hang onto her MTV star.
Jenelle's mom, Barbara Evans, spoke out about her daughter's tumultuous marriage to David Eason on Monday night's episode of Teen Mom 2, and Jenelle did not appreciate the diss.
Barbara spoke to a member of the security crew during the episode, and shared that she believed that Eason was "hurting [Jenelle] and keeping her a prisoner." Barbara's comments followed an aired 911 call, where Jenelle is heard crying for help, accusing her husband of physically assault.
"My husband, he assaulted me. He pinned me down on the ground in the yard. I think I heard my f*cking collarbone crack. I can't move my arm. … All I know is that my collarbone hurts so bad," Jenelle cried in the October call.
Jenelle brushed off the incident as a "drunk misunderstanding." Barbara explained that she accepted her explanation to keep the lines of communication open.
Jenelle sent producers text messages during Monday's episode, ordering them to leave her alone, after her husband refused to leave her side so she could film. 
"She's mad because David was fired from MTV," Barbara told producers. "Why are you blaming the whole world for that? It's nobody's fault but his own. I think it's the call, and now people are calling her out on it and people are saying what happened and she doesn't know how to turn that around."
Jenelle Evans took to her Instagram story to sound off about her mother's comments — sharing her thoughts on a blank black screen. 
"Well there goes me and mom moms (sic) relationship once again. #OutTheWindow."
Jenelle and Barbara made amends after MTV fired Eason for posting homophobic social media comments, last year. Jenelle claimed that a common concern for her son, Kaiser, amid a contentious custody battle with the four-year-old's father, Nathan Griffith, brought them back together. The restored mother/daughter relationship allowed key filming opportunities, in the wake of MTV freezing out the reality mom's problematic husband.
"Maybe she needs to lose everything. Maybe if she loses everything, she can walk away from him," Barbara said about Jenelle's decision to shut out MTV cameras.
How do you think MTV will handle Jenelle Evans' latest tantrum? Watch Teen Mom 2, Monday nights at 9 pm, ET, on MTV.
"Like" us on Facebook  "Follow" us on Twitter and on Instagram