Sister Wives
RECAP: Meri Brown Revisits Catfish Scandal On 'Sister Wives' Season 13 Premiere!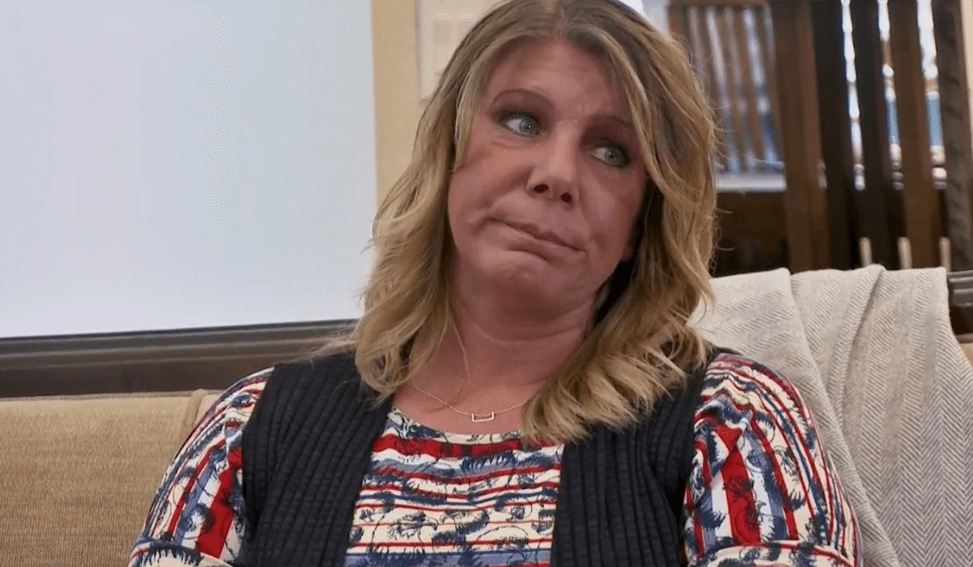 Sister Wives begins with an exhausted rewind of Meri Brown's intimate tangle with an online catfish. Meri and Mariah are still gutted by the fallout — and even though Mariah claims that she's over it, Meri doesn't believe her. The family powwows to decide if they've officially weathered the storm. But not so fast, because Meri has unearthed another catfished casualty to keep her harrowing victimhood alive.
Janelle, Christine and Robyn stifle tired eye-rolls — but agree to tolerate Meri's new sob sister. Kody Brown makes his debut rocking a cringeworthy perm.
We catch up with Maddie, Caleb, and baby Axel —who are prepping to move out of Janelle's home into their very own place down the street. Janelle calls dibs on hosting all terrifying home births, and Kody begins dropping hints about getting the heck out of Vegas.
RELATED: Meri Brown Reveals in Season 7 Tell-All The Reason She Said 'Love You' to Her Catfisher 
Meri reminds us that she's obnoxiously obsessed over buying an old family property in Utah, and Kody reminds us that they can barely stand the sight of each other. Meri needs a ginormous downpayment to score her getaway pad, so it's decided that she will get her home appraised to see if she can cash in on wet bar equity.
Kody Brown and Meri swap jabs about her cul-de-sac security, and Meri warns that they better cover her McMansion, or else. Meri later shares the joyous news of her loan approval, and puts in a request for a bag of cash for the downpayment. She has hawked enough tunics to save up $40k, but needs the family to match the figure. Kody offers to provide the cash from a side biz, and Christine pushes Meri to produce a business plan. Meri wants them to just hand over their money, not boss her around in her new life. Kody is nervous, but would love to see Meri happy — preferably in Utah.
We next meet Kristie — yet another duped mark of Oklahoma Sam. Meri  believes that she needs to further ram her innocently scarred heart down the clan's throat, so the adults gather for dinner to hear the latest horror show of online woe. Meri adores being a victim — and Kristie is happy to be part of the TLC party. Sam gets a fourth season shout-out, as Kristie shares the messy details of their online romance. Kristie weaves a tale involving colored shirts, sexy manipulation, and other sordid details.
She reveals that the real female identity actually stayed in her home, and that she exposed her children to the sicko. The family politely listens to her story, while trying to stay awake. Kristie rambles on and on, surely giving her relevance starved internet ex quite a thrill. Kody, who's sporting an edgy man bun, presses Meri for details about received "threats" from Sam, but Meri snottily dismisses his question. Meri admits that she's haunted by banana nightmares, but hopes that talking about it endlessly will help others. She assures the audience that she doesn't like her "situation" — aka her never-ending emotional swim with Catfish Sam. You could've fooled me.
Kody and Christine catch us up with Ysabel's scoliosis struggle, and remind us of their goal to dodge surgery with wonky alternative therapies. They visit a doc for an update, and learn that their daughter's curve is progressing. The doctor quietly implies that he believes that the family has been snookered by shysters selling false hope. Everyone knows that the sweet young lady is likely headed for surgery.
Kody and the gals next hold a covert meeting, to strategize how to break it to Mare that the bag of cash is a no-go budget buster. Kody bragged a good game, but this cult's got bills. Kody gently breaks the bad news, and Meri doesn't take it well. She's bugged that she wasn't included in the secret meeting, and annoyed that taxes, tuition and mock groceries are stealing her dream. Kody points out that she hasn't formulated a business plan, but Meri wants the nosy mob to butt out of her biz.
Meri's walls are up — and the tension is real. The ladies don't understand why they cannot be considered investors, and Kody thinks that the crazy venture is selfish. Meri is holding in her rage, but almost blows when the family questions her mother's freeloading strategy. They bicker over details until Kody storms out, overwhelmed by the plural stupidity. Meri finally breaks down and admits that she's clueless — as if they all couldn't tell. The ladies are kind and supportive, and all agree that Kody is the worst when he puts college expenses over impractical passions. Kody talks hardcore financial common sense, and wonders if Meri will ever step away from her own mirror.
A relocation, a wedding, and Kody in a kilt are still to come on Sister Wives — don't miss the polygamous fun!
"Like" us on Facebook  "Follow" us on Twitter and on Instagram