RECAP: 'Married To Medicine' Reunion Shocker — Quad Was Homeless and Living In Her Car!
Happy New Year! Welcome back to the Married to Medicine Reunion Hour Two — as they are now calling it. Just a quick reminder where we left off on account of Part one (or hour one) was last year and also because Bravo keeps moving this show around like musical chairs.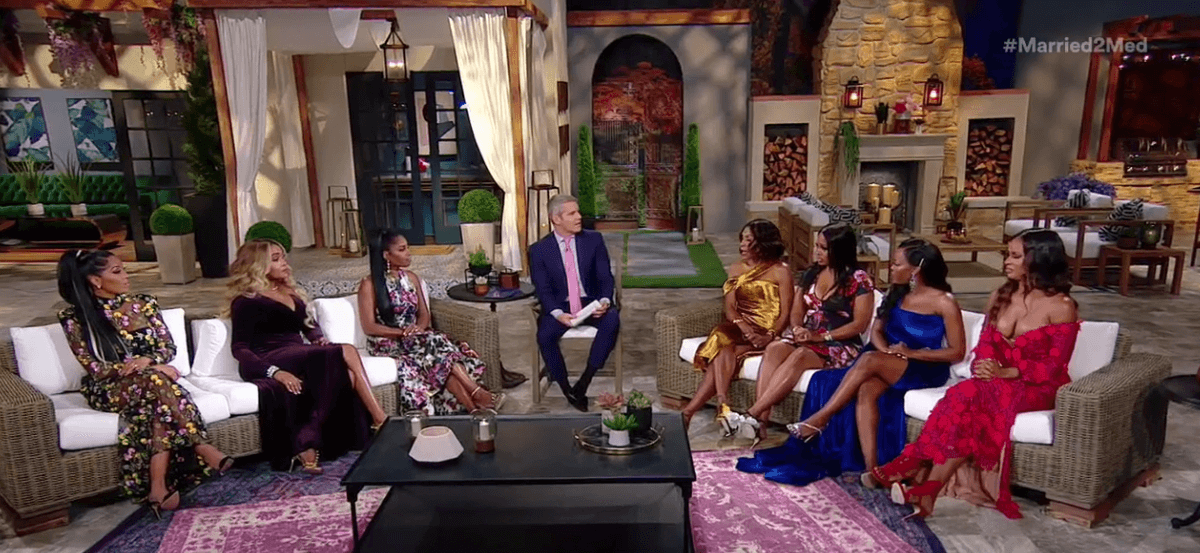 Mariah Huq and Quad Webb-Lunceford are squaring off about Quad sleeping with Mariah's brother-in-law back in the day. Mariah explains the proof was witnessing Quad wearing her sister's husband's tee-shirt while in her home and his stack of business cards laying on the counter. Quad accuses Mariah of drug use and selling out anyone who gets in her way. Mariah denies this and claps back with, "Why are you even here, you're not married to medicine, my love!"

Host, Andy Cohen, is confused and wants to move on. Dr. Aydin Huq is pacing from the sidelines. And Toya Bush-Harris wants cocktails. Oh, yes, Toya, that's what everyone needs, liquid courage. Andy gives up and calls for a break.
Backstage Dr. Aydin is about to have an aneurism. Mariah does her best to calm him down, but he doesn't like how his family is getting trashed by a woman that he took in when she was homeless and gave a job. The other ladies also discuss what is going on. Things are not only getting crazy, but they are getting CRAZY.
Back from break, Andy bring up the receipts Mariah has on Damon Kimes. He asks if anyone has seen Mariah's receipts. No one has, but Toya says things have been insinuated to her. Andy asks Mariah if she said Damon cheated because she doesn't like how Heavenly Kimes attacks her mama. Hey Andy, it's Yo Mama, get it right. Mariah apologizes and says she doesn't want to go down that path. Andy asks why Heavenly can't get it through her thick head not to involve mothers — especially since this was explained to her last year. Heavenly says she has no respect for Mariah, but she does respect "COONtessa."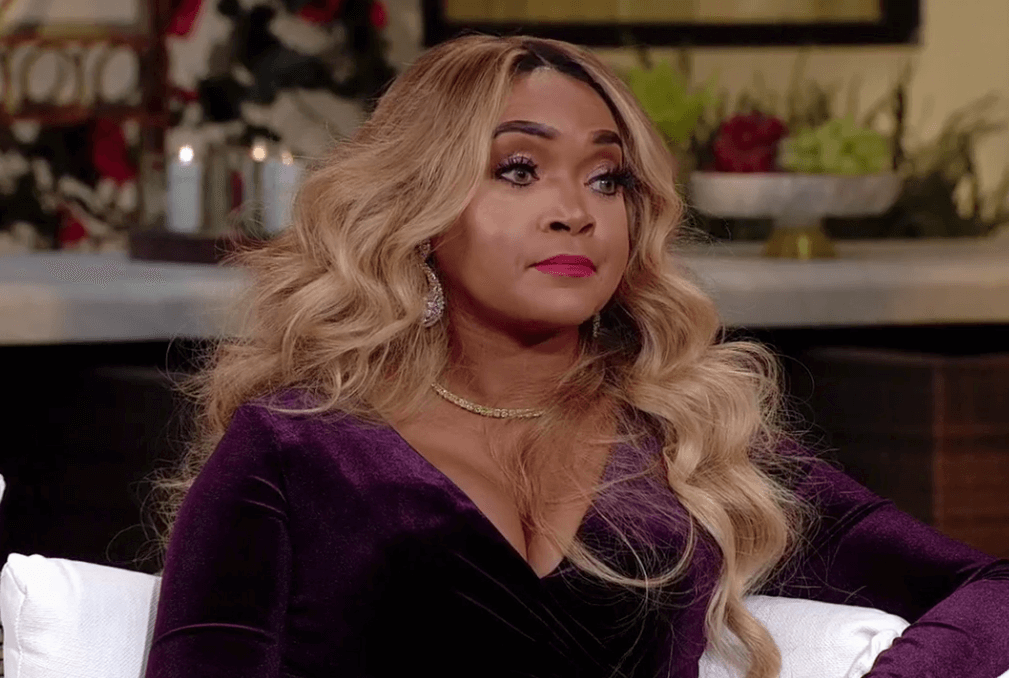 Andy mentions Mariah breaking the glass in Antigua. Mariah says the damn glass was thin, but takes full responsibility for her strength and apologizes. Heavenly and Mariah agree they are done with public fighting especially since their husbands had to get involved.
Flashbacks are shown of the women having fun and getting along (for once). Andy asks who is the shadiest of the group and it's a tie between Jackie Walters and Heavenly. A viewer called Jackie the "low-key assassin." That's a compliment with this group. Quad opens up about her sex drawer and says she has "beads that go in a special place" and rabbits and bullets and she is fully sticked – oops, I mean – stocked. Toya has a sex pillow and will school the girls next time they come over.
Andy calls for another break, but the cameras switch to Dr. Gregory Lunceford arrival backstage with the men. Dr. G says the reason he's there is to defend his position of cheating. Good luck with that one. Cecil asks that Dr. G not let his soft side come out.
Next flashbacks that include AllAboutTheTEA.com's article titled, "Quad Webb-Lunceford Files for Divorce Amid Cheating Allegations!" is shown. The ladies were upset that they had to read about Quad's life from the blogs. Quad explains how dark and toxic her marriage became after the end of last season. Andy says there were two big revelations last year. One was Simone's marriage, the other was Quad's. Andy says the difference was Simone leaned on her friends and Quad did not. But, hey, when you're the star of the show, as Quad claimed she was, it's often lonely at the top.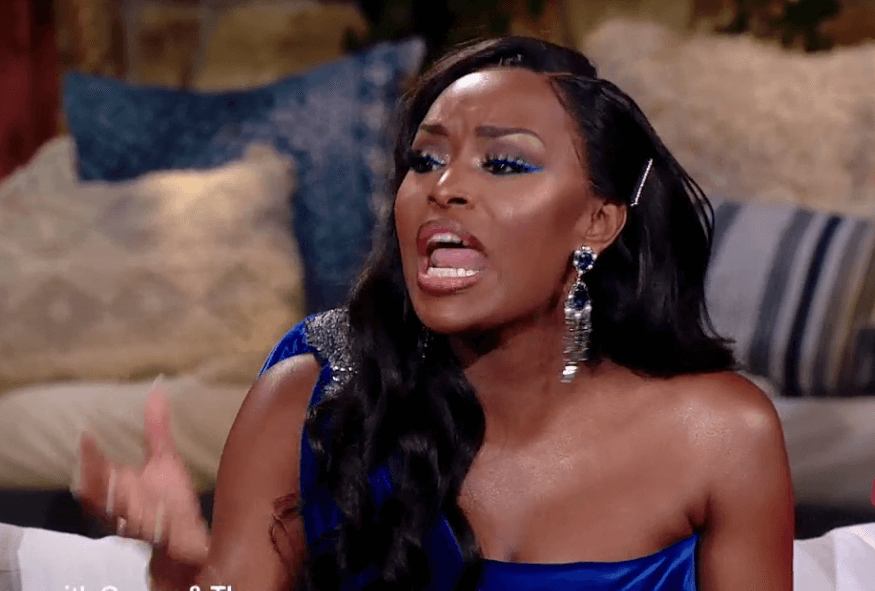 Next up, Toya explains that men aren't as committed to a marriage like women, and when they don't get what they want, they will stray. Yowza, Toya. Glad you're not a therapist. Andy admits that men just follow their dicks around. Wow! Glad he's not one, too. Then Toya explains why single women shouldn't go on a couples' trips – because they're single. Quad says she wants to continue to be on the show learn from her friends and would someday like to marry again.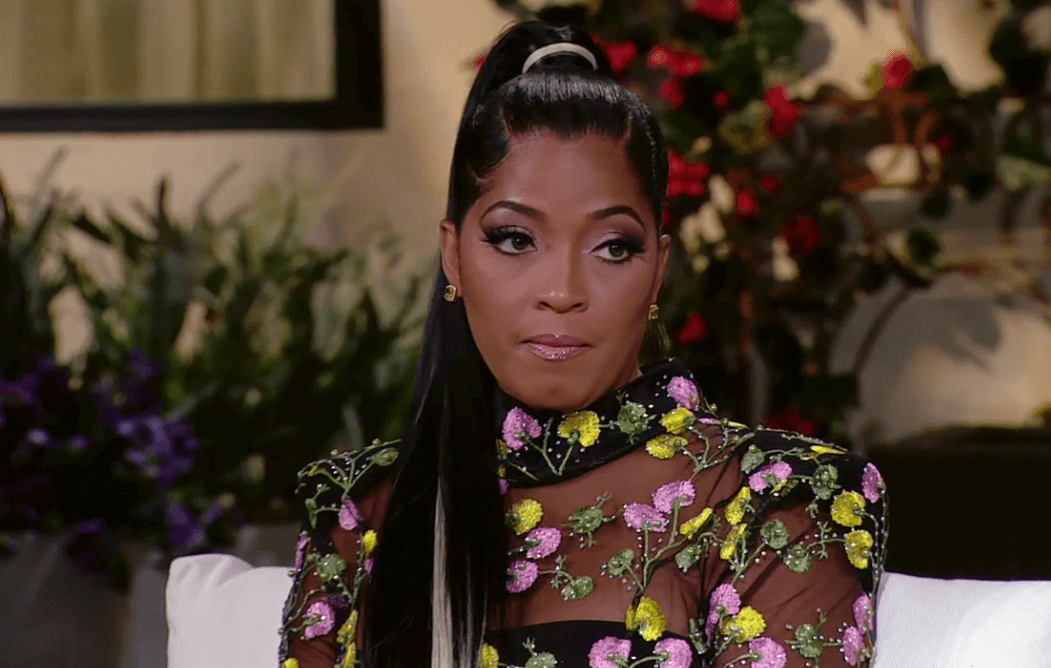 And now, for our viewing pleasure, here come the men and out go the women. Flashbacks are shown of their bro-time. Greg says it was weird watching the season without being a part of it. Cecil says one year later, he and Simone are back on track. Same with Curtis and Jackie. Damon says he was really hurt when Mariah accused him of cheating because he's always been nice to her. Aydin explains that Mariah was pushed to say that Damon was a cheater because of Heavenly's relentless attacks on his mother-in-law. And Scott says he didn't know the rules about not intervening when the ladies are fighting, but he knows now.
Dr. Greg tells Andy that when he left last year he thought his marriage could be saved. The guys discuss that they don't take sides, but they do have to pick who to invite to their events. Eugene says, call it what you want, it's still picking sides. Andy asks Greg what he hopes to get out of their meeting when he and Quad have a sit down. Greg hopes for truth and peace. And a shovel to scrape him off the sofa.
The men-folk leave and join the women backstage. It's time for the two-on-one with Quad, Greg and Andy. Andy begins with a very somber tone and asks the exes how it feels to be face to face after all these months. They do not answer because this is the end of Hour Two. However, a sneak peek is shown of next week and Quad says she knew Greg was cheating because he couldn't get an erection with her. Dayum! You know they have pills for that, right? Doctor heal thyself!
Tune in next time for Hour Three of Married to Medicine. Hopefully Bravo doesn't change the night yet again.
"Like" us on Facebook  "Follow" us on Twitter and on Instagram 
I am so lucky to combine blogging with my guilty pleasure of watching reality TV. I read all the comments and respond to most. Feel free to reach out to me. If you like fiction, I have two published novels: Three Days in Purgatory and A Reason to Run.