RECAP: Steven Drops A Bombshell About Olga's Visa Application On '90 Day Fiance'
Wedding bells are ringing on 90 Day Fiance — which couples will say I do — and who will run for the hills? 
Eric Rosenbrook and Leida Margaretha
Eric and Leida's wedding is only days away. Eric is determined to prove his devotion to his bride — even if that means kicking his kids to the curb. Leida doesn't care one way or the other about the throwaways, but Eric is feeling pangs of guilty remorse. He meets up with his kiddos to hash it out, and his youngest delivers a snarky reenactment, directly to the camera. Eric tries to smooth things over with Tasha — who isn't buying his cowardly excuses. She nails him for choosing Leida over his kids — and Eric agrees that he's sick and tired of putting the children first.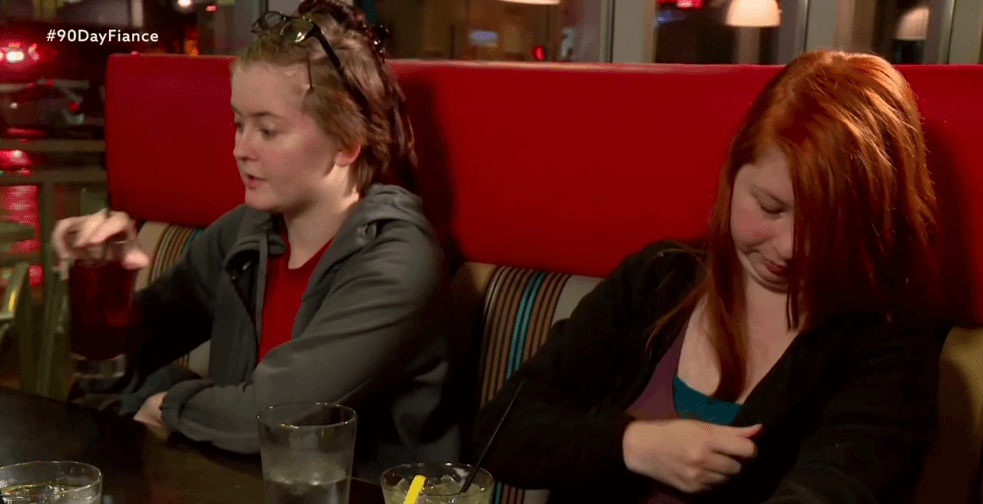 This is his last shot at love, and Eric wants his disgusted girls to witness his joy. Tasha doesn't want to fake it, but Eric hopes that they will embrace their inner runner-up and make an appearance at the wedding. Leida later meets with a makeup pro for a wedding day dry run, because she can't fly her glam squad all the way from Indonesia. Leida is thrilled to have a new bestie, so she spills her guts to a complete stranger. The artist plays along, prompting Leida to dish the dirt on her doomed relationship. Eric later declares that the rift with his children deserves a second looksie, backtracking on his priority promise. He  reiterates that he wants Tasha at the wedding, so Leida delivers another hollow promise to vacate America. Leida finally agrees to lay off the witchy stepmother routine long enough to get through her vows.
Steven Frend and Olga Koshimbetova
Olga is being put through an anxious hell, because Steven is threatening to take their baby to America—perhaps in cooperation with an extra horrifying TLC storyline. Olga checks in with childhood friend, Anna, and shares her concern over Steven's grabby motives. Anna wants to know if Steven even applied for Olga's visa — and rightfully does not trust him. Olga is worried as well, and wonders if Steven came to Russia for only one reason — to snatch his son from her uterus.
Steven later informs her that he lied about applying for the K-1 Visa — surprising no one but Olga. Steven filed paperwork in Russia, not months before in America — and admits that his boldface lie was wrong. He finally declares that Richie's place is with his mother, and encourages Olga to hang in there with his repulsive personality. He wrecks his humble streak by proudly dropping to one knee and proposing. Olga is strangely thrilled to have an official ring on it.
Kalani Faagata and Asuelu Pulaa
Kalani and Asuelu are back in California for their wedding, the ceremony set to take place on a boat. Lots of details need to be nailed down, including keeping their new pregnancy a secret from Kalani's cranky clan. Kalani later gets a pre-wedding mani/pedi with her mom and sis, and feels awkward because her harshest critic, Lini, is in the dark about her latest oven bun. A bachelorette party is planned for that evening, and Kalani must stay sober and not raise eyebrows. Kalani shares some laughs with her galpals at the bachelorette bash, before stealing her sis away to break the big news. She drops the baby bomb, and Lini turns on the high drama waterworks. She runs down the reasons why another baby is a dumb idea, as if Kalani isn't aware that's she's a careless twit. Kalani is up to speed on her stupidity, but just hopes that her bonehead boink doesn't ruin her wedding.
Jonathan Rivera and Fernanda Flores
Jonathan and Fernanda are in post-battle mode, recovering from Fernanda's latest teen-beat meltdown. Fernanda was incensed that Jonathan stayed out past curfew, and later decided to pen a letter to express her hyperactive feelings. She reads a tearful apology, and Jonathan tries to understand her side of the conflict. They conclude that Jonathan will jump whenever Fernanda yips, and everyone is happy. No story here — as usual.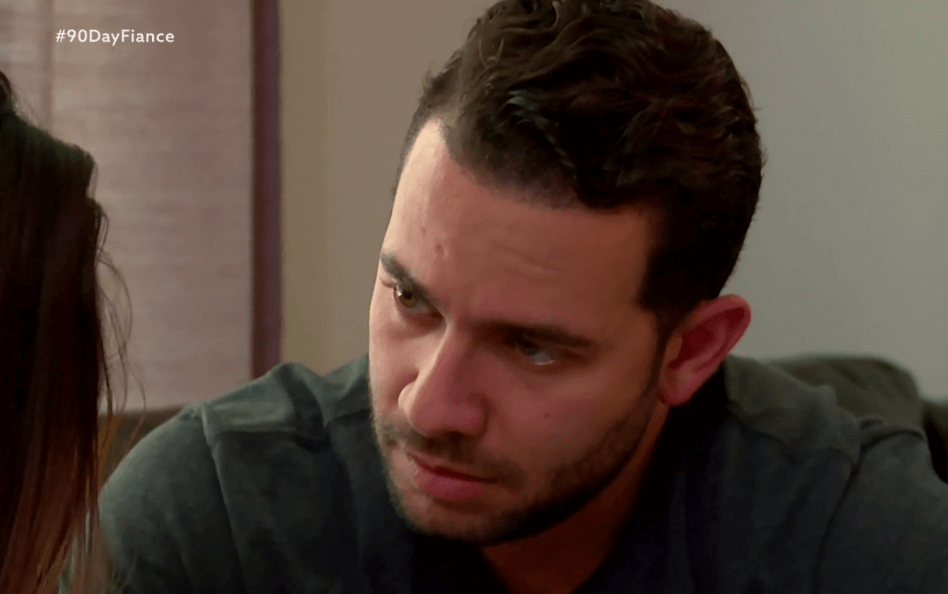 Ashley Martson and Conroy "Jay" Smith
Ashley and Jay are ready to tie the knot Elvis style, and their story begins with Jay casually wondering if a man-whore can successfully commit to one woman. Ashley is bummed that she has no friends by her side, and shares doubts about their shot at faithful wedded bliss. An Elvis knockoff performs the ceremony, an amusing 90 Day first. The ceremony is kitschy and silly, but the duo is happy and seemingly in love.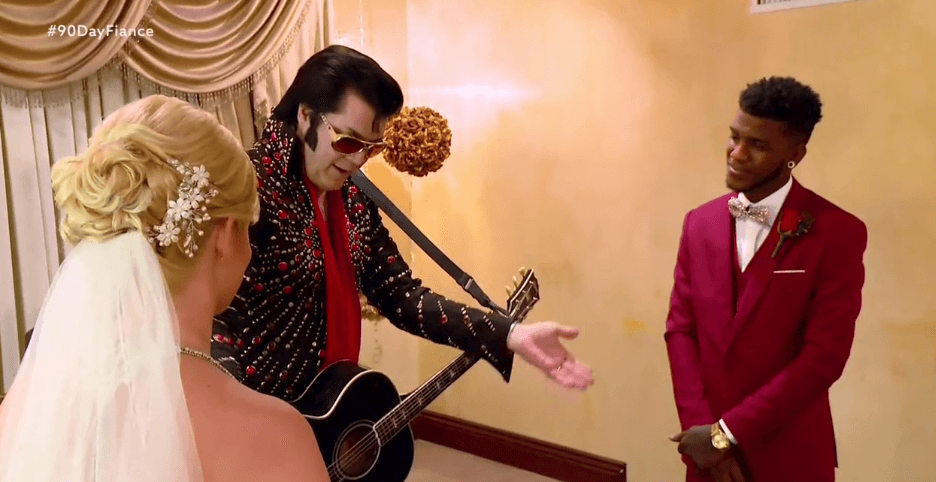 Ashley knows that she may have legally snagged a dirty dog — but is willing to take the risk. One week after the wedding, Ashley reveals that she discovered that Jay had been prowling Tinder for hookups. Jay is busted for trolling for internet love, his account date proving that he couldn't last two days as a faithful spouse. Ashley booted his butt out, and admits that she's been a dumbass for ignoring the obvious.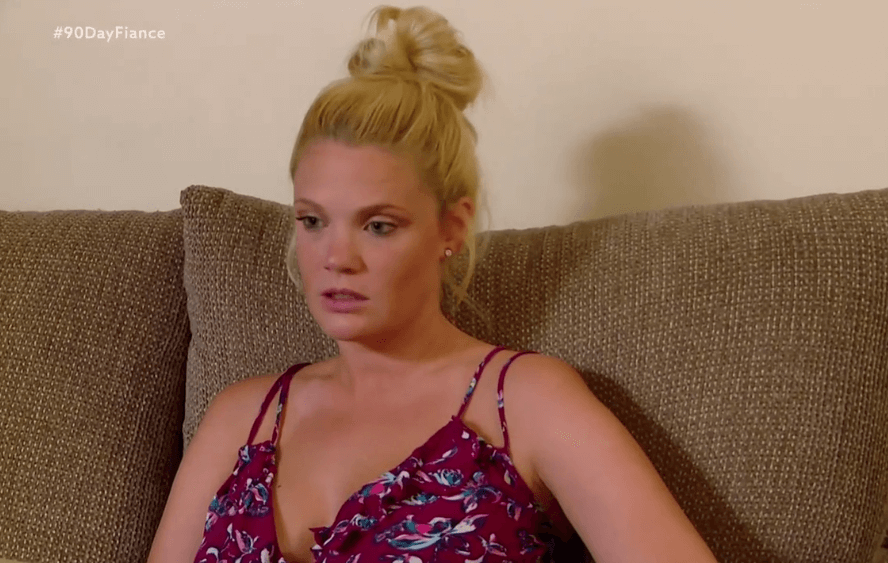 On a brighter note, we learn that Ashley and Natalie made up — because in the end, Natalie's ranting door buster was spot on. Jay enters Ashley's interview dish right on cue — just before the episode ends.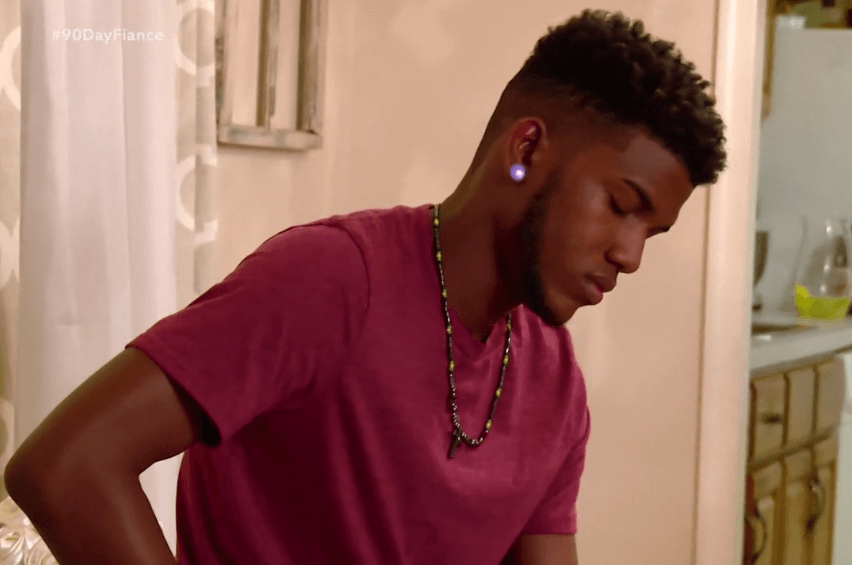 Colt Johnson and Larissa Dos Santos Lima
Colt and Larissa's wedding is only two weeks away, and Colt is impressed that his bride has kept a lid on it for a few days. Mama Deb isn't so enamored, and has remained silent since the barbecue blowout. Colt tries to talk Deb into playing nice, but she reminds her precious boy that Larissa is the worst, and mouthy as well. Deb finally dishes her real thoughts — secretly hissing that her future daughter-in-law is a legit bitch.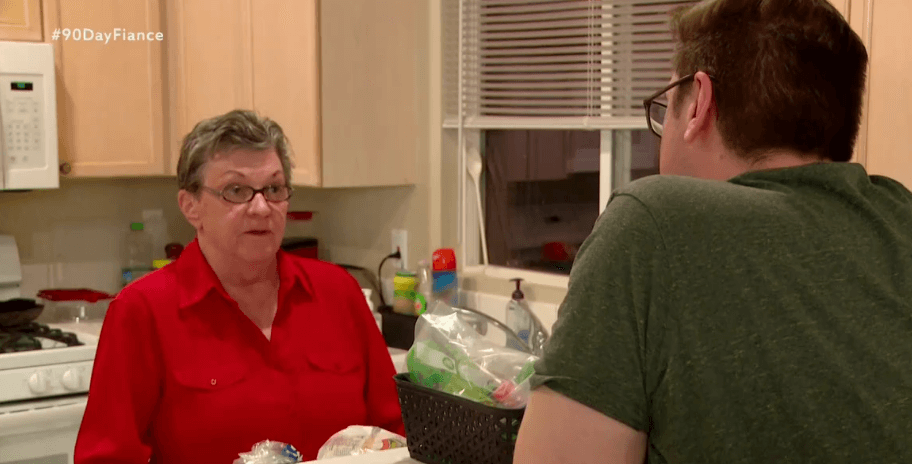 Larissa and Deb later suck it up for a mother/daughter manicure session, spilling their relationship woes to the nail pros. They both admit regrets, and agree to try and be friends. The duo swaps quips about dreamboat Colt, and Deb is encouraged that this unavoidable relationship is looking up.
Next week on 90 Day Fiance — Jay digs his cheating heels further into American soil. 
"Like" us on Facebook  "Follow" us on Twitter and on Instagram 
Becca is a Senior Editor for All About The Tea. She's a coastal girl who loves the outdoors, and writing about the sneaky and silly side of reality TV. Her bio is short, but her snark is endless. She loves writing for the sharpest posters in the world.