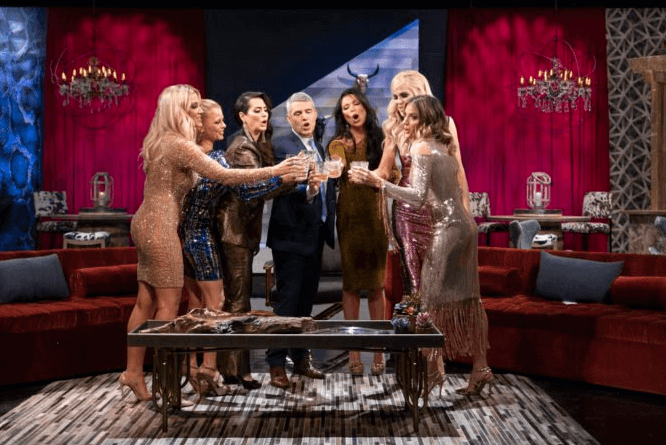 Real Housewives of Dallas Recap!
The Real Housewives of Dallas wrapped Wednesday night, and part two of the reunion series did not disappoint. It was a good ole time — peppered with accusations of lies, puppets/puppet masters, and Mama Dee joins the stage!
The reunion opens with D'Andra Simmons and Kameron Westcott sparring over the dark underbelly of Dallas high society — host Andy Cohen, describes the trials and tribulations of growing up privileged as "Pine Valley."
D'Andra swears she hates the culture and does not want to be held to the standards of high society. Kam says she has high standards for herself and she's sorry that others may not. D'Andra then accuses Kam of being LeeAnne's friend out of fear — and most are terrified of LeeAnne.
The convo volleys back and forth and lands back on the topic of high society. D'Andra, who claimed earlier to not care about society tells LeeAnne to zip it because she's not a part of Dallas high society, to which Cary Deuber reminds D'Andra she just said that she could care less about it.
D'Andra tells Kam that she married into the elite community and wasn't born into it (side note: neither was D'Andra). Kam corrects D'Andra and sets the record straight, "What am I from the ghetto or something? I grew up in Montecito!"
Blather about LeeAnne's concerns over D'Andra's out-of-control drinking is revisited. This prompts D'Andra to share she's a former addict, who did a stint in rehab for cocaine addiction.
"I'm very upfront with the fact that I had a drug problem in my 20s," D'Andra asserted. "Luckily, at 29, I went to rehab and I never did it again. … I'm happy to talk about it because one of the greatest stories in my whole life was that I overcame that."
"I actually went to rehab in Mexico," D'Andra added. "In Tijuana, back then when it was safe. There was a detox clinic I went to back then, I would say for three months. Because I was living in L.A. back then, there were a lot of parties and a lot of things. And I got caught up in the wrong crowd." 
Although LeeAnne never specifically called D'Andra an alcoholic — D'Andra insisted her former bestie spread rumors that she a drinking problem.
"LeeAnne is a master at not saying something but implying everything. Whether or not she says alcoholic or drunk, that's what she's implying," Simmons said, denying the accusation.
"My father committed suicide when he was in a drunken rage, so it's really upsetting for me to have that conversation," Simmons added. "He was always an alcoholic. I grew up with an alcoholic father. That for me is a sensitive topic. … I know a lot about alcohol issues. … I don't even know what to say. … I'm mad and I'm hurt."
After D'Andra's cocaine admission, LeeAnne pointed out that she was only concerned that D'Andra might be heading down a bad road.
"As someone who actually knows about that previous addiction, it would only make me more concerned," she said. But D'Andra didn't agree. "I still hold to the truth that I feel like it was nefarious in every way," she said.
Mama Dee enters the reunion stage and LeeAnne and D'Andra promptly adjust their attitudes. Mama Dee takes control of the situation and the ladies listen as the elder mediates their rift.
"What all of you girls need to realize is that you can't change the beginning," says Dee. "But you can all start where you are today to change the ending." 
The reunion concludes with Fireball and tequila shots for everyone and that's a wrap folks! Did you enjoy Season 3?
"Like" us on Facebook  "Follow" us on Twitter and on Instagram