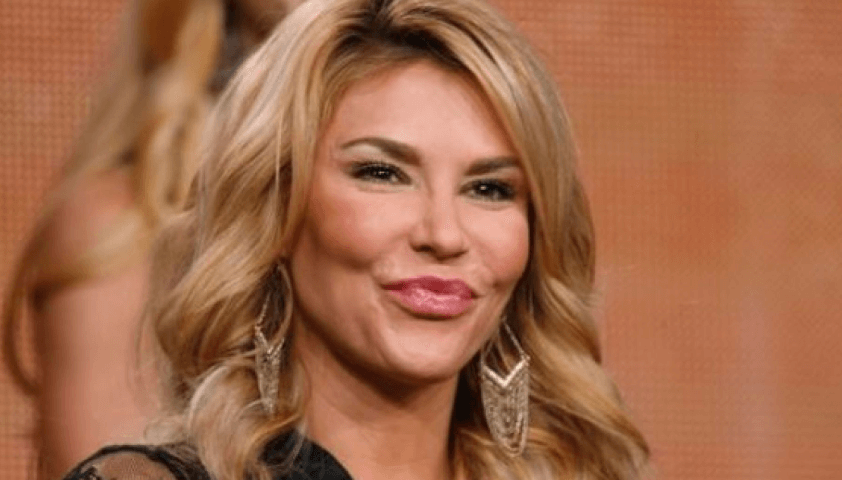 Brandi Glanville is making her grand return to The Real Housewives of Beverly Hills amid Lisa Vanderpump's rumored exit.
ET caught up with the former Bravoleb on the red carpet of a WEtv 'Love After Lockup' event.
"You have to watch, I think," the Real Housewives of Beverly Hills alum teased ET's Lauren Zima on Tuesday night, playing coy about a return to the series that made her famous. 
"I would like to say for sure or not for sure," she continued. "But it's easier for me to just not get in trouble and say nothing!"
Brandi did not return as a full-time Housewife after season five, and made occasional appearances in season 6.
The former cast villain admits she and Housewives Executive Producer, Andy Cohen "talk often" about her return to the series.
"I miss the trips and the camaraderie," Glanville confessed. "You really don't, as a grown woman, get the chance to go out with six of your girlfriends, go travel the world, and get f'd up and have a good time. You really are lucky to see — I'm lucky to see my friends every other week for a quick lunch or dinner, 'cause I'm so busy, so you're basically getting paid to have a party!"
She also has strong ties to current cast members — specifically Denise Richards, who's been keeping her in  the loop with the drama going down between Lisa Vanderpump and the other ladies.
"I know what went down because I'm friends with Denise, so I kind of have an idea of what it is," she shared. "You know, I think that some of the girls are like 10 years younger, they're doing their own thing — they're jumping off cliffs, going to the Bahamas. I don't picture Lisa ever doing that, you know?" Brandi tells the reporter.
She continues: "But, at the same time, I think she's such a huge part of the show," she continued. "I can't really imagine it without her, she… I don't know. I don't think she'll ever quit. Everyone's like, 'Oh, she's gonna quit!' I really don't think so."
Brandi also spilled that The Real Housewives of Beverly Hills will return in February 2019, "I think it starts airing in February."
Watch the full interview below.
Share your thoughts on Brandi Glanville making her  Real Housewives of Beverly Hills comeback. Sound off in the comments!
"Like" us on Facebook  "Follow" us on Twitter and on Instagram