Featured
'RHOC' Reunion Tea: Shannon Beador Sobs After Tamra Judge Betrays Their Friendship!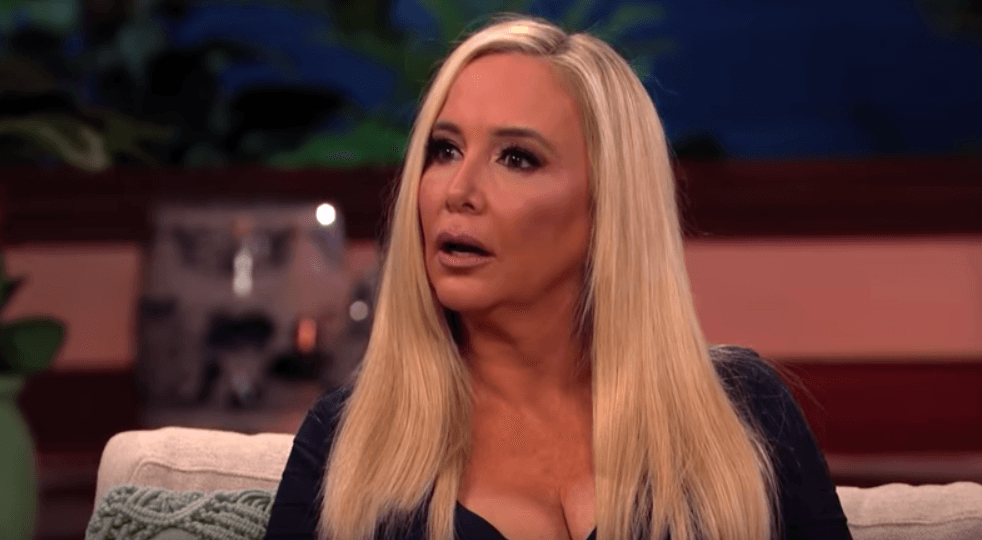 Real Housewives of Orange County Reunion!
Welcome to The Real Housewives of Orange County reunion conclusion. Can I get a woo-hoo! It's pretty much the Shannon Beador show, but host Andy Cohen begins with the interrogation of Kelly Dodd. Flashbacks are shown of Kelly's transformation from angry married woman to single woman who dates men with PHD's. Kelly explains that she and Michael Dodd still have their ups and downs because he doesn't like to watch Kelly make out at dinner with guys that are "old as mold." Andy tells Kelly the viewer feedback is that she talks to her daughter like a friend, not a mom. Kelly disagrees, but we all know it's true.
Next, flashbacks are shown of the fight between Steve Lodge and Kelly – or rather Kelly and Shane Simpson – at Eddie Judge's red party. The question on the floor is: was the fight disproportionate? Hmm. Let's put our thinking caps on. Gina Kirschenheiter says yes, though nobody asked her. Kelly asks Gina if she's the morality police. Gina tells Kelly, "It makes you look baaad." Kelly's like, "Throw a bomb and I'll throw a nuke." So clearly Kelly is a level-headed thinker and demonstrates this by telling Emily Simpson to get "her bitch" under control.
Speaking of disproportionate, that night at the red party, Emily said she was going to kill Kelly not just once, but twice. Shannon tries to interrupt, but gets a finger in her face from Emily. Kelly's like, "Don't put your finger in her face." Emily explains the legal definition of "threat" and Kelly says she was afraid and really thought her life was in danger because she watches Snapped and Wives with Knives. Kelly says she wanted Emily to hit her so she could hit her back. New show idea: Kelly D Goes on a Hitting Spree. The ladies think Emily makes excuses for Shane, and they would be right.
Moving on to the Jamaican us crazy trip again. We see flashbacks of Vicki Gunvalson twerking and Tamra and Kelly's boobs popping out. Andy asks Vicki why she twerked and Vicki says Tamra made her. Vicki then apologizes to the world and Andy says he hopes he never sees that again. Ouch. Tamra says she thinks Vicki should twerk more often.
Next we move onto Shannon and Tamra's co-dependency/enabling friendship drama and the massive meltdown in Jamaica over the suggested use of anti-depressants. Shannon explained that for a while she called Tamra multiple times a day, and for the most part, Tamra was cool with a one-sided relationship, but when her life got difficult, Tamra was angry that Shannon didn't reciprocate. Shannon says her intention was not to suck the life out of people, but oh well. Gina agrees that Shannon is a bottomless pit of exhaustion. Again, who asked you?
Andy asks Shannon why she was not open to the suggestion of anti-depressants. Shannon explains the comment was made after a very volatile dinner that she showed up drunk to and she wasn't prepared for Gina to slam her and Tamra's friendship.  Shannon then tells Gina she "doesn't really like" her. Andy points out that Shannon has a history of not liking the new girls. He asks Shannon specifically what it is about anti-depressants that makes her feel attacked. After a bunch of excuses, we learn it was something David used to tell her. David's the type of person that thinks taking anti-depressants is a sign of weakness, said the guy who cheated on his wife.
Andy asks if any of the ladies think Shannon has a drinking problem. Careful, ladies. Landmines ahead. Tamra says Shannon tends to self-medicate with Grey Goose. Everyone nods their heads, but say nothing. Shannon says it hurt her feelings to hear her friends think she has "rich girl problems" and that "David was a saint to put up with her." Kelly admits the same could be said about her she didn't choose her words wisely.
Tamra asks Shannon if they will go back to not speaking when filming stops. My Magic 8 Ball says: all signs point to yes. Shannon says she's working with her therapist on not icing out Tamra. Shannon explains how awful it was being married to David, and because of him, she is now a master manipulator. So basically, it's not her fault.
Moving on to the next conflict with Shannon, this involves Gina. Andy asks Gina why she chose to tell Shannon right after the eye surgery that all her friends think she's a big box of crazy. Gina says chalk it up to poor timing and denies being a pot-stirrer. She insists Shannon told her she was afraid of losing custody of her kids. Shannon denies saying this, but maybe it's her "selective memory." Gina says Shannon is an "open book of bullshit." Andy then brings up Emily's comparison of her mentally ill mom to Shannon – which is way worse than what Gina did.
Vicki says depression isn't a mental illness and Gina says it is. Please don't listen to either of them, consult your physician for the correct answer. Meanwhile, Tamra tells Gina it was a jackass move to lay this shit on Shannon right after surgery when she's all alone. Gina apologizes and says she really, really, really feels baaad for Shannon. Both Gina and Emily apologize to Shannon for their prior comments, and Andy mentions that although Shannon has accepted their apologies, it still seems like Shannon hates them. Yes, good observation, Andy. That's why you get paid the big bucks. Emily says that Shannon should apologize for not giving them a chance and Shannon demonstrates sarcasm by asking if a monthly apology will do.
This pretty much wraps it up. Andy says he'd like the ladies to provide one moment they could take back. Kelly says her comment calling David a saint because clearly he's not. Gina says she would take back telling Shannon her friends think she's a whack-job. Emily says she would take back her comment about killing Kelly. Vicki says she would take back being involved in Michael's dating life and keeping it from Kelly. Tamra says she would take back venting her frustrations about Shannon with the other ladies. And Shannon says she would take back all of Jamaica. Everyone takes back a shot of Tequila.
And that concludes season 13 of The Real Housewives of Orange County. What did you think of the reunion shows? Will there be a season 14? Will Kelly return? Will Vicki get fired? Will Gina and Emily be one-and-done cast members? Happy holidays to everyone and have a very Happy New Year!
"Like" us on Facebook  "Follow" us on Twitter and on Instagram