Tiffany Hendra Speaks Out In LeeAnne Locken's Defense Over Brandi Redmond's 'Therapy' Accusations At 'RHOD' Reunion!
During part one of The Real Housewives of Dallas  season 3 reunion, Brandi Redmond accused LeeAnne Locken of lying about going to therapy. 
"I do meditation every morning. Then I do see 2 therapists. I see one every week, for personal growth then every other week, I see a therapist to make sure I'm taking the show in stride." LeeAnne told host Andy Cohen after he inquired about her therapy.
Brandi Redmond demanded the name of LeeAnne's therapist and said LeeAnne's close friend, Tiffany Hendra, told her "That you were never in therapy." 
LeeAnne denied Brandi's accusations and refused to disclose the name of her therapist.
Now, Tiffany Hendra is speaking out in LeeAnne's defense and denies speaking to Brandi in almost 2 yrs. "All of this cracks me up esp since I haven't spoken to Brandi in over a yr probably closer to 2 yrs. I'm proud of Fi for doing the work and actively going to therapy!" Tiffany tweeted on December 6.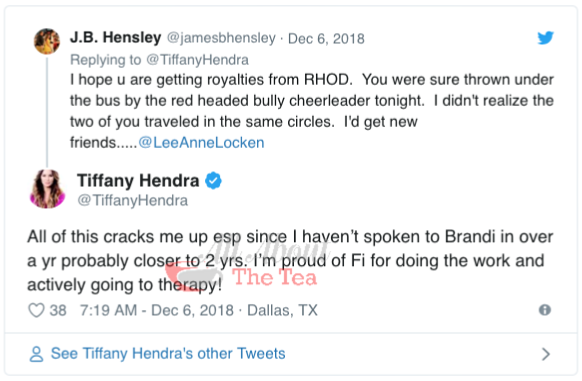 Part two of The Real Housewives of Dallas season three reunion will air Wednesday, Dec. 12, at 10 p.m. ET, on Bravo. 
"Like" us on Facebook  "Follow" us on Twitter and on Instagram 
Nancy Zhāng is an Entertainment Blogger for All About The Tea. Nancy covers hot topics, recaps and celeb news. She loves to multi-task as a writer and a private chef. She received a B.S. in Mass Communications from LSU. Nancy's married and the proud mom of 2 German Shepherds.