Featured
'RHOC' Reunion Tea: David Beador Moves Into Mansion With New Girlfriend Amid Bitter Divorce!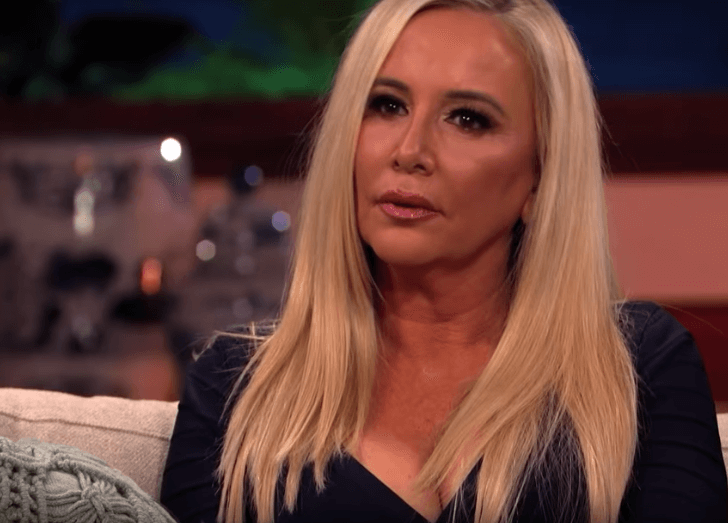 Real Housewives of Orange County Reunion Recap!
Welcome back to part 2 of The Real Housewives of Orange County reunion show! If it's anything like last week, buckle up, it could get bumpy. As you recall, part 1 ended with Vicki alleging that Kelly uses cocaine and doesn't spend time with her daughter, Jolie. Kelly stormed off during the break and called Michael, while sipping champagne, demanding to know what he said to Vicki.
The ladies rejoin Andy on set and Kelly announces she called Michael and he denied everything. Everything except what Vicki told her exactly. Vicki is not surprised that Michael caved to Kelly and apologizes to Kelly about the cocaine accusation, admitting she should not have repeated a rumor. Tamra is stunned that Vicki has done this again. Vicki dismisses Tamra because everyone thought Eddie was gay. Shannon explains it's the hurtful back-and-forth between Vicki and Kelly that outsiders don't understand. Are we the outsiders? Because I'm pretty sure we understand.
Moving on, flashbacks are shown of Shannon and her cray-cray lifestyle. Her divorce is not final due to David's cheap ass ways reluctance to get an attorney. Emily shakes her head because he's a fool of a client. And because of this, a forensic accountant has been called in. Ka-ching! Currently, David is living with his new girlfriend and her kids in an affluent, six-bedroom home. Get this, she might be pregnant! Just what the emotionally unavailable David needs – a baby. Shannon cannot confirm or deny this rumor, and unfortunately, no one else can either.
Shannon chokes up explaining she had to learn to give her daughters' their space, per Tamra, on account of Tamra pushing Sidney completely out of her life. When questioned about her constant nagging about her weight, Shannon throws Vicki under the facelift bus and says they both just wanted something to make them feel better. Andy congratulates Shannon on her journey from the time she first started the show to where she is now – stuck in a bottomless pit of self-pity.
Up next are flashback of the ladies drunk and/or freaking out all over the place. In Mexico, Shannon has no memory of going to a taco stand, eating a taco and mistaking a squatty dog for Archie. She thinks if it's embarrassing, Bravo shouldn't show it. Seriously, Shannon? You really are a victim. As for what David thought of the Mexico spectacle, he cannot use the footage in a court of law against her. Getting sloppy drunk on a girls' trip has nothing to do with how Shannon is as a mother. So suck it, David!
Onto the state of Emily's marriage to Shane. The question why comes to mind. But the conversation is about Shannon's memories of her bad marriage and projecting them onto Shane. Gina is like, Gawsh, I just don't understand why you people don't just own it. Shannon says she's been seeing a therapist for two years now but it's not working so she can be less reactive. When asked by Andy if Tamra sees a difference in Shannon, Tamra says, Umm, yeah, sure, why not.
Andy points out that Emily contradicts herself when it comes to Shane. Is he a dick or is he a sarcastic twit? Both! Gina says she wishes Shane would have apologized for losing it when she had a drunken, good time at Emily's party, but he hasn't, and he never will. This is what you get when you marry a guy who proposes because he had nothing better going on.
But get this, Emily and Shane have longest running marriage on RHOC. Not bad since Emily married a guy without checking to see if he had a PHD. After the flashbacks are shown of Emily's mom, she can hardly speak. Her mom is doing great now, but Emily feels Pary is her replacement mom. Ouch! I hope her mom isn't watching. Gina says it was nice to see a compassionate side to Shane when they were going through the baby box – because who knew Shane had a compassionate side. As for the fat-shaming Emily received online, it was harsh, but it has made her want to fight back in a positive way. Just because Emily's a big girl, doesn't mean she's not a confident, big girl.
Tamra's drunk and disorderly behavior is on display next. The flashbacks include breaking her foot, Eddie's A-fib, and her son Spencer. Tamra tells Andy we haven't seen Spencer all these years because his father wouldn't allow it. As for her daughter Sidney, Tamra says they haven't reached a "point of no return" yet. Eddie is doing much better after his 7th heart procedure, but will soon need an 8th one. As for the new house they just sold, Tamra says it never felt like home, whatever that means. Tamra says she's happy to be in Coto with neighbors Vicki and Gina.
The conversation switches to Tamra's birthday party and how Vicki didn't go because Kelly was going and Shannon didn't go because she wasn't invited. Shannon was holding a grudge because Tamra and her mom laughed at her for not knowing she had to pay for water. But Tamra didn't invite Shannon because she was being a selfish b*tch in NYC when they went to film WWHL. Tamra yaps on and on how Shannon insisted they stay at The Plaza, and that Tamra's make-up girl do her eye make-up, but there wasn't enough time. Shannon tells Tamra mission accomplished on making her look bad – which is something Shannon can do all by herself. Tamra grits her teeth and yells, This is why I can't tell you anything!
Andy points out that Shannon and Tamra haven't been friends since the summer. Gina explains that things go on behind the scenes and the ladies want to keep it quiet, like the fact that Shannon had a boyfriend. Shannon says he wasn't her boyfriend because he treated her like shit. Then Tamra really lets Shannon have it because she's still pissed she didn't call and check on Eddie after procedure #1. Tamra tells Shannon she plays the victim and it's always, Me, me, me, I, I, I, poor, poor, poor, and victim, victim, victim. Shannon says she's sorry her life was so exhausting that she couldn't lean on a friend. Andy asks if this is all about Eddie's continued friendship with David. Shannon says she went to hell and back while her husband publicly cheated on her and feels no one should be friends with David. Tamra's like, Yeah, so what, it's been five years, get over it.
Next week The Real Housewives of Orange County reunion concludes as the cast confronts Shannon about her excessive drinking. I'm sure this will go over like a lead balloon.
"Like" us on Facebook  "Follow" us on Twitter and on Instagram