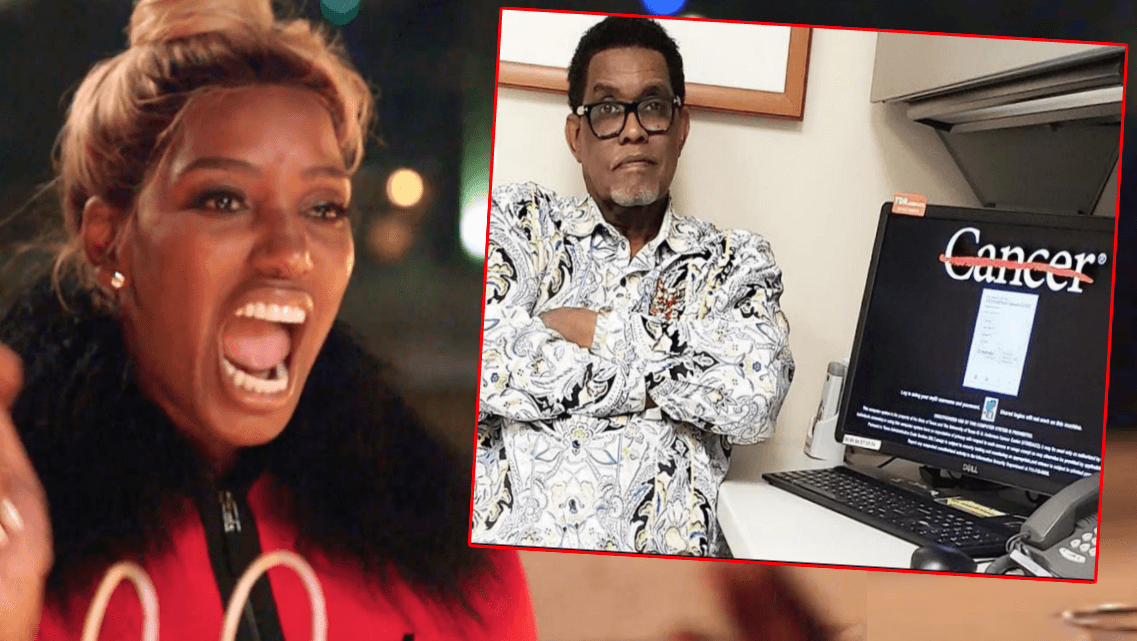 Sad to report that there's trouble brewing in the marriage of NeNe Leakes, and her husband Gregg, as he battles cancer.
The tension in their marriage was made public when Gregg posted on Instagram a message on Thursday — "to all my men" about loving others and forgiving and NeNe replied, "Well u need to do everything you posted! Practice what you preach," before adding, "You need to pray for yourself! This mean, grouchy, evil stuff u pulling these days are NOT cool."
When several commenters dragged NeNe  for blasting her husband during his medical crisis — she fired back in the comment section of Gregg's Instagram post.
"Chileeee shut up! Gregg has done so much s**t! It didn't just start! While u commenting saying s**t to me, ask him what has he done!" she wrote. "Oh and by the way, Gregg isn't bed stricken and needing daily help! You got it twisted."
"You don't know SHIT bout Gregg and Nene Leakes and you have no idea what he has done! Ask him as hole." NeNe blasted another critic. 
She later took to Twitter, writing, "I would just think if I have or had cancer, I would see life so differently! Not be mean, grouchy and evil for no real reason! But that's me. Pray for me."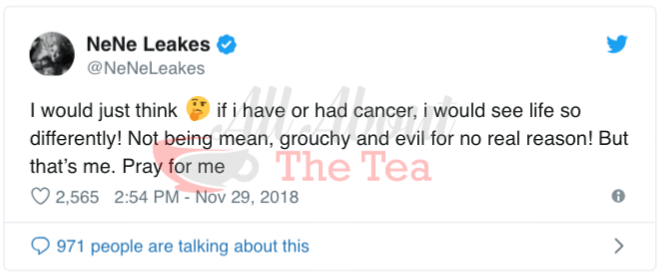 When one follower replied, "Unfortunately the closest person receives the undeserved lashing out, stay strong Sis… just breathe," NeNe responded, "Naw I don't think I can do it."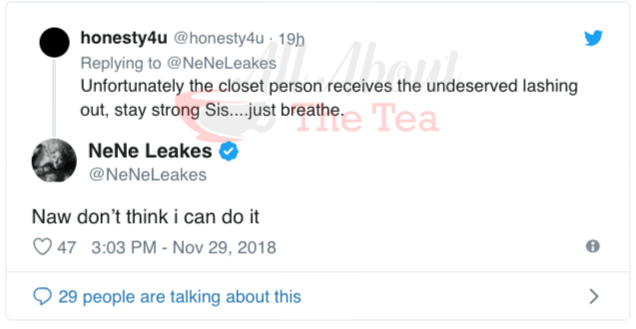 During a November 2018 Watch What Happens Live appearance — NeNe got emotional while discussing Gregg's cancer with Andy Cohen.
"The day that they told us that Gregg has cancer, my life changed in that moment. Being a care taker's very hard. It's just been very difficult," NeNe said. "I feel like that day I lost my husband, because he's not with me, we don't do the things that we normally do together. We're not even in the same bedroom."
In the video above, NeNe describes the hardships of being a caretaker, which often goes overlooked. Being a caretaker uses up every ounce of your energy, keeps you awake at night, strains your finances and family relationships, and compromises your health. 
Share your thoughts on NeNe Leakes and Gregg's marriage crisis amid his cancer fight. Sound off in the comments below!
"Like" us on Facebook  "Follow" us on Twitter and on Instagram