Below Deck
EXCLUSIVE: Inside The Horrific 'Below Deck' Accident That Sent Ashton Pienaar Overboard & Nearly Killed Him!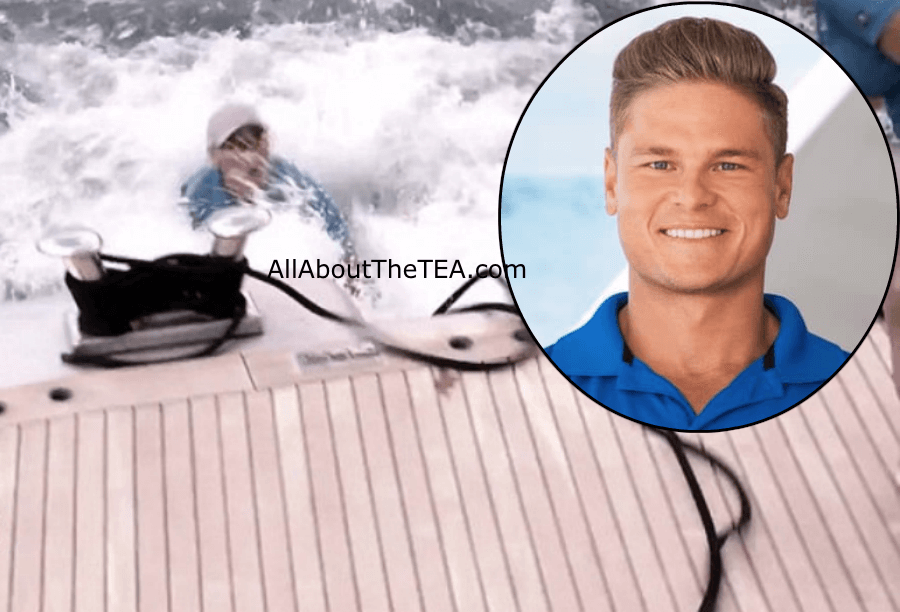 The Below Deck accident that rocked the Bravo cast and crew will be featured on the next episode of the popular yachting series. 
Spoiler Alert!!
AllAboutTheTea.com has learned key details about the Below Deck accident that almost ended in tragedy. Fans have seen snippets of the high seas horror show — a near disaster that shook Captain Lee Rosbach to his core.
According to an exclusive inside source, Ashton Pienaar was yanked overboard, after his foot became entangled in a line attached to the guest tender — a small boat used for excursions — as it was being towed by the super-yacht.
"Ashton and Rhylee [Gerber] were on the swim deck when the line attached to the yacht cleat hitch became tangled," a source explains to AllAboutTheTea.com. "Captain Lee was driving fast, and the line caught Ashton's foot. Because there was no slack in the line, when the boat lurched, the line wrapped Ashton's ankle and he was dragged overboard."
The source explained that Captain Lee immediately killed the engine when he heard cries of "man overboard," and that a member of the camera crew had to jump in to save the drowning deckhand.
"Ashton was drowning, and every second counted. The situation was gravely serious, and very scary," the insider dished to AllAboutTheTea.com. "He was close to death, and is lucky to be alive."
The snitch revealed that Ashton's ankle was seriously injured, and that he  required immediate medical attention.
"Ashton's ankle was so destroyed that he only narrowly escaped amputation," the production source tells AllAboutTheTea.com.
Watch the nautical nightmare unfold on Below Deck, Tuesday night at 9:00 p.m. ET., on Bravo.
"Like" us on Facebook  "Follow" us on Twitter and on Instagram