Featured
'RHOA' RECAP: Kandi Burruss Exposes Porsha Williams' New Man Is A Cheater & Has Multiple Women Tattooed On His Body!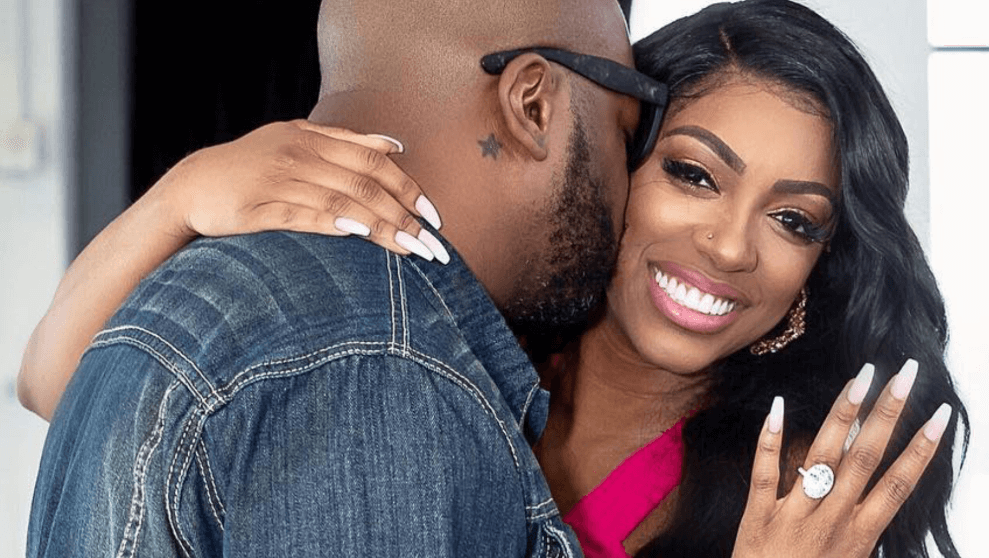 Real Housewives of Atlanta Recap! 
Sunday's episode of The Real Housewives of Atlanta starts off with Porsha Williams and Eva Marcille working out. Eva wants to lose weight after recently giving birth and Porsha is trying to shed some love pounds. After their work out, the ladies chat about their experience in Miami. Eva throws more shade at fellow model Cynthia Bailey's big derriere — commenting Cynthia is the only model she knows with a big butt. This is the second time Eva has attacked Cynthia's looks for no apparent reason.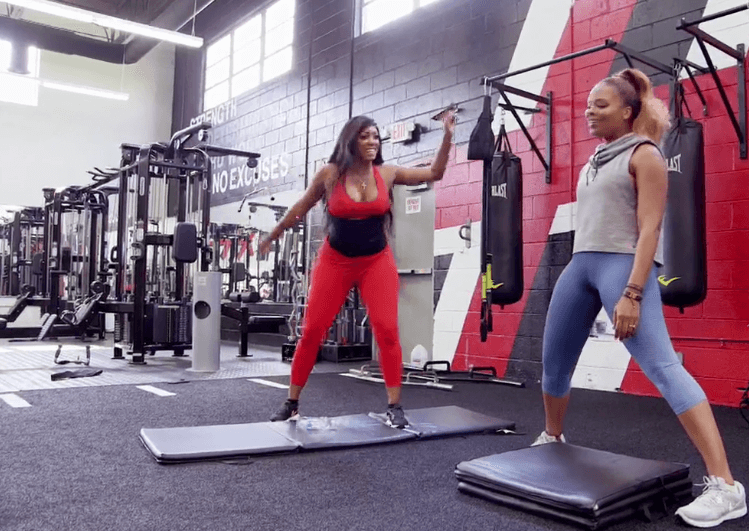 NeNe Leakes accompanies Gregg to Houston, Texas to M.D. Anderson Cancer center for a post-surgery examination. He undergoes a CT Scan and the doctor clears him of cancer but recommends chemo treatments to reduce his chances of any lingering cancer cells. Gregg is broken by the whole ordeal but NeNe is determined to be his rock and help him get through this. The doctor's recommendation does not sit well with Gregg — he rather go the holistic route.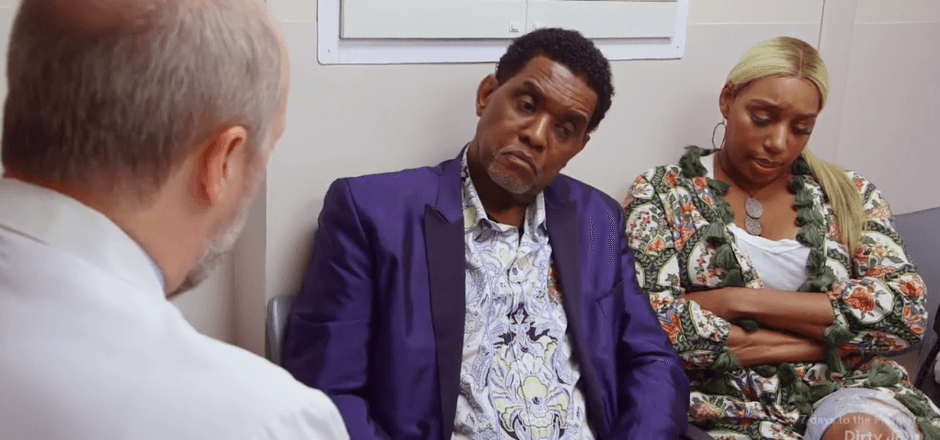 The couple return home to Atlanta with a lot to think about. Cynthia Bailey drops by to check on Gregg and NeNe tells her she's receiving presents from friends and seeking non-traditional remedies. She tells Cynthia that Toni Braxton sent them a healing tree.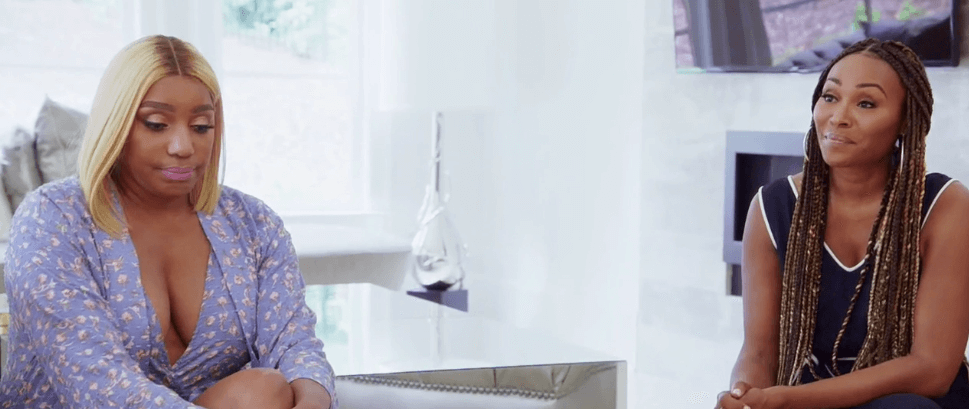 New girl Shamari DeVoe is introduced to the viewing audience via her homegirl, Kandi Burruss! Shamari is a member of 90's girls group, Blaque and the group is looking to make a comeback on the music scene. Kandi and Shamari get reacquainted and Kandi follows Shamari on social media to make it really official. Shamari invites Kandi to her performance that night at ATL Live before she meets up with her hubby, Ronnie DeVoe (of New Edition) at the studio. The couple are working on a new track together, "Mari and Me." In a talking head confessional, she refers to her husband as "the legend" or "legendary." Ok girl! Then says they screwed on the first night they met and they're still together.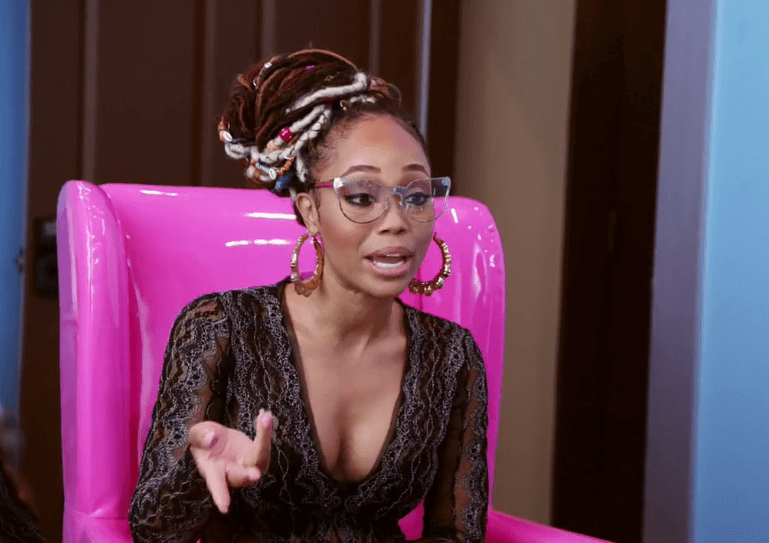 It's time for the concert and Cynthia Bailey, Kandi Burruss, Nene Leakes, Porsha Williams and Eva Marcille attend Shamari's performance at ATL Live. Porsha comments that her new man is a chef. After Shamari's performance, she greets the ladies and introduces her husband, Ronnie Devoe — who Kandi Burruss is already familiar with because the two are currently touring together. They exchange pleasantries, then Ronnie offers Kandi some unsolicited advise about her stage presence. Ronnie's two-cents about Xscape's performance does not rub Kandi the right way.
Ronnie's shade is proceeded by a strange conversation between Porsha and Eva. Eva wants to include Shamari more than Shamea Morton and tells Porsha, "She's Black(que), she's snatched, she's married." Porsha responds, "Shamea is black too;" and Eva says, "She ain't Black(que) with a Q." Kandi misunderstood this and interprets Eva as saying she prefers Shamari more than Shamea because Shamea is dark-skinned and Shamari is light-skinned. God takes care of babies and fools. Bless her heart!
Later that week, Porsha's mom pays her a visit and wants the deets on Porsha's new man. Porsha tells her mama all about her new man, Dennis the Hot Dog King, and how much he loves her daughter. This man even has Porsha's name and face tattooed on his body, bought her a Rolex watch and cooks for her. Well, he doesn't really cook for her, Dennis admitted to using a food delivery service. He's a keeper in Porsha and her mother's eyes.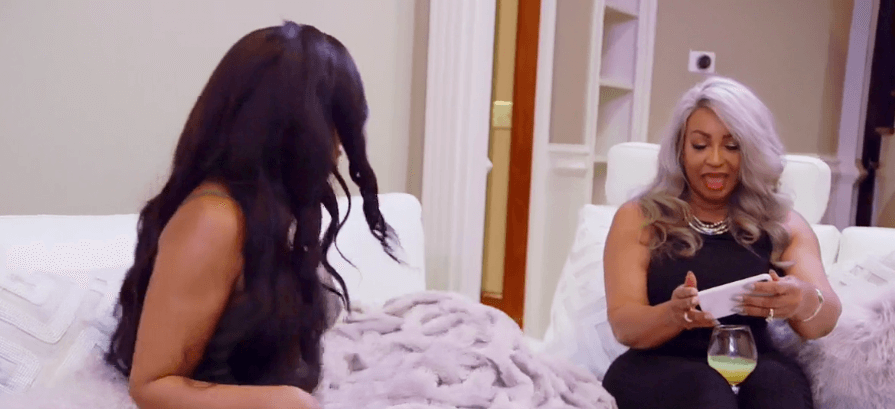 At the same time, Bravo cameras takes us across town to Kandi and Porsha's former friend, Jami, gossiping about Porsha and Dennis. Jami and Porsha fell out after Porsha beat her ass a few years ago, and she's spilling all of Dennis' tea. According to Jami, Porsha's prince charming runs the same game on all the women he dates — Rolex watch, names (and faces) tattooed, and provides cooked meals. Dennis previously dated a friend of Jami's while he was dating Porsha and the other woman was devastated when she found out Dennis was cheating. Jamie tells Kandi that Dennis gets other women to buy the groceries, cook, and package the meals for him to pass off as meals coming from a delivery service. This tea is fascinating and I have so many questions —  how many names and faces does Dennis have tattooed on his body? And how has Porsha not seen them? And Dennis employs a flock of women to run a home-based "Meals on Wheels" operation? Does the Rolex tick? So many questions!!!
The Real Housewives of Atlanta airs Sundays at 8:00 p.m. ET, on Bravo!
"Like" us on Facebook  "Follow" us on Twitter and on Instagram