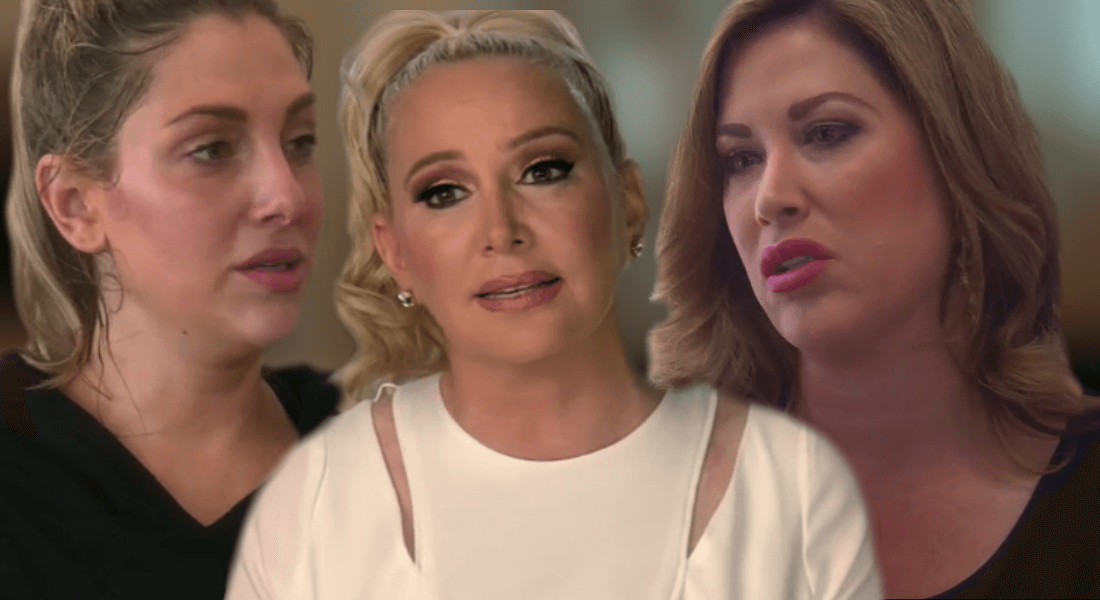 'RHOC' RECAP: Shannon Beador Shades Gina & Emily!
Everyone is working out this week on The Real Housewives of Orange County to get in shape. Except Archie. He's just hanging out like the cool dog he is. We check in first with Emily Simpson and Gina Kirschenheiter, post workout, as they discuss how rude Shannon Beador is for not returning their texts. Speaking of rude, Emily turns on the bullet smoothie maker each time Gina tries to talk. It's actually quite funny.
Emily explains her plans to Gina for another baby even though Shane Simpson has said no. Emily doesn't know what to do with the extra embryos because destroying them is not an option. Gina updates Emily on her transition plan to leave the family home when it's Matt's turn to be with the kids. Emily offers free advice to Gina that she should only do this for six months. Then it's time to rip the band-aid off.  Gina says she's more panicked by the thought of being alone, than the thought of Matt dating someone else. Could it be because Matt is already dating someone else? Things to ponder.
Next at Tamra Judge's house we learn she can't say the word: celebratory. Instead, she says that Shannon is having a celebratory dinner for her QVC debut which believe it or not, also works. She will be leaving Eddie at home yet again. Eddie checks his EKG results and learns he is having a possible A-Fib. Tamra informs Eddie that although this is a life-altering experience, it's not a life-threatening one, so buck up. 
Over at Shannon's house, it's time for her "celebratory" dinner. The ladies arrive and Gina says that she loves dawgs, like, oh my gosh, y'all. Everyone says how pretty Shannon's rental home is, and Shannon is like, "Oh, you've never been here?" Knowing damn well she hasn't invited anyone. So Gina is trying super hard to be super nice to Shannon, if only Shannon would notice. Tamra suggests they go on a girl's trip to the Caribbean to "celibate" life. And because Tamra's never been. They decide on Jamaica.
This decision causes Gina to walk down memory lane about a failed trip to Cabo with her husband. Through tears, Gina says she doesn't want to talk about it, but does. Vicki thinks Gina is having divorce remorse. And Shannon and Tamra are purposely ignoring her meltdown, working in the kitchen. Gina's scared she'll never see her in-laws again. Emily gives her a hug — which is exactly what Gina said she wanted instead of advice. Kelly Dodd saves the moment by admitting she's just as immature now as she was at 25.
The ladies take their seats at the dining table and eat Shannon's fall sample of pork tenderloin with mild enthusiasm. Shannon asks Gina if she'd like another drink with dinner. So get this, Gina says no, but in her testimonial says Shannon obviously doesn't care about her because she offered her a drink. Dayum, girl! Shannon can't win. If she doesn't offer you a drink, then she's a rude hostess.
Next we are with Kelly and Jolie at the soup kitchen. This is great. Helping others while hanging out with your daughter is a great way to spend time together. Jolie gets teary-eyed over the babies who have no clue they're poor and will not get a brand new luxury car at 16. But seriously, it's nice to see Kelly being a good mom and finally getting around to teaching her kid how to clean.
Later in the week, Kelly and Gina meet up. Kelly asks Gina how things are going with Matt, but the conversation shifts to Shannon and how it takes like forever to click with that chick. I mean, can you say Brr? But Gina is hopeful the Jamaica trip will warm Shannon up. Unfortunately it will only be Jamaican her crazy.
Emily and Shane go out to dinner, but things get off to a rocky start when Emily suggests Shane sit on a pillow so he can be a real grown-up. Emily shares her discouraging experience trying on bathing suits with Tamra, to which Shane responds he wished it had been him, said the Mormon. Emily mentions her up-coming trip to the fertilization doctor. Shane doesn't want any more little Emily's and is getting resentful that she keeps bringing it up. The question is, what to do with the little gals and guys.
Over at Vicki Gunvalson's house, Steve's daughter Amanda and her boyfriend stop by for some screen time. They head over to Vicki's son Michael and his girlfriend's place for some shared family time. On the rooftop everyone gets lectured by Vicki about their obligation to marry each other and when Michael should procreate — which is in two years — according to Vicki.
Across town, Emily and her in-laws are at the doctor's visit because it's in the Bravo contract that all housewives must bring someone along. Emily explains to her doctor that she's at an emotional crossroads in her life. Her sister will not be her surrogate because the oven is closed. The doctor tells Emily she has three options: donate to science, give up for adoption, or destroy them. Or a fourth choice, Emily could continue to pay rent on the popsicle storage for the rest of her life. The doc recommends Shane and Emily visit a therapist together. Won't that be fun!
Next we join Kelly and Shannon at a café. They discuss how they're too tired to pack for Jamaica. Poor Kelly has 27 bathing suits to choose from, so of course she's tired. Kelly shares that Michael stopped by recently and they watched a movie and laughed. Something they've never done before. Shannon says that will never happen with David unless it's his rotting dead corpse one of the girl's weddings.
The two gossip about Gina. Kelly tells Shannon how hard Gina thinks it is to get to know her. Shannon laughs, moo-ha-ha, because it's true. Everyone knows Shannon doesn't care about the new girls. And Shannon especially doesn't want to hear Emily ask where "fun Shannon" is. Kelly asks Shannon if she thinks Emily has a bad marriage because don't they all. Shannon says her mouth is zipped on that topic. She learned her lesson after the first 25 times not to speculate on the status of others' marriages.
Pack your bags! The RHOC is heading to Jamaica where the ladies will manage to screw up yet another great vacation.
"Like" us on Facebook  "Follow" us on Twitter and on Instagram