Exclusive
Shannon Beador's New Boyfriend Scot Matteson EXPOSED As Violent Abuser & Deadbeat Dad!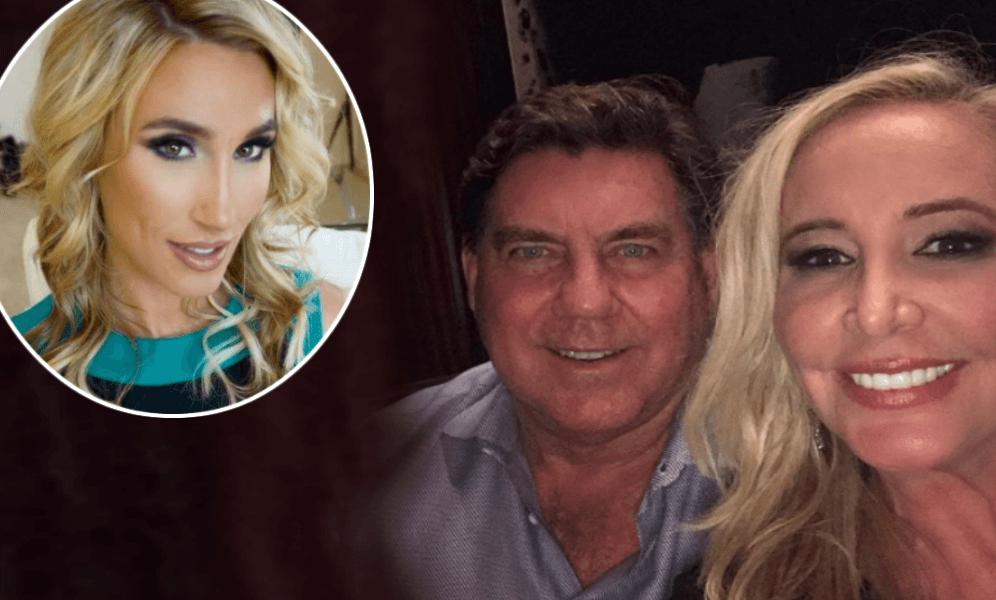 Shannon Beador's new beau, Scot Matteson, was put on blast yesterday — outed as an alleged abuser, and deadbeat dad.
On Thursday, Matteson's ex, Sarah Pavlik, a Newport Beach attorney, left scathing comments on a photo posted on Instagram by the Real Housewives of Orange County star.
Sarah Pavlik 
Matteson, 58, accompanied Shannon to New York City earlier this week, where she appeared on Monday night's episode of Watch What Happens Live.
Pavlik, 32, blasted Shannon's spotlighted love affair — and spilled some scalding tea about her own contentious past with Matteson.
"Hi!!!! Tell your twin that his child support check bounced and that he still owes me $6889 (and that's only on the temporary orders entered less than a month ago). Also the judge granted me a sole legal and physical custody and a 3 year permanent restraining order after our 10 day domestic violence hearing — otherwise I would relay the message.." Pavlik wrote.
Sarah Pavlik pregnant with the ex couple's child
"But since you're staying in penthouse suites a d flying first class, paying the $6889 in back due child support shouldn't be an issue. Plus, you kinda need your passport / license to keep on going on such trips so figured better you than Dept. of Child Support Services. Thanks @shannonbeador," Pavlik added.

A source close to the dynamic situation is speaking out about Pavlik's Instagram posts — alleging shockers about Matteson's past.
Scot Matteson with his 2-year old daughter
The insider claims that Shannon's new boyfriend has a violent streak that exploded during his relationship with Pavlik.   
"Scot can be very charming, attentive and he's super intelligent. But he also has a violent side and explodes out of nowhere. He's the classic Dr. Jekyll and Mr Hyde type. He abused Sarah, and she was granted a permanent three year restraining order against him," a ROCK SOLID source tells AllAboutTheTea.com. "They have had no contact for two years."

Matteson, a Orange County/Newport Beach real estate developer, is the father of two teenage girls and shares a 2-year-old daughter with Pavlik. Our insider reports that the couple went through a 10 day domestic violence trial, after one very disturbing incident of abuse.
"Sarah testified for six days, and eventually won full custody of their daughter, Arabella," explained the in-the-know source. "Scot is allowed supervised visits with the child, but doesn't really see her much."

The insider also alleged that Matteson is a deadbeat dad — and owes close to $8k in child support.
"Scot is jetting across the country with Shannon, but refuses to financially support his daughter," said our snitch. "Sarah was recently awarded an additional $1k in support a month, but she's struggling to collect."

Shannon split from husband, David Beador, in 2017, after battling abuse rumors on the Bravo reality show. David was arrested for battery in 2003, after police responded to a domestic episode in the Beador home. Shannon denied that any physical abuse took place, but David pleaded guilty to two misdemeanor counts of assault and battery against a cohabitant. 

Did Shannon Beador jump from a tumultuous marriage into a risky romance with Sarah Pavlik's ex? Sound off in the comments!
The Real Housewives of Orange County airs Monday nights at 9:00 p.m. ET, on Bravo.
"Like" us on Facebook  "Follow" us on Twitter and on Instagram