Kenya Moore has declared a due date since announcing her pregnancy, on March 15 at The Real Housewives of Atlanta Season 10 reunion. 
The former The Real Housewives of Atlanta star took to her Instagram Story on Thursday to answer all of her fans' burning questions about her pregnancy, including when she is due to give birth. "Thanksgiving. I announced very early when I should have waited 3 months. It takes 9 entire months which is really 10 to have a baby," Kenya shared. "Baby Daly is healthy! Godspeed."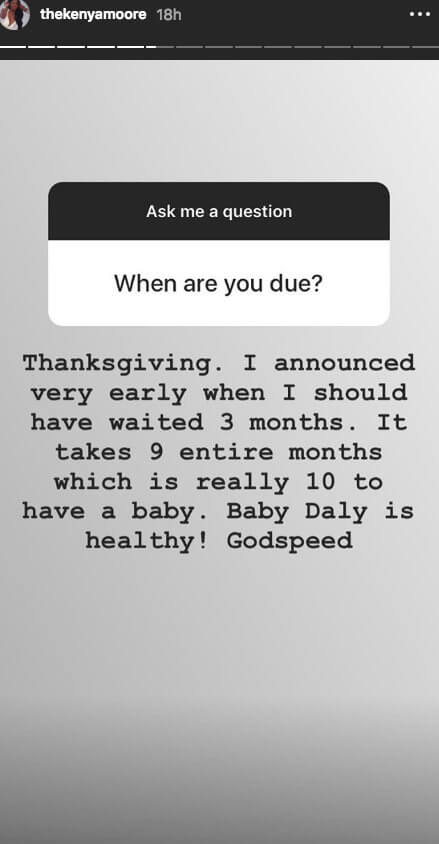 Since Moore's embarrassing dismissal from The Real Housewives of Atlanta — she has been passing her time on social media.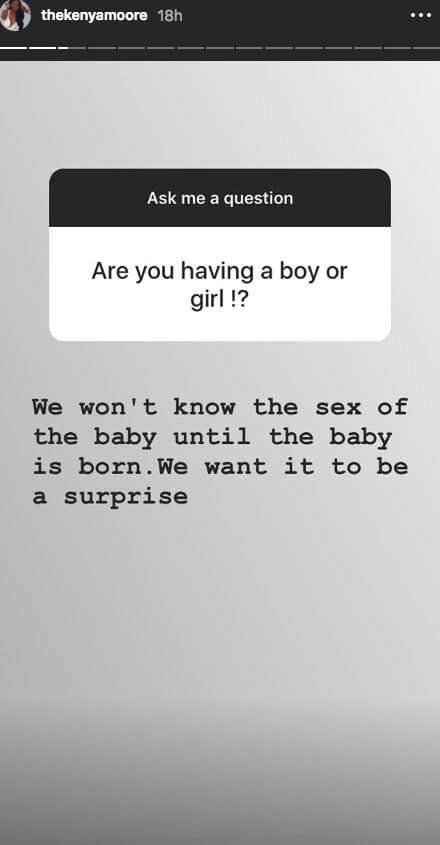 As reported, Moore is planning her own baby shower and told fans that she's currently hard at work "finalizing details" for her baby shower, which is two weeks away. But there's still lots of other work to be done before Baby Daly arrives. When asked if she's ready for the baby, Kenya said in her Instagram Story, "No!!! LOL I have no nursery and I am trying but brain is cloudy."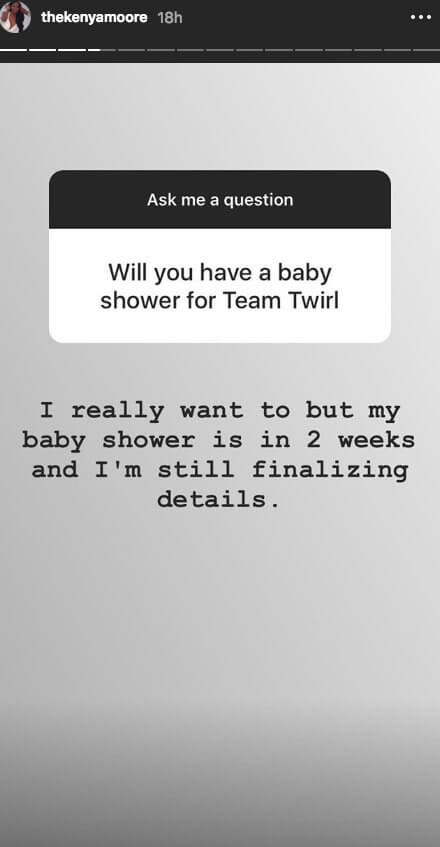 Moore told the The Daily Dish that she has taken a break for Season 11 of the Bravo reality series.
"I have decided to take this season off to focus on my high risk pregnancy in a healthy and drama free environment," Kenya told The Daily Dish in a statement. "I thank Bravo for this amazing platform that has allowed me to grow, flourish and appreciate the value of what is truly important in life. And to #TeamTwirl: Thank you for your loving and relentless support — you will see me soon!"
Do you believe Kenya Moore's pregnancy timeline? Sound off in the comments!
The Real Housewives of Atlanta premieres on November 4, at 8:00 p.m. ET, on Bravo.
"Like" us on Facebook  "Follow" us on Twitter and on Instagram