Don't Be Tardy
Kim Zolciak Accused of Photoshopping 4-Year-Old Daughter's Butt!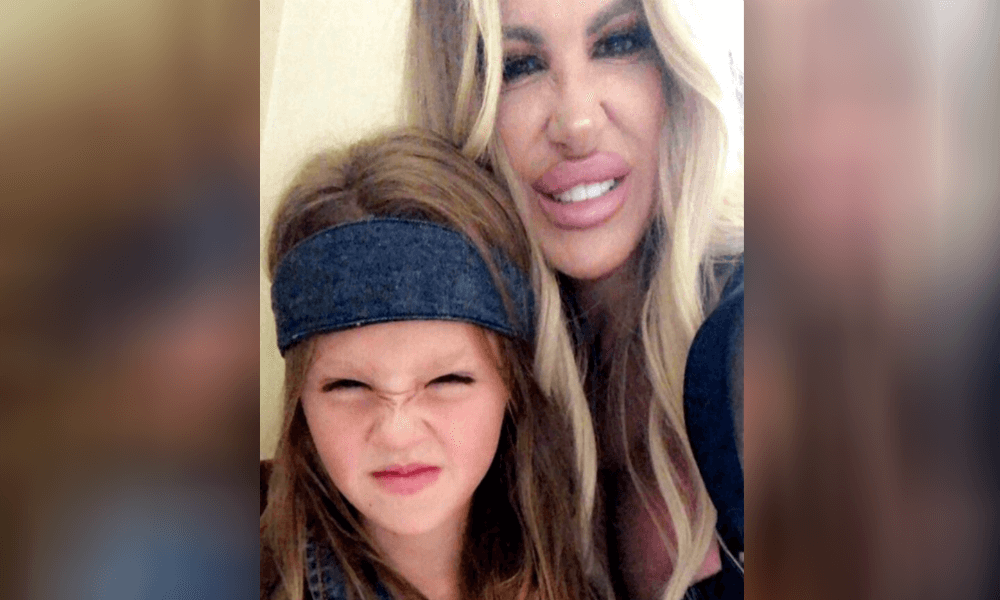 Kim Zolciak Gone Too Far!
Kim Zolciak is being accused of Photoshopping her 4-year-old daughter's butt and nose.
Fans are blasting the 40-year-old reality star for Photoshopping Kaia's body, after she posted a photo of her little girl and her twin brother, Kane. The post captioned, "Have you ever seen a cuter duo 😉🙈😍😍" 

The mom of six is being called out for editing Kaia's butt after Zolciak and her daughter, Brielle Biermann, shared the same photo with noticeable discrepancies.
Brielle's post clearly shows Kaia with a much flatter derriere. See a side-by-side comparison of Brielle's photo on the left and Zolciak's edited version on the right below.

Astute fans also noticed the curved wall in Kim Zolciak's photo, which indicates an image has been reshaped.
Critics immediately shared their outrage — slamming the reality mom for editing her child's appearance.
"Look at the curved wall below her little bottom? And she edited her nose to make it look smaller too," one commented.
"You are demented … SHE IS A BABY. Shes already perfect," wrote another follower. "Why would you even think to do that to your child."
"This is child exploitation. You hate yourself and now pushing your obsession with plastic surgery on your minor kids. This is pathetic."
"You Photoshopped Kaia's butt and nose. Shame on you. Child protective services need to investigate you and take away your kids."
The Bravoleb seemingly reacted to the allegations when she tweeted, "I think I've heard it all now!!" on September 27.
I think I've heard it all now!! 🤣😂

— Kim ZolciakBiermann (@Kimzolciak) September 27, 2018
Kim Zolciak is no stranger to body alterations — she recently admitted to getting a breast reduction. And has been called out numerous times on her obsession with plastic surgery.
Do you think Zolciak is exploiting her kids? Share your thoughts on Kim Zolciak's latest Photoshop fail involving her four-year-old daughter. Sound off in the comments below!
"Like" us on Facebook  "Follow" us on Twitter and on Instagram