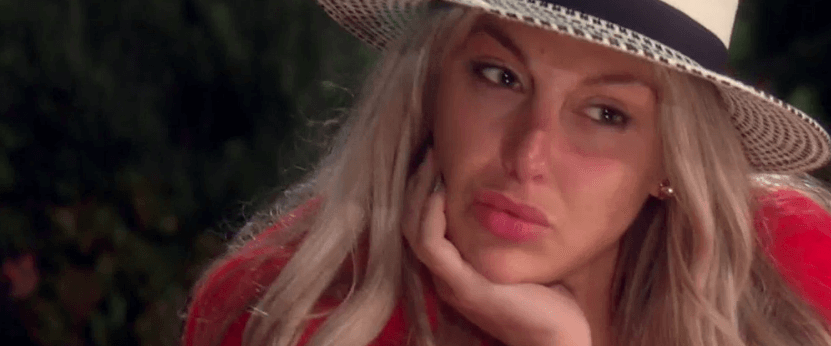 Real Housewives of Orange County Recap!
Welcome back to The Real Housewives of Orange County recap! We begin with Tamra Judge going to visit her foot doctor with Kelly Dodd because none of these women can ever go to a doctor's appointment alone. They discuss Emily Simpson and her little bitch husband Shane Simpson, and how Kelly's problem wasn't with Shane, it was with Steve Lodge. How rude of Shane to steal Steve's thunder. Kelly tells Tamra that Steve dumped Vicki last year and moved in with his mom, bless his heart. Kelly suggests Steve may not even own a home. The doctor – that Kelly wants to hook up with – tells Tamra she can get out of her boot in two weeks.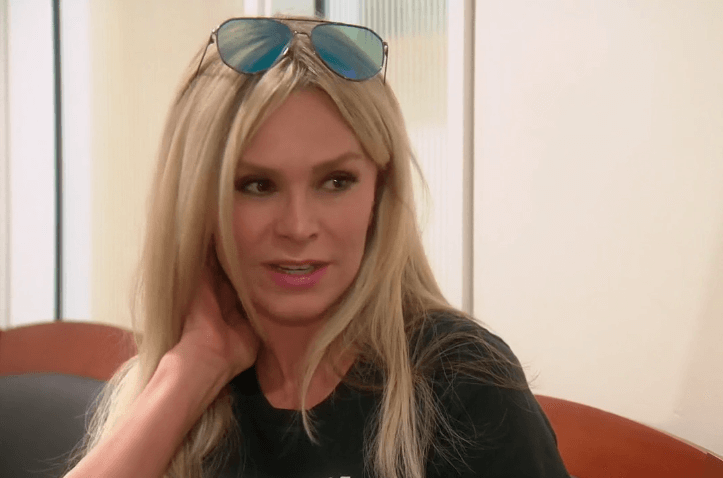 Onto Emily and Gina Kirschenheiter and some of their kids on a field trip to a farm. They ride in a tractor trailer and pick strawberries. Emily and Gina discuss last night's dinner and how Gina has an opinion, even though Shannon Beador would prefer she didn't, about encouraging Kelly's aggressive behavior. Emily suggests Gina stick to what's best for her – and take her kid to pee, like now.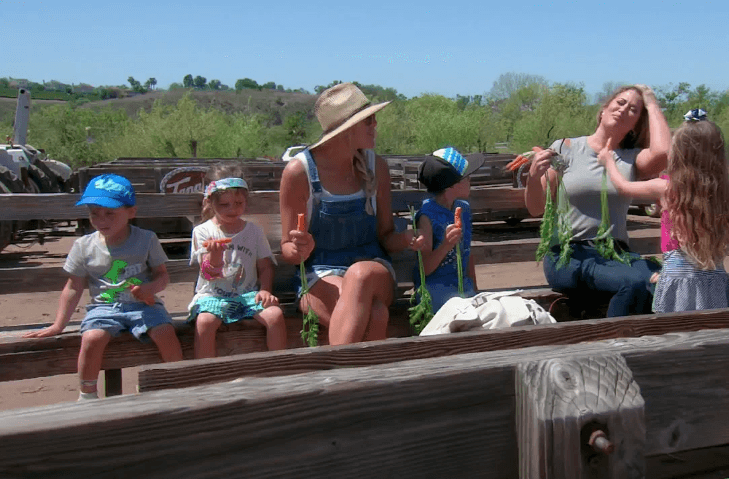 Next up, Vicki Gunvalson is "wine tasting" with Tamra. Her friend Domenico wants to cook for the ladies. Tamra asks Vicki if she's 100% happy. Vicki says she is, but also feels like she wants Steve more than he wants her. Tamra asks about Steve's money situation, like it's any of her damn business. Vicki explains that Steve moved back in with his mom for two weeks when they broke up last summer because his house was rented. Vicki blames herself for the breakup for being too busy and not communicating. She says she's learned a lot since then and wants Kelly Dodd to "shut her fat-ass mouth."
So why won't Kelly shut her fat-ass mouth? Tamra explains to Vicki it's because Kelly's upset that Steve said Kelly left Michael, when in fact it was "mutual." Tamra and Vicki agree that Kelly and Michael had issues – like the fact that they hated each other. Flashbacks are shown of last year's finale proving that point. The conversation jumps to Gina and how her divorce story doesn't add up – which it doesn't. So let me get this straight, if you're attracted to your husband, like to have sex, AND he's your best friend, you should divorce? Vicki tells Tamra she doesn't like Gina's flippant attitude toward marriage.
Next we join Gina who is with Kelly, preparing to climb stairs at the beach.  During the stroll down the stairs, Kelly asks Gina what's up with her marriage. Gina explains she will have the friendliest divorce in the history of the OC. But Kelly doesn't think this divorce adds up. She asks Gina if she and Matt have tried couples therapy. Gina is like, Meh, that's what everyone else does. They're different than the rest of us.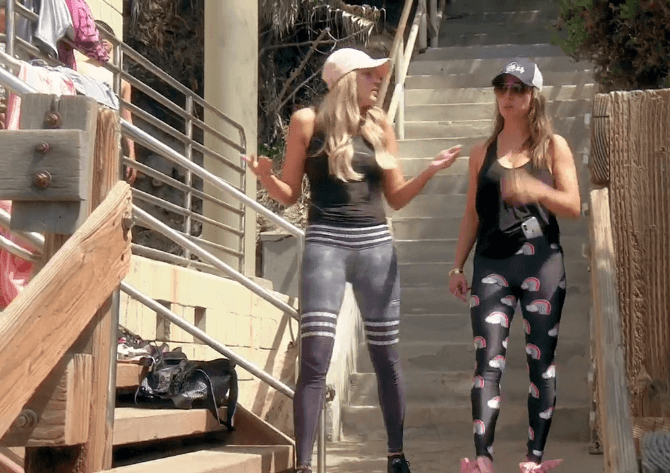 Over at Vicki's house, Domenico is setting up and putting the moves on Vicki. We learn that Steve likes Domenico, but Don did not and who cares what Brooks thought. The other ladies are getting ready for tonight. Emily talks with Shane about talking with Kelly, he says, whatev, but now Emily's afraid to ask Kelly to apologize.
Back at Vicki's house, she's telling Domenico who he can and can't flirt with. He cannot flirt with anyone! Just cook the food, dude. The ladies begin to arrive and are served drinks as soon as they enter. Emily takes Kelly aside and asks if she'll apologize to the little bitch she's married to. Kelly readily agrees because she's trying to work on thinking before speaking. It's good to have goals, even if they're impossible.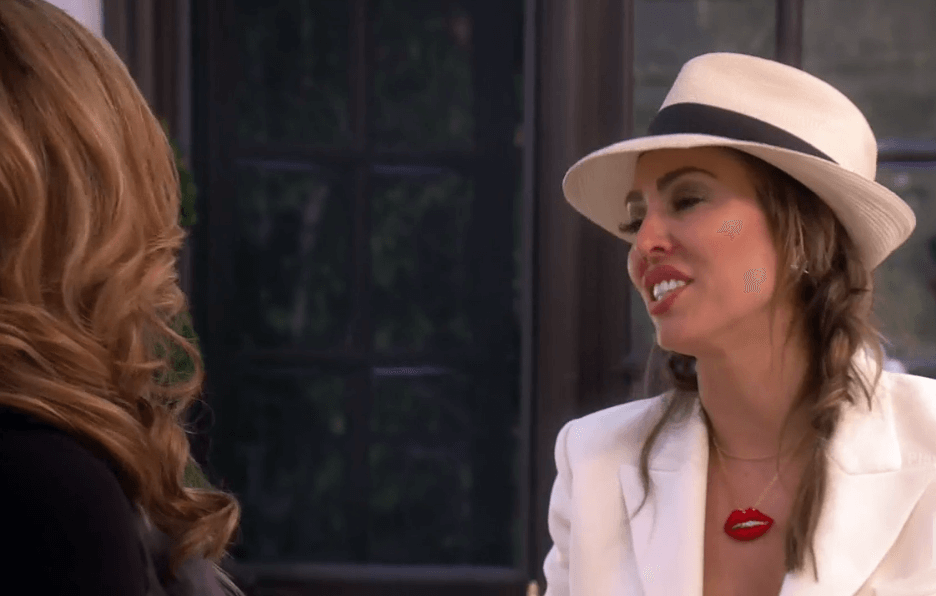 Emily and Gina are Domenico's assistants. Tamra takes Shannon aside to tell her Vicki is still pissed at Kelly for saying that Steve moved in with his "mommy." Kelly walks up, Shannon leaves, and Kelly replays the story to Tamra about saying the word "mommy." And up walks Vicki who is thrown for a loop they would talk about her in her house. Vicki plays it cool and sets the record straight that Steve calls his mother "mom."
Dinner is served outside and serenaded by a guitarist, which the ladies ignore. Right away the conversation gets intense over Gina's divorce and how she has no idea what she's in for. Gina is like, I won't be like youse guys. She is adamant this divorce will not cause her any pain what-so-ever. No one mentions the kids' pain. Shannon says the sh*t will hit the fan over the finances.
Gina proclaims she would give up her alimony to save the family dynamics and Matt would pay double to save the family dynamics. Seriously? What the hell do these two have on each other?
Shannon is insulted that Gina thinks it's all about money. The ladies start yelling at each other – until Gina says she doesn't believe in God – that shuts the ladies up real fast. Gina clarifies she believes in a higher power or a God, just not in anybody's particular God? Vicki suggests that God is perhaps what's missing from her marriage and is worried that Gina will pay for eternity for not having a moral compass.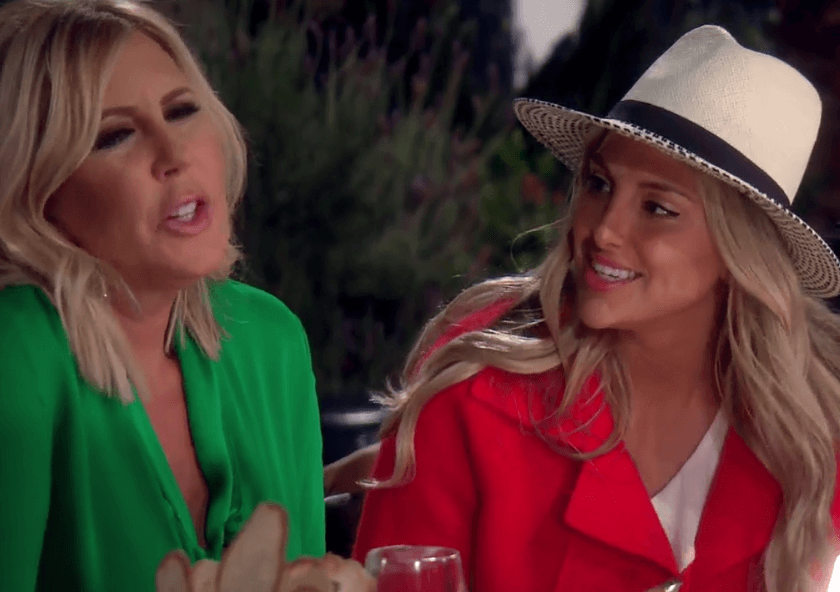 Kelly calls Vicki out for saying that. Vicki tries to regroup and says she meant to say, Do you not have a moral compass? Which isn't any better. Gina gets up, tells the ladies to back off and leaves the table. Vicki thinks someone is having an affair. We learn that while the nation has a 50% divorce rate, the OC has a 70% rate. Wowza.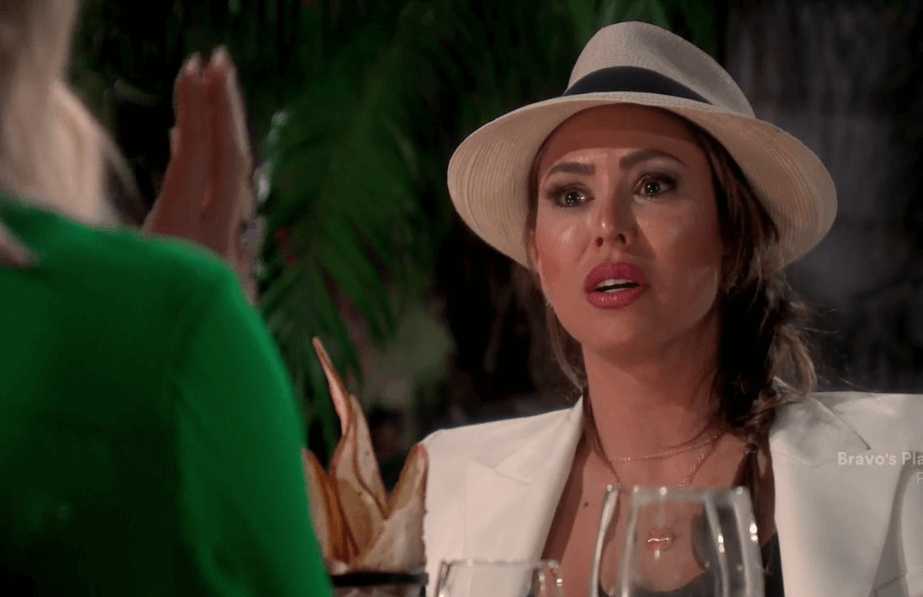 Inside Vicki's home, Gina calls her husband Matt crying, telling him the ladies are being meanies and she needs a pep talk because no one gets them. Emily is the only one to go inside to check on Gina. They're in the bathroom, very upset because the other ladies won't receive the spin info she's trying to provide them. Emily explains to Gina she's being defensive and should just say thank you for the information. Like Emily did the other night at Eddie's party between Kelly and her husband – NOT. Gina and Emily return to the table. Gina tries to clarify once again that her situation is different than theirs because they're special. They ladies wish Gina the best, but know what the likely outcome will be.
Next up, Kelly eats crow. She brings a gift to Shane, and Emily asks if she can leave them alone. Kelly says no. Emily goes to the kitchen, which is five steps away, to get water for Kelly – who wisely didn't ask for a cocktail, though you know she's dying for one. Kelly explains to Shane she's going through a hard divorce, which she hopes Shane can understand since he too is divorced. Shane says divorce is never easy. Are you listening Gina?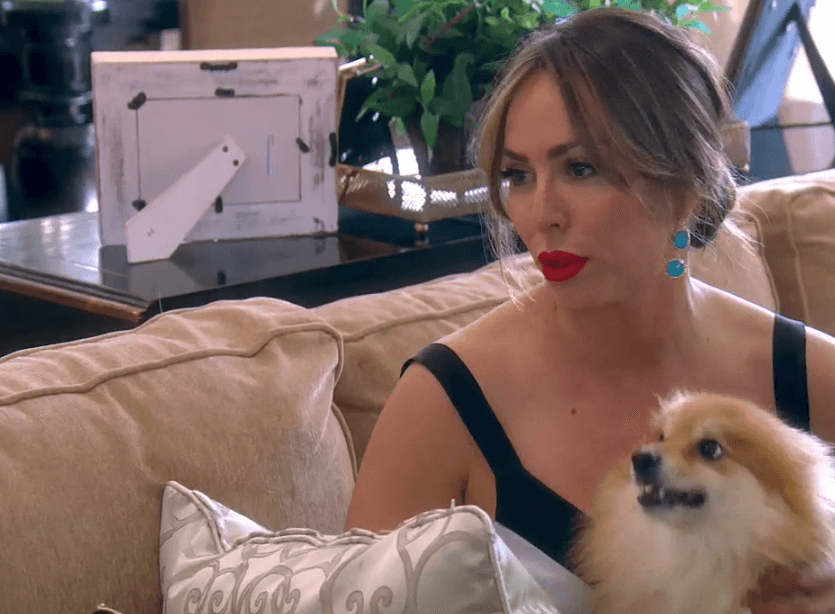 Anyway, Shane asks what he said that was so bad, but Kelly doesn't remember because she was drunk and suggests she needs a court reporter to document all the things she says. Shane points out this would work against her. They laugh. Ha-ha-ha. Kelly explains she didn't like how Shane interjected himself when she was talking to Steve and how Shane said she was drunk because she was drunk. Kelly admits she has a lot of sense, but doesn't have any common sense. Which makes total sense.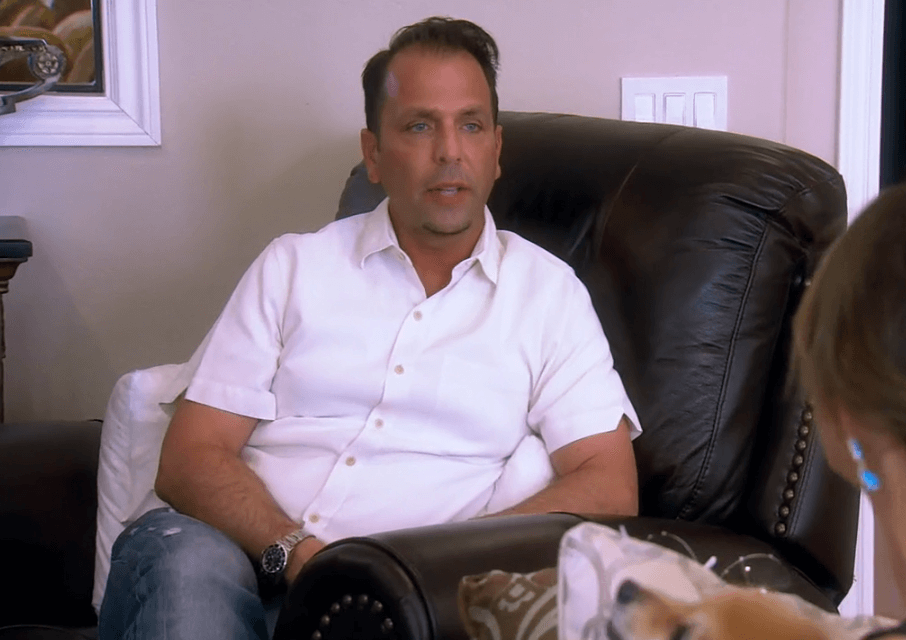 Real Housewives of Orange County cast trip to Jamaica is shown for later this season. And it looks like extra baggage fees will be charged for all the drama the ladies are packing.
"Like" us on Facebook  "Follow" us on Twitter and on Instagram