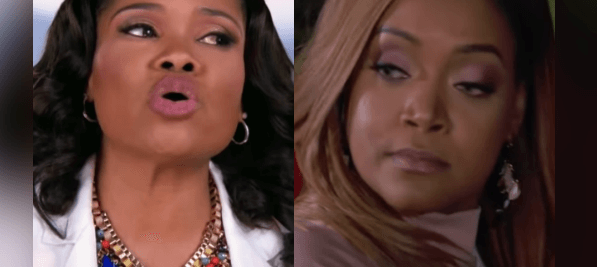 Married to Medicine Recap!
Sunday's episode of Married to Medicine picks back up at Dr. Heavenly Kimes' crab boil gone awry! Heavenly is done going off on Quad Webb-Lunceford, who accused the Married to Medicine women of not being "sisterly." Heavenly takes a break from yelling at Quad to redirect her anger to Mariah Huq — who's chatting with Toya Bush-Harris on the patio. 
The dentist waste no time unleashing her *deavenly* rage on arch-nemesis, Mariah, "but if you could forgive her [Mariah Huq] for the lies she told on you," Heavenly barks at Toya, in hopes Toya will join her unsuspected attack on Mariah. But Toya doesn't take the bait and makes it clear that she's "not reliving the past." An astonished Mariah, turns to Heavenly and says "The lies I've told?" to which Heavenly quickly ignores her and storms off. Toya shouts, "Heavenly I think you're just mad at Quad."
Heavenly then goes over to sit with Dr. Simone Whitmore and Dr. Contessa Metcalfe. Mariah and Toya join the three ladies and Heavenly gets to the root of the issue — Mariah's receipts on Heavenly's husband, "Daddy" cheating. "You have receipts on my husband? B*tch that's a lie!" Heavenly tells Mariah. "Let me tell you something about me…b*tch, I come with receipts and motherf*cking invoices…believe that!" Mariah informs Heavenly, and it's on like the forth of July from there! 
Mariah and Heavenly get into a heated shouting match — that includes a fiery exchange of "yo mama!" insults. "B*tch, your house NASTY!…Pressure wash this motherf*cker…You done set us all up for contamination…with this nasty-ass house!!!" Mariah shouts at Heavenly before she saves herself from toxic exposure and sashays out the polluted yard. I'm deceased after that epic blowout, that will go down in the Reality TV Guinness book of world records, as the shadiest of all time.
A wounded Heavenly retreats inside to the arms of Quad and Contessa — Contessa reassures her that "all black men don't cheat" and Mariah is just trying to get under her skin. An explanation that Heavenly buys hook, line and sinker. Heavenly apologizes to Quad for blowing up at her and the three ladies rejoin the others outside. In the clip below, Quad's victim act emotional breakdown spirals after claiming the women are not sisterly amid her divorce crisis. Once again, the 'Sister Circle' host explodes when confronted to trust her friends and share her marriage issues. Watch the dramatic scene unfold below.
The next day, Mariah visits Toya at her home to recap the madness from the disastrous crab boil. The ladies assess the aftermath — Toya explains that she's at wits ends in her friendship with Contessa after the Army doctor shaded her. Mariah explains that the gloves are off after Heavenly went after her family. She comments that Heavenly targets her for sport and takes pleasure in going after her. Toya probes Mariah about her receipts on Daddy. Mariah reconfirms that her invoices are real and she has the receipts to prove it. Toya says if the receipts are hearsay, let them stay hearsay. Mariah advises Toya to forgive and forget Contessa for her past transgressions because their rift affects the whole group. Toya agrees with Mariah, and feels it's better to talk things out and resolve the issue.
Over at Contessa's house, her ailing father's visit is bittersweet, as suspicion that he may have prostate cancer looms. Contessa, jokes with her dad, who was absent most of her childhood, about his lack of participation in her life. She lets him know that he's forgiven for the past. Their convo turns candid when she informs him of a life-altering decision. Contessa reveals that she's made the difficult decision to have a mastectomy to avoid risk of breast cancer, which her mother passed away from. Through tears she request her dad accompany her for the procedure. 
Dr. Jackie's 2nd annual FitNi field day is soon approaching and she's in the office finalizing plans for the event. At the same time, her husband Curtis, drops by bearing gifts: an elaborate floral arrangement, Chanel perfume, and lunch. Oh oh — I hope these are not gifts for something he's done. Jackie explains that she plans to use the event to encourage fitness but to also mend some of the broken friendships with the group.
Meanwhile, Heavenly has a session with Dr. K. She recounts her fight with Mariah at the crab boil. When she tells him she called Mariah a b*tch and kicked her out her house, the doc reminds her that she has low emotion intelligence. He encourages Heavenly to dig further into her past to understand her unhinged emotional state. And it's very revealing! Heavenly does not speak to her sister, who she claims "resents her success." Her mother never told her she was pretty and never told her "I love you." Heavenly also states Mariah reminds her of her estranged sister — likely reason she exhibits so much resentment towards Mariah. Dr. K recommends she go back home to Florida and confront the issues from her past. 
It's FitNi field day time! All the ladies, even Quad shows up to everyone's surprise. Jackie and Curtis share a little PDA and do a quick intro of the rules of the dodge ball game. The game is off to a fun start — it's Doctors vs. Non-Doctors — and Dr. Eugene slams the ball in Heavenly's head! For game two, Jackie shakes things up by pairing the people having conflict with each other. Heavenly thinks it's messy! Mariah rather be paired with Trump than Heavenly and Heavenly rather have an infected hemorrhoid removed. 
Contessa pulls Toya aside and apologizes for her part in their fight at Heavenly's crab boil. She explains that the pressures of dealing with her father's health issues are taking a strain. Their convo is cordial and they seemingly make up.
The FitNi event is a success — the ladies pulled together and worked as a team. Goal accomplished Jackie.
Later that week, Contessa and Toya meet for lunch at a nice restaurant. Toya wants to address the unresolved issues she has with Contessa. She starts by telling the Army doctor that they have not been on the same page in the friendship. The shade Contessa threw at Toya's "clearing up debt," party last year is still bothering Toya.
Contessa feels Toya is trying to frustrate her and thought their issues were resolved at FitNi. Contessa dismisses Toya's grievances by ordering the entire menu —she comments that Toya's being "petty" and looking for conflict. Toya recognizes the obvious shade and says Contessa doesn't care about her, in a talking head confessional. The two bicker back and forth, and Contessa gets up to leave then realizes she's not wasting all that good food she ordered, and quickly returns to the table. They argue some more until Toya walks away and tells Contessa, "Bye, enjoy your food!"
Next week on Married to Medicine — Quad has a heart-to-heart with Jackie over her marital issues while the guys have a much-needed night to themselves where Greg tells his side of the story.
"Like" us on Facebook  "Follow" us on Twitter and on Instagram