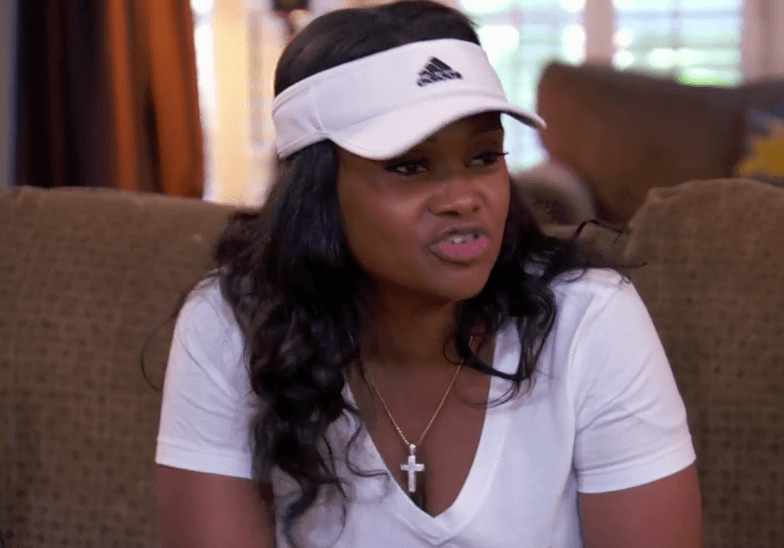 Sunday night's episode of Married to Medicine begins the day after Mariah Huq spilled piping hot tea at Simone Whitmore's 'Leather & Lace' party — about Heavenly Kimes' husband a.k.a Daddy (Damon Kimes) cheating. Heavenly is totally rattled by Mariah's revelation because Daddy is 'the best man' she's ever laid eyes on. But Mariah says she has "receipts," to prove Daddy's infidelities.
Heavenly informs Daddy that she attended Simone's party and tells him about the drama that went down with Mariah. Heavenly fails to mention that she attacked Mariah's husband first. Damon looks like a deer in headlights about the cheating claim. Heavenly claims Daddy is collateral damage in her feud with Mariah. He tells 'Buddy' a.k.a, Heavenly that his feelings are hurt and his wife reassures him that she doesn't believe it. Buddy plants a kiss on Daddy and he walks away with a sly grin on his face.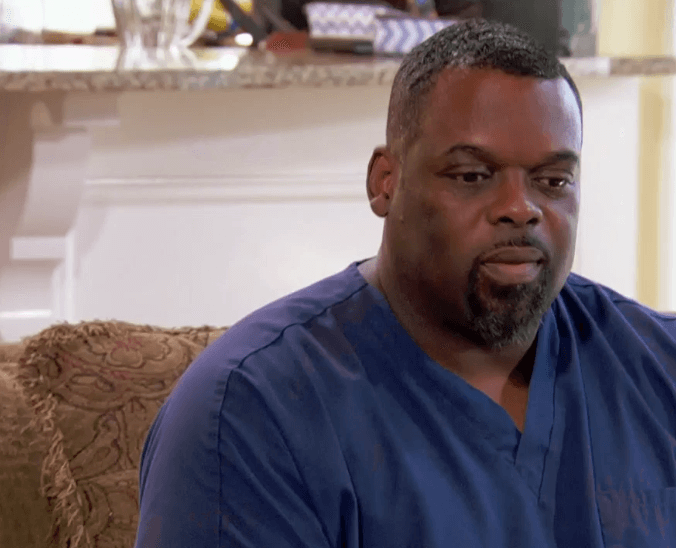 Over at Contessa Metcalfe's house, dinner is interrupted by one of her kids choking on sushi. Contessa springs into doctor role and eviscerates the sushi from her daughter's mouth. After that's done, the kids retreat upstairs and Contessa and her husband, Scott, discuss her concerns about her father's ailing health, and tells Scott she wants him to visit. She goes into detail about her childhood and growing up with a drug addict father, who was mostly absent in her life. She wants her dad back in her life to build a relationship with her children.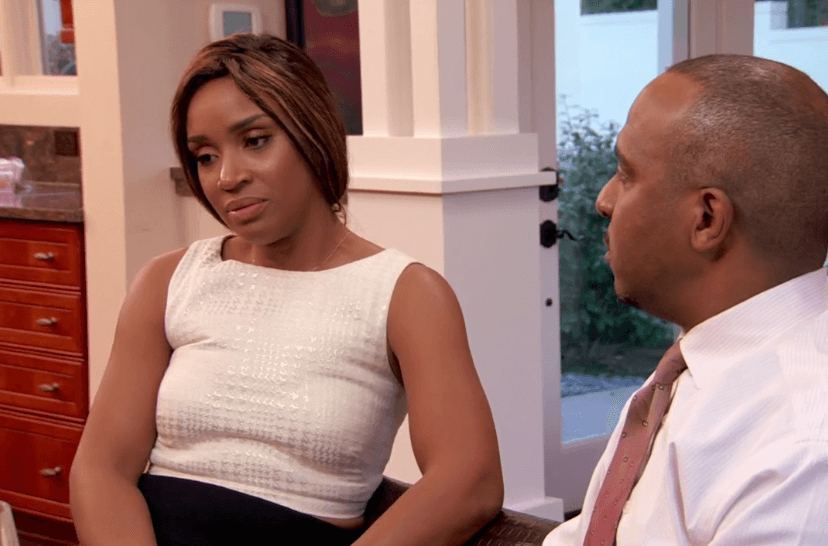 The next day, Quad Webb-Luncford's meets for lunch with her 'Sister Circle' co-workers, who according to Quad 'feels like family,' now. Quad feels isolated by the other ladies during her current marriage woes, and has been distancing herself from them. Quad tearfully tells her 'Sister Circle,' friends that her husband was in a 'hotel room with a woman and gave himself to another woman.' Quad's newfound friends play comforting support system, which is music to Quad's ears since she's dropped the other ladies like a bad habit.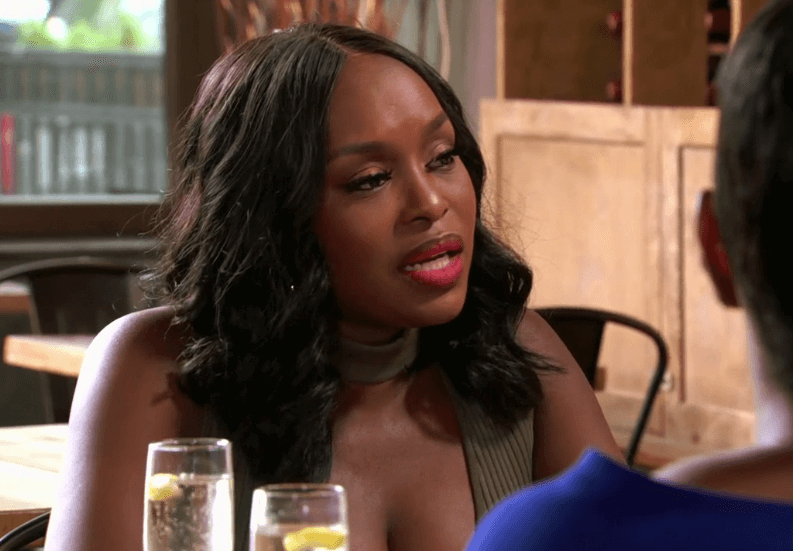 Toya Bush-Harris has been keeping busy planning a surprise party for her husband's recent promotion. She meets with an event planner to discuss the details of a medical-themed party.
Meanwhile, Simone arrives at Cecil's south house and things are still awkward between this married couple. It's been a long time since they've been intimate, and Cecil is still nowhere closer to rearranging Simone's uterus. Simone brought him a life-size portrait of herself in a sexy outfit, and she's hanging it right by the TV in hopes this will inspire him to have wet dreams about her. Over dinner their cordial discussion turns into another argument about Simone's neglected feelings. Simone argues that she's flexible but Cecil feels she's stubborn. Then she reminds him that he's not getting none again because he treats her bad.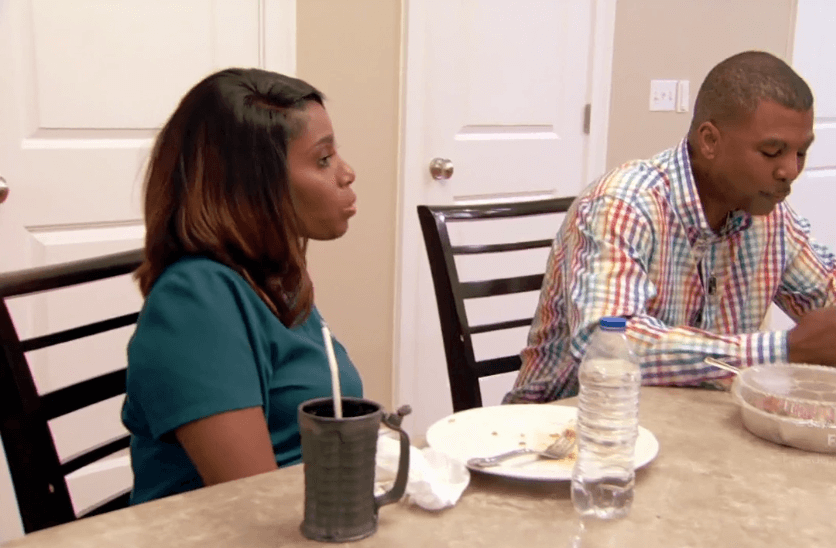 Dr. Jackie Walters is the best OBGYN in Atlanta, so naturally 8-month pregnant, Real Housewives of Atlanta star, Eva Marcille, chose Jackie as her doctor. It's nice to see a real life Bravo crossover. 
Heavenly finally recognizes that she requires professional help to tame her unstable outbursts and is seeking assistance from Dr. K, an anger management therapist. She brings up her recent fight with Mariah and explains that all she does is speak her truth but people can't handle it.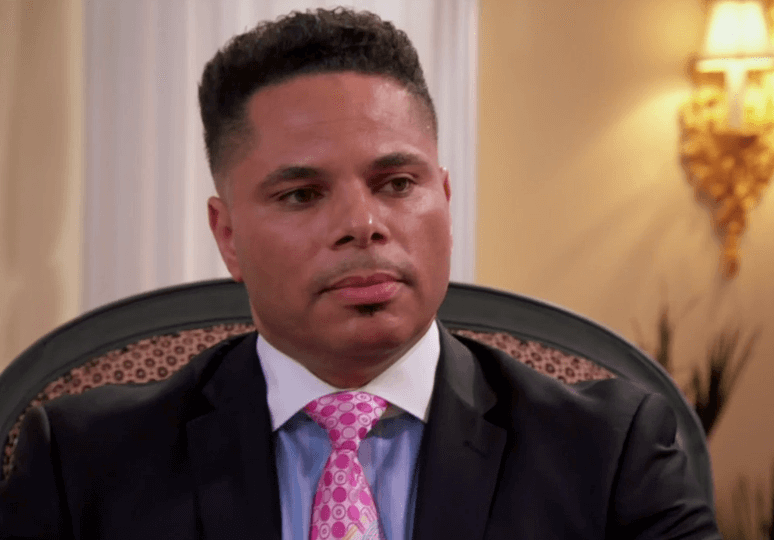 But Dr. K is not falling for Heavenly's victim act, because he's uncovered the venomous woman who lives inside the dentist, via a Google search. The doc asks Heavenly what drives her vile behavior, which brings her to tears and a commitment to work on her anger issues with Dr. K.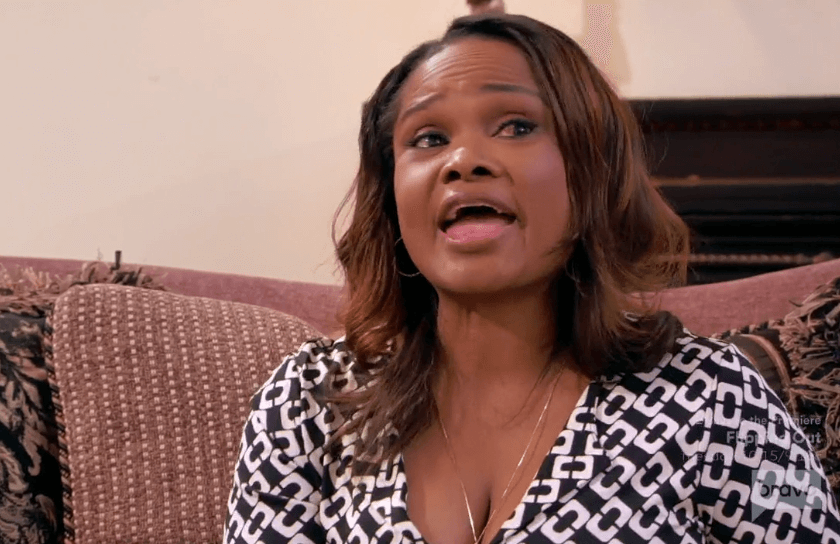 It's party time! Heavenly and Simone arrive at the venue, King & Plow, early to ensure everything is perfect for Eugene's surprise party. Guests start to pile in and Contessa's husband, Scott, arrives solo. He explains that Contessa couldn't attend because she's picking up her sick dad from the airport. Simone wears a sexy nurse outfit, which Cecil loves but he needs the action behind the sexy outfit, "because without the action, the outfits mean nothing," Cecil says in a talking head.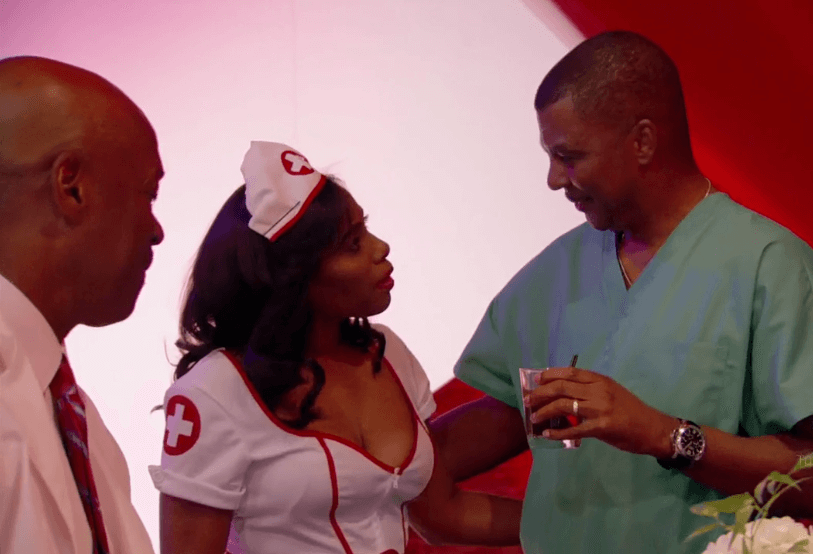 Mariah and Aydin arrive and are all smiles, naturally Heavenly is very bothered by their happiness. Mariah and Ayden are greeted by Cecil and Simone, and she cracks a joke about coming to the party wearing a greasy weave and a white doctor's coat, with a "Devilly" name tag, but decided against it. This show needed Mariah's energy and I'm happy she's back!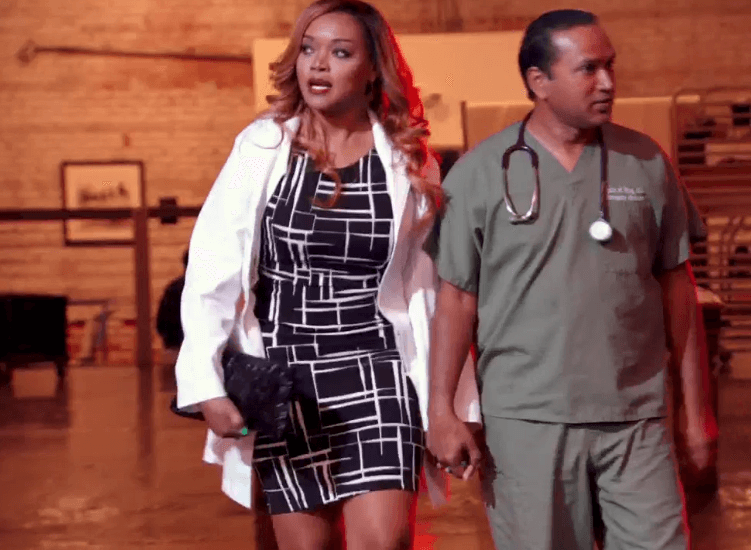 Eugene and Toya arrive and everyone shouts "Surprise Eugene" — the surprise is a big dud because he's bewildered — even after Toya explains that the party is for his work accomplishments. After mingling with guests and taking a few snaps, Toya chats with the ladies and inquires about Contessa's whereabouts. The ladies explain that Contessa is waiting for her sick dad at the airport. Toya feels slighted that Contessa didn't call her personally to communicate this info. Heavenly then reluctantly says 'Hi Mariah!' to which Mariah playfully responds, 'I don't talk to dentist…I'm a doctor,' — the other ladies erupt in laughter — much to the displeasure of Heavenly!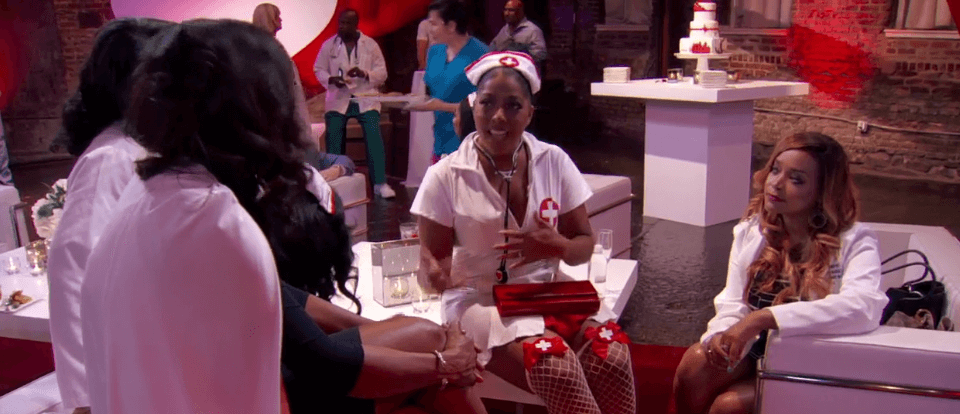 The fellas gather at Eugene Harris' surprise party to get an update from Cecil on his reconciliation with Simone. "So we doing counseling…we still got the whole separate kind of thing going a little bit." Cecil explains to the other husbands. "So I'm still on the south side, she's still on the north side." Eugene questions why the couple are still living in separate homes. "Why haven't y'all got back to the point where y'all are like at the same place?" Eugene asks Cecil."Are we at least discussing that?" Cecil explains that they're taking things slow because he doesn't want to repeat the same mistakes from the past."No, we are. It would be simple for me to move back to the crib and we start doing the same sh*t and then we're back in the same place." Cecil tells Eugene. Nevertheless, Simone and Cecil are "hearing each other" and working "on what each other needs." Cecil reassures the concerned men.
The episode concludes with Toya throwing major shade at absentee Contessa. While toasting her husband, Toya thanks her 'core,' friends who are there, and the insinuation is that anyone not there (Quad and Contessa) are not her 'core.' The shady speech prompts Contessa's hubby to defend his wife for not calling Toya. Scott says his wife is tending to her sick father, and that takes priority over Toya's party.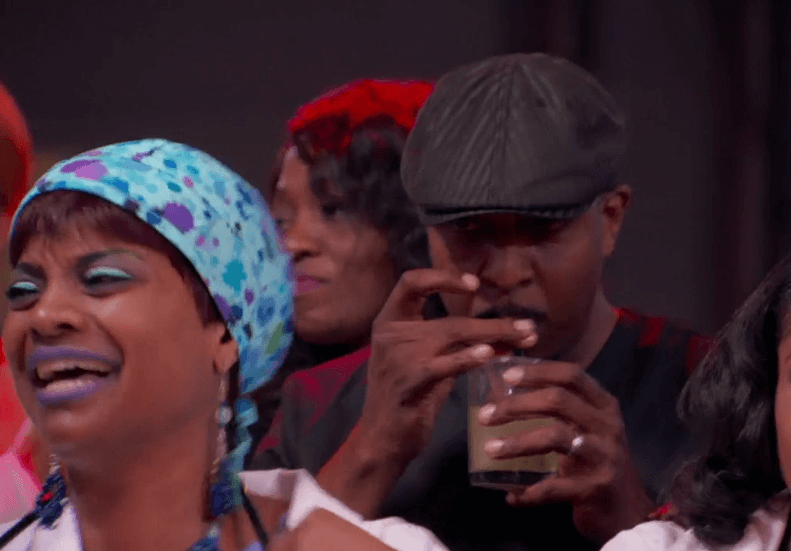 The climate in the room grows more uncomfortable when Toya takes a call from Contessa (on speaker phone) in front of everyone. Toya scolds Contessa for neglecting to call her before the party, then brings up shady comments Contessa made about Toya's finances at Eugene's 'In the Black' party last year. But before Contessa could get another word in, Toya says goodbye and hangs up the phone on her. The whole exchange is cringeworthy, especially for Eugene.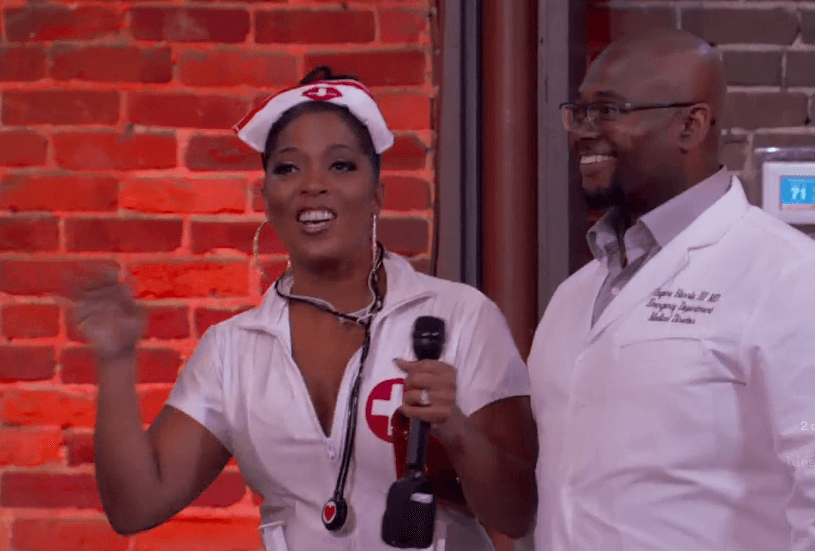 Next week on Married to Medicine, Heavenly attempts to bring Quad back into the circle of friends for a crab boil. However, everything comes to a boiling point with the women as friendships and loyalties are questioned.  
"Like" us on Facebook  "Follow" us on Twitter and on Instagram