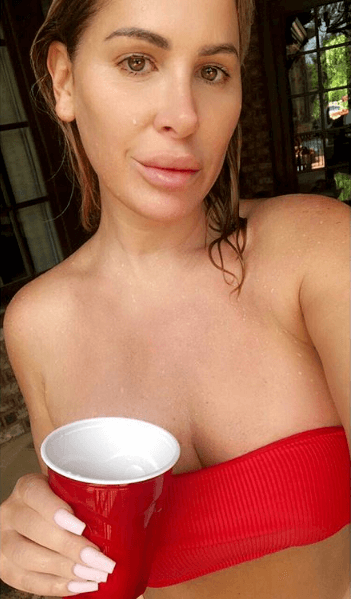 Kim Zolciak-Biermann Goes Makeup Free!
Armed with her signature red Solo cup in hand, Kim Zolciak-Biermann, shared a makeup free selfie — with the help of a filter, of course. "Just one of those days," she captioned the photo on Thursday, Sept 6. "My chest and face are glowing though thanks to @napsmedspa IPL."

In response to the Don't Be Tardy star's bare face pic, one fan responded, "Ewwwww u look deformed."
The backlash did not stop there, reality TV spectators continued to slam the mom of six over her fresh face photo.
"Thank god for make up and wigs cause you definitely need them !! You look ridiculous."
"I think you have body dysmorphia and should get help. Not jealous or hating, I'm totally serious. You look so weird."
"Why would you lie right to her face? You know that she does not look good she looks absolutely abnormal."
"Not when they're doing something like this to their face. She needs to get a grip and read these posts and realize that she has done something horrible to her self to where she is unrecognizable. She used to be so pretty and she is from the eyes up but her nose and her face I just don't understand why any doctor would do that."
"Must be very poor self-esteem if she's doing this to herself over and over again it's just getting worse over time."
"I think you were absolutely right. There is something wrong when a woman needs to do this and think it looks good. We all have issues but this is going beyond in human looking and she's passing it on to her daughters… She needs psychiatric help for sure I totally agree, but what doctor would do this and put his name on it?"
Other critics called out Zolciak for poorly influencing her daughters to obsess with cosmetic enhancements.
"Her two oldest daughters are doing the same thing, great example right!"
"Problem is she setting a poor example for young women today including her own children."
Are you impressed by Kim Zolciak's bravery to share her makeup free mug? Sound off in the comments!
"Like" us on Facebook  "Follow" us on Twitter and on Instagram