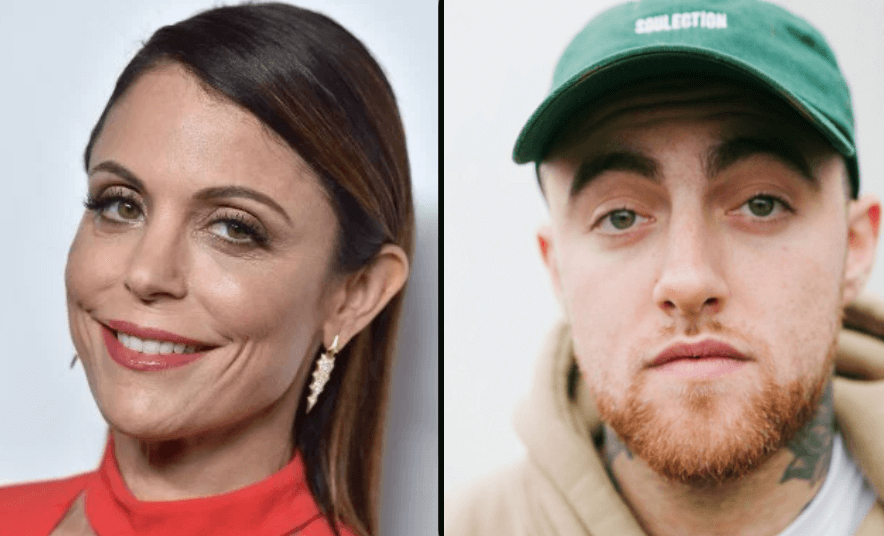 Bethenny Frankel Dragged For Disrespecting Mac Miller's Death!
Bethenny Frankel regrets tweeting about deceased rapper, Mac Miller's overdose, after Real Housewives of New York City fans dragged her for being uncompassionate.

The 26-year-old rapper was pronounced dead from an apparent overdose, on Friday. Miller's death prompted the Skinnygirl mogul to tweet and delete, "So @MacMiller is dead. Let's keep prescribing poison when we have a toothache." Presumably a reference to the death of her part-time boyfriend, Dennis Shields, who also overdosed on prescription pills.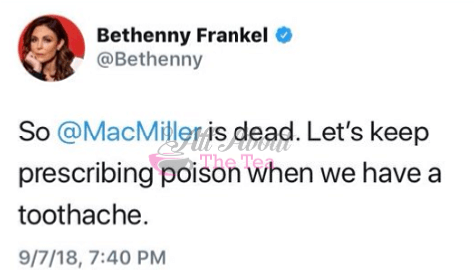 Real Housewives of New York City fans exploded — many called out the reality starlet's cold-hearted unsympathetic prose.
No type of fucking sympathy at all SMFH! Have some respect for his family!

— Mrs Scott 🇧🇧 (@iimperfectionn) September 8, 2018
Insensitive comment considering you just lost a friend yourself.

— marije717 (@marije717) September 8, 2018
https://twitter.com/samg1994/status/1038229247771463680
Horribly disrespectful and rude. Unfollow ✅

— Terra C 🌊 (@mrstxgoldbuyer) September 8, 2018
This is not very sensitive at all. Please delete

— BabyGirl (@ThatBitchJazzy) September 8, 2018
https://twitter.com/kmbrlygrauer/status/1038229733908078592
Frankel shared her heartbreak over the overdose death of her ex, Dennis Shields — the Real Housewives of New York star tweeting about the "excruciating" aftermath, on Aug. 27.
"It's hard to breathe & I appreciate you giving me the space & support to try to do so. It's excruciating-sudden death is no closure & constant ?s & memories. Our relationship is current so it's painfully raw. Trying to stay healthy & move through it w tears & close friends. Xo," Bethenny wrote.
Do you think Bethenny Frankel's tweet disrespected Mac Miller's passing? Sound off in the comments!
"Like" us on Facebook  "Follow" us on Twitter and on Instagram