Welcome to Part 3 of The Real Housewives of New York City reunion. Sometimes the third installments of these shows can be a little lackluster because by then it's just scraps of drama, but lucky for us we still have the Colombia trip and boat ride from hell to discuss!
But first we return to Carole Radziwill telling Andy Cohen he's "full of shit." Bethenny Frankel and Carole continue to yell about who bashed whom. Bethenny accuses Carole of having her friend bash Skinnygirl on video who said the name is body-shaming. Andy tries to switch the subject by bringing up Red Scarf Guy. Are any of them still in contact with him? It's a no from Bethenny and Ramona Singer, but a yes for Carol, though she says they aren't dating. Maybe they're just having "tea." Bethenny says Carole was smug about him in Colombia. The two read texts from RSG, but talk over each other and the only thing we can understand is Carole calling Bethenny a liar and Bethenny calling Carole a shmoron.
Andy asks where Carole and Bethenny go from here? It's over, Andy. In fact, the fat lady is singing so loud my ear drum is about to burst. Oops, I'm sorry. Didn't mean to body shame the fat lady. In any event, Bethenny says Carole has changed. And if by changed she means Carole's no longer up Bethenny's ass, then yes, Carole has changed.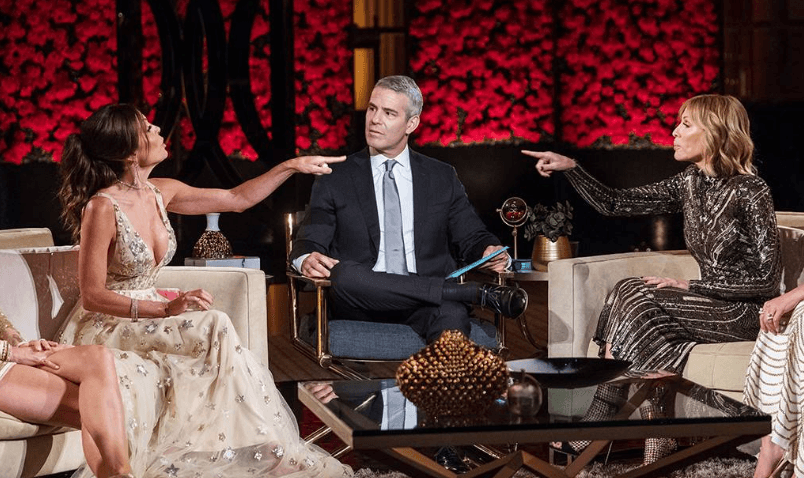 Moving onto Sonja Morgan. Flashbacks are shown of Tinsley Mortimer yelling at Sonja, Dorinda Medley yelling at Sonja, and Sonja moving out of her townhouse. Sonja says she has moved to an apartment and loves it, but unfortunately no pics are shown. Sonja is asked if something happened that triggered her to go to Costa Rica. We get a lengthy explanation that ends with Sonja explaining she went off her anti-anxiety meds which caused her to have diarrhea of the mouth. Andy's not buying it and neither is Tinsley. Ramona says it's because Sonja quit "almost cold-turkey" and this is what caused her to lash out in a negative way. Wow. They need to update the list of side-effects. Warning: Quitting this drug "almost cold-turkey" may cause you to tell your friends how you really feel.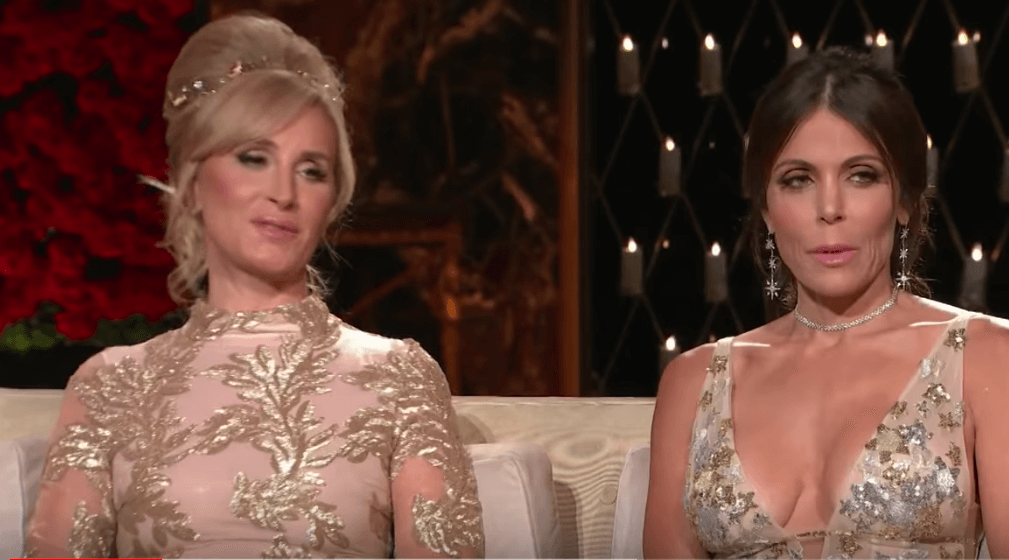 Sonja  is asked about Dorinda always talking about her dead husband. Sonja says Dorinda has every right to talk about Richard, but so does she about the life she no longer has as a Morgan. Dorinda still believes burying a husband is way different than divorcing a husband because death is not a choice and divorce is. Sonja says her divorce was not her choice but a consequence of her actions.
So why did it upset Dorinda that Sonja is wearing the family crest? Dorinda says it's her opinion and she's entitled to it. Key word: entitled. Meanwhile, Ramona stands up and starts slapping her ass. Andy asks what gives and she explains she's having a butt cramp. Sonja says things are better with her ex and his wife, but for a while, the lawyers made things awkward. Sonja says she may say stupid things, but she cares for everyone on the show, though she wishes Ramona would stick up for her more.
It's Carole's turn now even though it feels like we've discussed her enough. Congrats are given for running the marathon. You can tell Tinsley thinks the world of Carole, but unfortunately it's not a two-way street. Carole says she and Tinsley are just friends and aren't bff's like Bethenny keeps saying they are. This hurts Tinsley's feelings because she thought they were besties. Bethenny points out that when you travel to three different countries together, you are best buds. Carole gets snappy and says they were just going places with their boyfriends. Ouch. This kind of reminds me of Cynthia and Kenya on RHOA.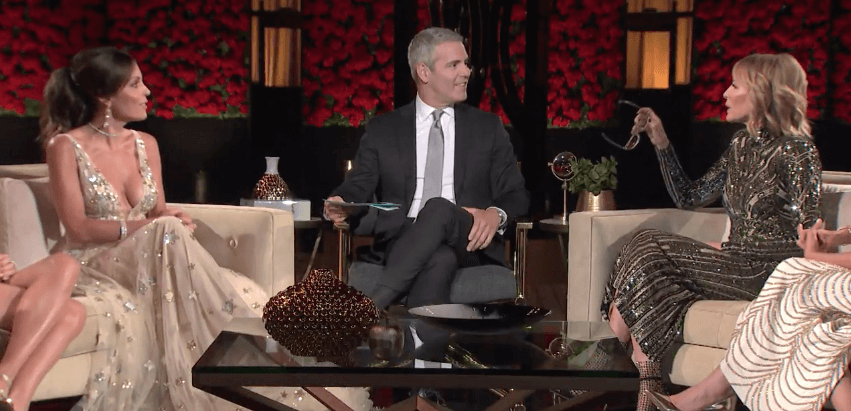 Andy asks a viewer-question to Carole about self-identifying as a journalist even though she hasn't written in two years, misses deadlines, and resigned from ABC in 2001/2002. Bethenny flinches when she does the math because it's been 17 years since Carole had a career. Dorinda calls Bethenny out for bullying. Bethenny then broadcasts her resume, and name-drops like crazy. Lorne Michaels. Nicki Hilton. Forbes magazine. Arrogant woman.
Thankfully, that segment ends and it's finally time to talk about the trip to Cartagena! Flashbacks are shown of Bethenny's meltdown, the boat's meltdown and all the shit that went down. Everyone applauds Ramona for no longer acting like a 12 year-old brat when it comes to picking rooms. Then we circle back down the drain of Bethenny and Carole's friendship. They discuss Bethenny's crying and Carole explains that due to her large hippocampus she can't handle people who cry. For people with a small hippocampus it's actually called having compassion.
Tinsley says that she was shocked that everyone didn't love Cartagena. I mean what's not to love? Diarrhea and drug dealers are the perfect combo. Andy asks Tinsley why she wasn't concerned during the boat ride from hell. Tinsley says reason number one: she'd been drinking and reason number two: she'd been drinking. For some reason Andy asks about the poop smears on the floor and asks how this happens to a grown woman. Just wait, Andy. You'll be pooping and wearing diapers one day, too.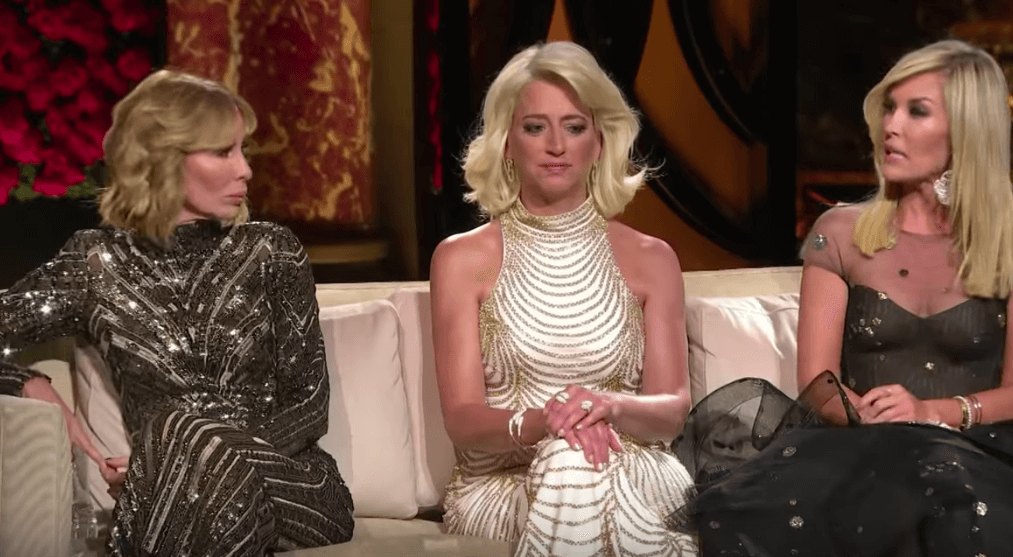 We have finally arrived at the grand finale of the season. Andy asks the ladies to say their biggest regret of the season. Bethenny's regret is calling Dorinda a drunk on TV. Dorinda cries and has to pass her turn. Tinsley's biggest regret is screaming at Sonja. Sonja's regret is reopening last season's wounds with Tinsley. Ramona has two regrets, posting the picture of the ladies right after Luann's rehab stint and trying to attend Tom's NYE party. Carole's biggest regret is – but before she can answer – Andy asks if it's, "Telling me I'm full of shit." Get this, Carole doesn't remember saying this. It's shown again for those who didn't see it the first seven times. Carole's biggest regret is failing to reconnect with Bethenny. Dorinda's biggest regret is her fight with Luann. And although Luann is not there, I'm going to go out on a limb and say her biggest regret was going to Palm Beach for Christmas.
Shots of green guck are handed out and the ladies of RHONY (including Andy) toast to Luann and their great season. Tell me what you think. Was it a great season?
"Like" us on Facebook  "Follow" us on Twitter and on Instagram