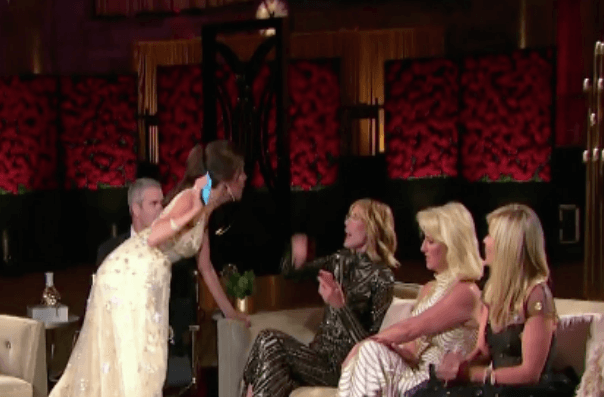 Things get animated on the third installment of The Real Housewives of New York Season 10 reunion tonight!
The Real Housewives of New York reunion concludes on Wednesday, September 5, with Bethenny Frankel and Carole Radziwill hammering the final nail in their friendship.
The two women will revisit insults thrown during the season and Carole responds to claims from Bethenny that she doesn't have a career. Carole accuses Bethenny of age-shaming and career-shaming her.
When addressing Brian (the Red Scarf Speed Dating Guy) — Bethenny lunges at Carole and shouts "booyah b*tch!" over a text message that Carole sent the Skinnygirl mogul.
"I realized I was really, really trying to salvage our friendship and you didn't seem that interested."
Watch the drama unfold in the video below.
Also in this episode, Carole flips the switch on her friend Tinsley Mortimer. Just as Tinsley says that she and Carole grew closer when she began dating Scott, Carole chimed in to say that they actually weren't that close at all.
"We don't see each other that much," Carole says from across the couch, gesturing at Tinsley. "I think the last time I saw you was in May."
According to Carole, Bethenny was the person that perpetuated the notion that Tinsley and Carole were BFFs, and that's simply not true. 
"Bethenny made it seem like we were BFFs, thick as thieves, but we weren't," Carole said. "We never were." 
The reunion concludes with the women reflecting on their biggest regrets of the season.
Share your thoughts on Bethenny Frankel and Carole Radziwill's final showdown. And don't miss The Real Housewives of New York reunion Wednesday, at 8:00 p.m. ET.
"Like" us on Facebook  "Follow" us on Twitter and on Instagram