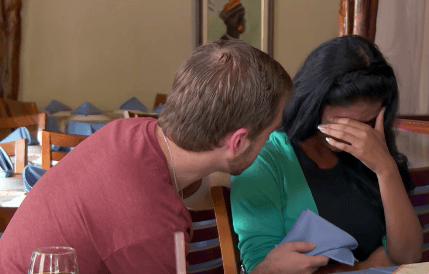 On tonight's all-new episode of 90 Day Fiancé: Before the 90 Days, Paul Staehle's controlling nature gets exposed by Karine Martins!
Normally, Karine is in the hot seat but tonight she turns the tables on Paul when she exposes him as a dictator fiance.
In a preview clip below, a tearful Karine tells her parents that Paul is not a nice guy when they're alone, and he makes her cry. 
"Sometimes he treats me so well in front of my parents." A teary-eyed Karine tells her parents. "Sometimes when they aren't with us…he is not always this nice. He banned me from talking to a lot of people…because he doesn't trust me."
As fans know, Paul had previously grilled Karine about posting inappropriate emojis on the profiles of men online —  and demanded she to take another pregnancy test. 

90 Day Fiance: Before the 90 Days follows couples before the K-1 Visa process begins, from how they found each other, to meeting in person for the first time and traveling to a foreign country with surprises along the way. Despite challenges including 20-year age gaps, language barriers and questionable pasts, these lovestruck hopefuls travel across the world to meet the person they believe is their soulmate.
Watch the drama unfold above and tune into 90 Day Fiance: Before the 90 Days, Sunday at 8:00 p.m. EST, on TLC!
"Like" us on Facebook  "Follow" us on Twitter and on Instagram