Celebrity News
'RHOA' Fans Goes Off Over Kandi Burruss Buying Riley $100K Porsche Without Consulting Todd Tucker!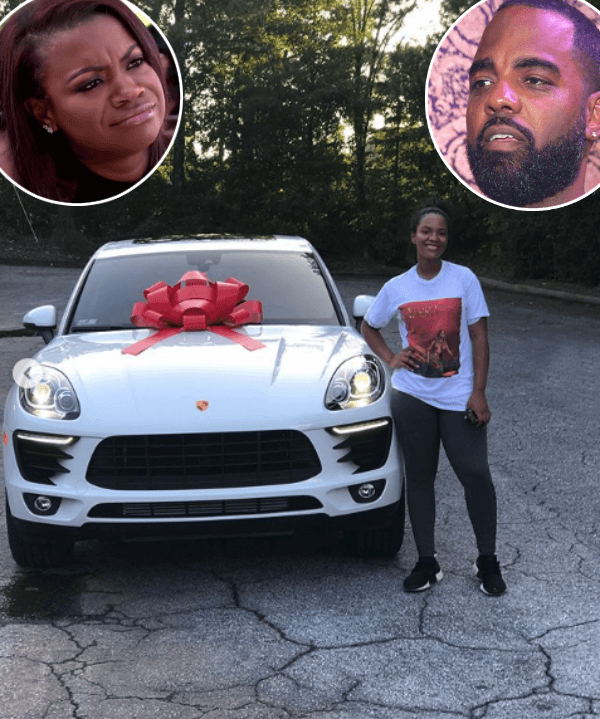 Kandi Burruss recently dropped $100,000 on a luxury SUV for her daughter, Riley's 16th birthday. 
Riley Burruss turned 16 on August 22, and was gifted a Porsche by her entrepreneur mother — The Real Housewives of Atlanta star shared the moment on social media, "I had to surprise my baby girl @rileyburruss today with her car. Her #Sweet16 is tomorrow but I figured she would be super surprised & not expecting anything if it was the day before her b-day. I put the nickname that @nickiminaj gave her on the floor when you open the car door. #Rilez," Kandi's post captioned. 

Unfortunately, the restaurateur is facing backlash after a new report claims that Kandi made the lavish high-priced purchase without her husband, Todd Tucker's consent.
"Todd was livid Kandi bought Riley such an expensive car and they had a huge fight," reports Radar Online.
"Todd told Kandi she's spoiling Riley and preferred she get a Honda Civic as her first car. Kandi basically told Todd to mind his own damn business and that it's her own money that she's using to spoil her daughter," the insider continued.
It's no secret that Kandi is the big bread winner in the family — and according the source — this fact creates tension and problems in her marriage.
"Kandi's always reminding Todd that she's the boss of the family because she has all that money," the source claimed. "That irritates the hell out of Todd and is the catalyst for many of their fights."
Twitter chimed in on the report, sharing their opinions on Kandi supposedly not consulting her husband before buying the expensive gift for a 16-year-old child.
I can see both sides. Yes Kandi is worth millions, Riley is her first born so of course she can give her a Porsche. However, I can see Todd's side..wtf is a 16yo doing with a Porsche??? We couldn't get her a Camry? A Hyundai Sonata? But it ain't our money

— Sad Kitty (@NeciaBelle_) August 31, 2018
Kandi has the means to spend $100k but I think ppl are making this more about money then about the principle of consulting your partner in a marriage when it comes to finances. Every purchase doesn't require an approval but communication and compromise is a must.

— MS.LOULOU (@MsJazzybelle) August 31, 2018
I think the only thing that would stems Todd anger is the fact that Kandi didn't get his daughter Kayla one as well. If they gone be married, they can't show different treatment amongst the kids.

— Shaun (@imlowkeyfamous) August 31, 2018
Kandi can spend whatever she wants on Riley. I just hope that she knows when it comes to Ace if Todd ain't having that then they would have to compromise.

— Lisa McDowell (@MELROSEdotorg) August 31, 2018
Article said that "todd was upset and felt that kandi was SPOILING Riley and wanted to get her a Honda."

That mothafucka is not interested in being her father if he takes her receiving gifts that are accustomed to her lifestyle as spoiling.

— Bejá (@writtenbybeja) August 31, 2018
The Real Housewives of Atlanta is currently filming the show's 11th Season, and expected to air this November.
Do you think Kandi Burruss' extravagant birthday surprise for Riley should have been a joint decision with her husband, Todd Tucker? Sound off in the comments!
"Like" us on Facebook  "Follow" us on Twitter and on Instagram