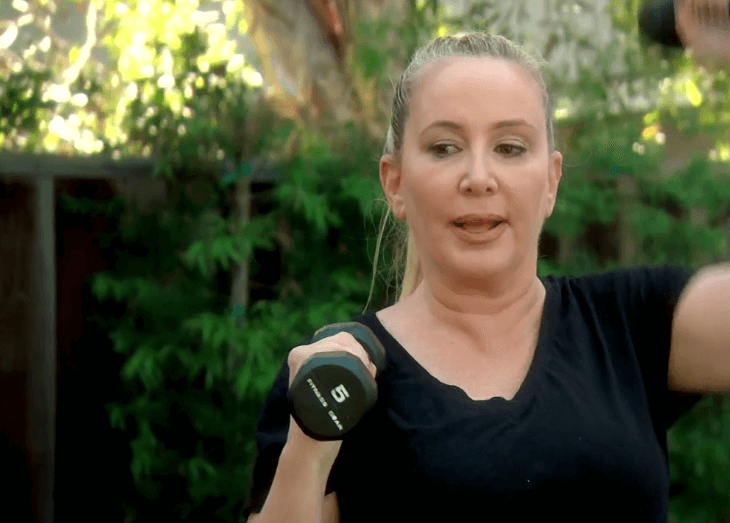 Real Housewives of Orange County Drama!
We begin this week's Real Housewives of Orange County with everyone's favorite cast member – Archie! He's watching Shannon Beador work out with her new buff personal trainer, but I'm sure he's wondering why they can't go for a walk and chase balls in the park. That's the best exercise ever. The instructor tells Shannon to lift the dumb-bell up and down. Just pretend its David Beador's head. Shannon unloads on the trainer like he's her psychiatrist. The trainer explains that with time, confidence will come – and so will a stomach that doesn't stick out farther than her boobs.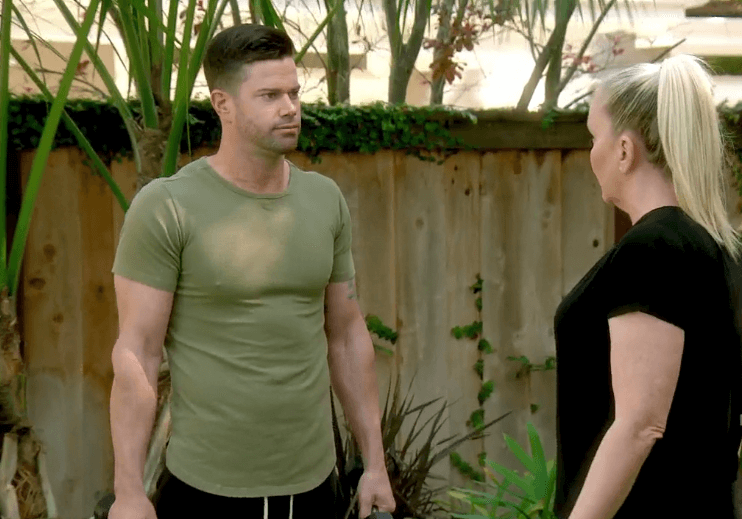 Up next Eddie and Tamra Judge are meeting Emily Simpson and her husband, Shane for dinner. Tamra is trying to figure out if Shane's the jerk that Gina Kirschenheiter described. Everyone orders a cocktail except for Shane. He orders a diet coke. Next, they discuss Eddie's health, and this impresses Tamra, so she gets right to it – did Shane throw Gina out? He says no. Shane explains, "He welcomed her to stop being loud and obnoxious." Welcomed her? Like when someone welcomes you to leave the movie theater because you're on your phone? Emily says that Shane is being sarcastic, but Shane says there's a bit of judgement truth in what he says.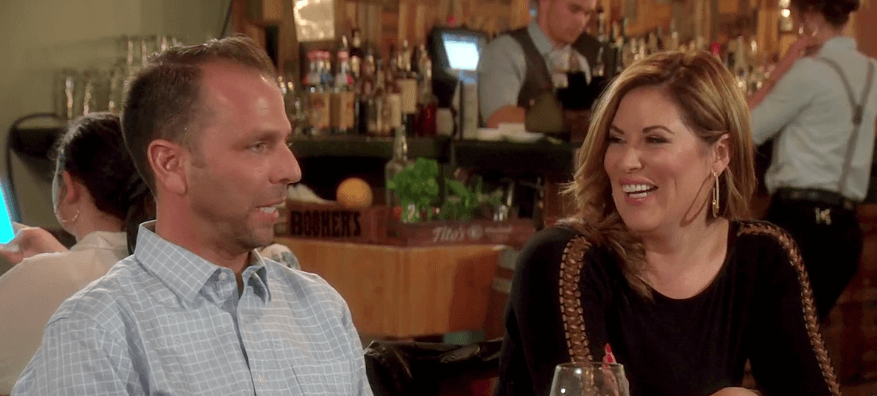 Over at Kelly Dodd's place, her daughter Jolie is baking a cake. Kelly isn't digging her new digs and tells Jolie she's been house hunting, but the prices are sky-high. Jolie wants the expensive house with the pool, near the beach. Kelly tells Jolie that being entitled isn't good, and she should know. Kelly wants Jolie to be grateful for the things she has. It's decided they will work in a soup kitchen in the not-too-distant future.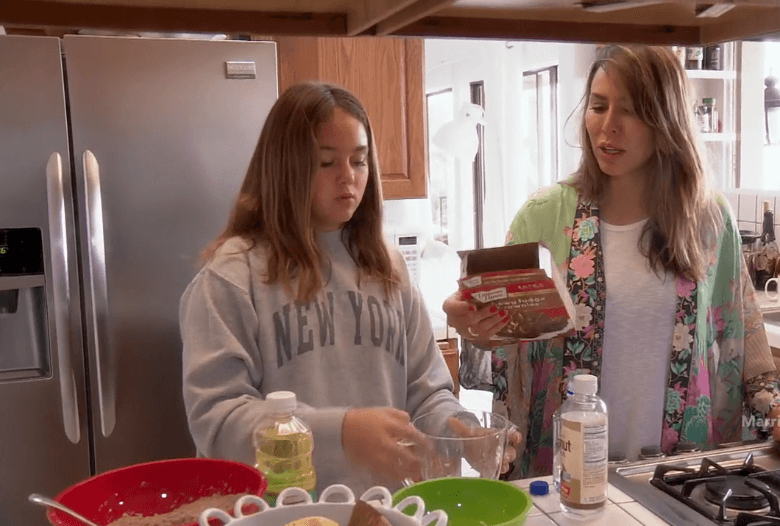 Vicki Gunvalson and her boyfriend, Steve, are dining at home tonight while Vicki reminds Steve how much she wants to get married. She brings up her birthday (hint, hint, Steve) and says she's planning a golf outing for the ladies now that Steve has gotten her golf clubs and she's all about being a married couple who golf. Steve says he has something planned for Vicki's birthday, but it's not a party.
We join Emily and Gina as they shop. Emily was running late because her Tesla battery died. How scary. Glad she survived. Gina tells her that after she left the beachside bar the other night, all the girls talked smack about her. Gina shares that Shannon thinks Emily's marriage is on the rocks because that's how her husband used to speak to her. Gawd, girl. You should do something about that, says Gina. Emily is pissed. She doesn't like the others passing judgment on her marriage. Where are the boundaries? LOL. If you want boundaries, don't go on a reality show.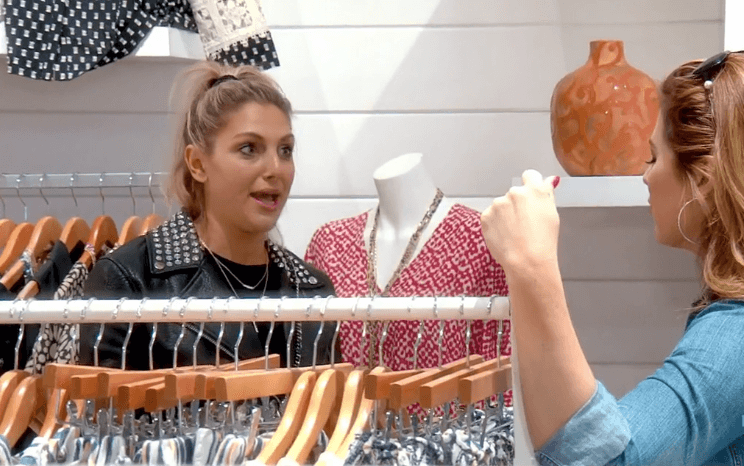 Kelly and  her daughter, Jolie, arrive at the soup kitchen at six a.m. ready to help. Way to go, Kelly! Look at you being a good mom. It's bringing tears to Jolie's eyes. Oops, that's the onions Kelly's chopping for the soup. Kelly and Jolie work the food line until they complete their shift. Afterwards, Jolie tells her mom how blessed she feels. Score!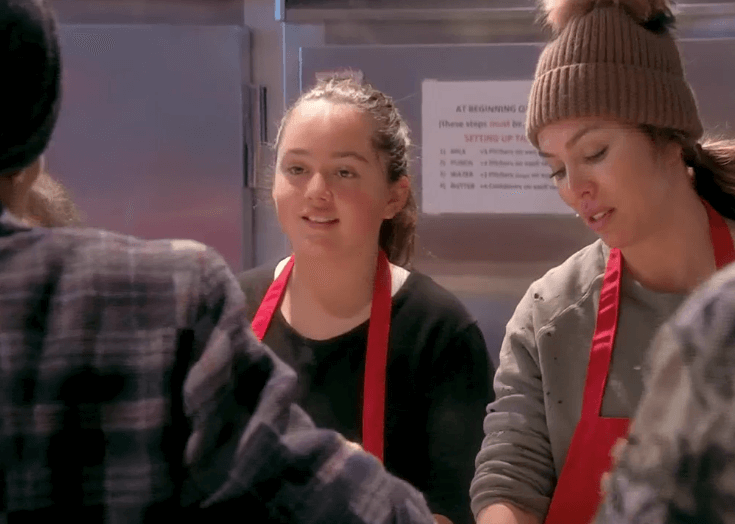 Tamra's mom is over at her new house which finally looks finished. Tamra tells her mom the CBD oils have been working wonders since she doesn't smoke pot. Guess who does smoke pot? Her mom's new boyfriend! He's a plumber and Tamra's excited because she needs, not only a plumber, but for her mom to have a boyfriend.
Mom and daughter discuss healthy living choices, but soon Tamra is ranting about Shannon and her unwillingness to use Cut trainers. Then Tamra fills her mom in on all the money David has to pay in support. Tamra's mom is shocked. She thinks $30K is too high. She has two sons and doesn't want to see them get screwed like David. Here's a tip: don't screw around on your wife and you won't get screwed in court. Tamra tells her mom the amount was lowered then mocks Shannon for not knowing how to pay her water bill. If Shannon's girls learn anything from this I hope they learn to always know what's going in and out of their checking accounts.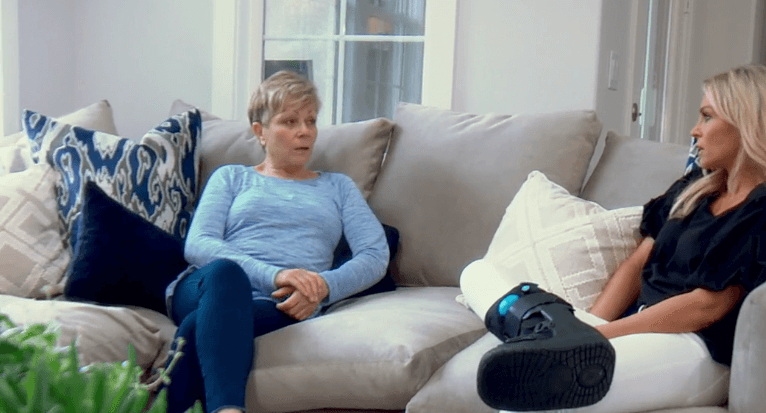 It's Real Housewives of Orange County birthday fun for Vicki. Can I get a woo-hoo! She and the girls are going golfing, but let's start drinking now! Tamra thinks Vicki is becoming more Stepford since dating Steve and wants to know where her whoop it up friend went. Tamra can't actually play golf due to her broken foot, but she's dressed the part. Emily, Shannon and Kelly arrive late and I can already tell this game is going to take forever, even with the help of two pros.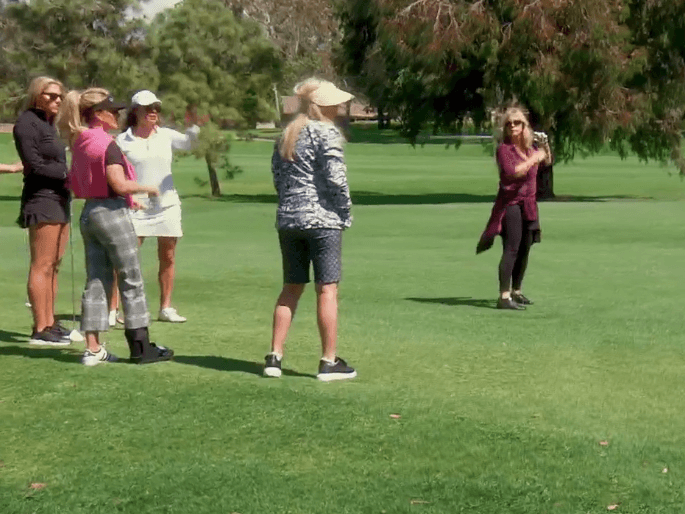 For fun, Tamra has brought a breathalyzer test along so she can tell who should and shouldn't drive the carts. Isn't that fun. But someone who can actually golf is Kelly, until she notices the men, then she's a little preoccupied. By the second hole several of the ladies are failing the breathalyzer and are unable to make contact with the balls. Emily decides to have a word with Shannon. She tells her Gina mentioned that Shannon was concerned for her safety about the abuse from Shane. Flashback are shown of the conversation and the word abuse was never used. Shannon explains to Emily she never said that word. Emily still wants boundaries.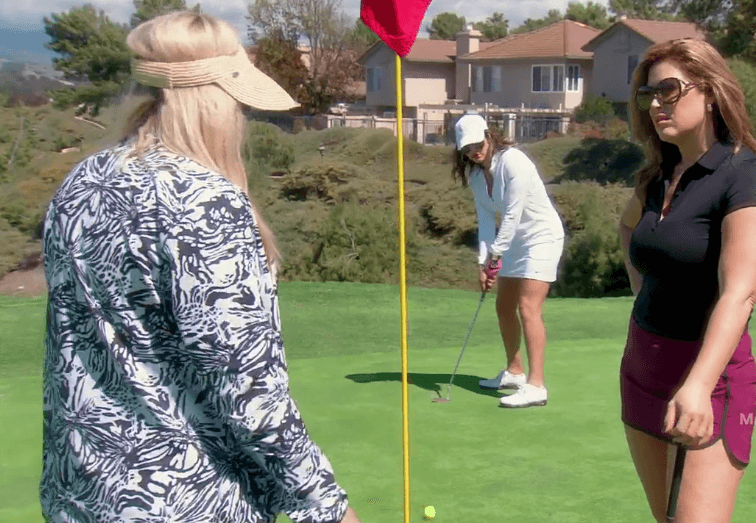 Back on the greens, Vicki and Tamra are rolling around. Then Tamra straddles Vicki and pours a cocktail down her throat. The pro can hardly watch. He asks if they want to keep playing or call it a day. The ladies are ready to hit the 19th hole and drink some more. Much more.
At lunch Shannon asks who used the word abuse about Emily because she sure as heck didn't. Gina says she never used that word either. Vicki asks Emily if she's making it up. Tamra says this is just a bad game of telephone. She plays it all the time. Emily and Gina leave the table to talk it out. Meanwhile, Shannon asks Tamra why this is about her, and blames Tamra, but Tamra ain't having any of that – mostly because she's drunk – but also because she's tired of Shannon's bottomless pit of need.
Back with Gina and Emily, they both agree this is stupid. But then Emily says what we're all thinking. Shane is around, taking the heat, while Gina's husband is missing in action. In fact, we don't even know the guy's name. Gina walks off because that hit too close to home.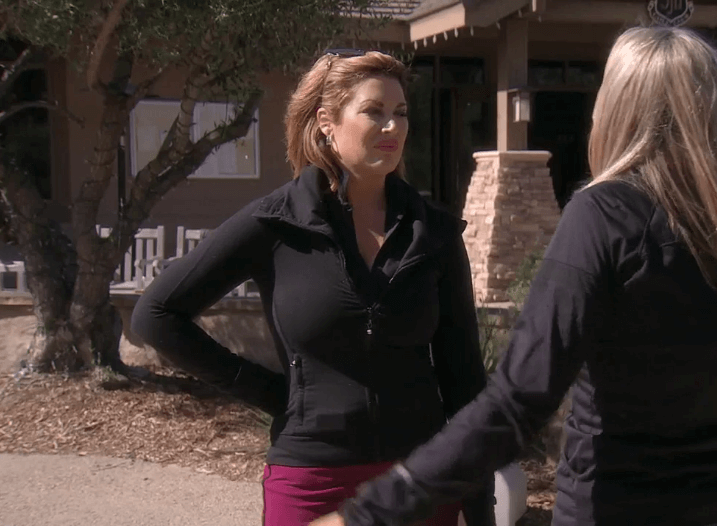 At the table, Shannon admits she projected her marriage onto Emily, but still claims she didn't say the word, abuse. Tamra yells, "When somebody talks about your husband it's effing hurtful." And that would be Tamra projecting onto Shannon what she really wants to say to Vicki. Shannon is totally confused. Kelly has her back and tells Tamra she's attacking Shannon.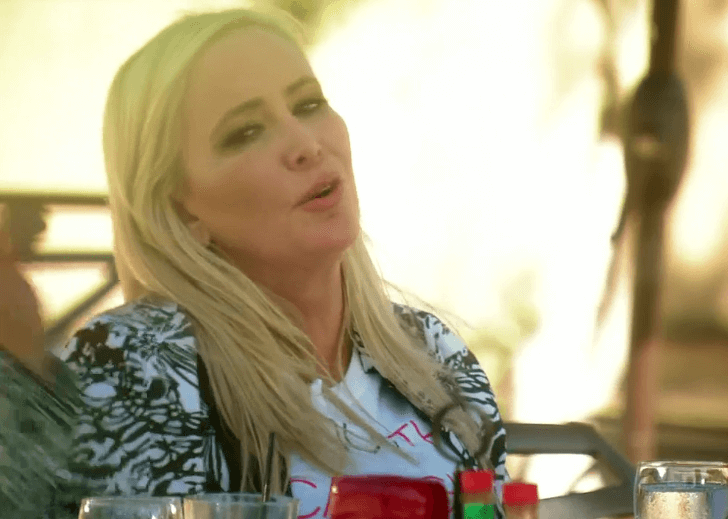 Some birthday party. Vicki leaves and goes to check on Emily and Gina and finds them hugging it out. Back with Tamra, she's still being a mean girl to Shannon. And what's really remarkable about this whole situation is that Kelly is the voice of reason. Shannon gets up and walks away from loud-mouth Tamra. This will be continued.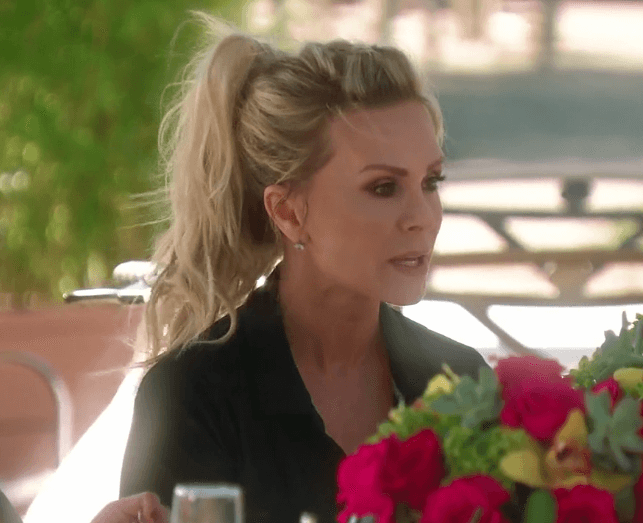 Next week on the Real Housewives of Orange County — everyone wears red to a party. Kelly calls Shane a little bitch and Gina admits her marriage is a sham. Good times ahead!
"Like" us on Facebook  "Follow" us on Twitter and on Instagram