Bonjour! Welcome back to The Real Housewives of Potomac in the South of France. Last week Gizelle dropped a bombshell that Ray was leaving Karen in the dust. The two were yelling in the lobby until Candiace swooped in and rescued Karen. The group leaves without Robyn and Gizelle. When Robyn finally comes downstairs, she's surprised to learn that everyone is gone. Gizelle didn't tell her what went down.
The other ladies are on their way to the Florihana oil distillery while Robyn and Gizelle eat a chocolate banana crepe all by themselves on the French Riviera. At the distillery, Monique gets in the giant pot of peppermint and stomps on it like you would grapes, but with shoe protectors. Back with Robyn and Gizelle, Gizelle lies like a dirty French rug to Robyn. She says that the other ladies didn't want to wait for Robyn, when it was really Gizelle who told them to leave.
Robyn and Gizelle are on their way to Grasse to meet up with the ladies at the perfumery. The rest of the girls admit they really enjoyed the distillery and tell Monique they thought it was going to be boring as hell. When all the women are together, they let Robyn know it was Gizelle who told them to leave. Gizelle is busted, but there will be no consequences from Robyn, of course.
The group does some shopping and Monique takes a picture of herself in front of a store named, "Monique." They arrive at the perfumery, ready to learn from Lynne who's been in the business for 30 years. However, Karen isn't interested in the perfume machine that costs 3,000 euros because she will be outsourcing her perfume instead of making it herself. The ladies are told to take a candle as a gift, but most of them make fun of the scents instead. I'm sure Lynne is thinking, le idiots.
Later that night, the ladies get all dressed up to go out. Finally some night life! At the restaurant, they spot a bald guy who looks like Michael and point him out to Ashley. Ashley doesn't want to talk to that "Michael" either. Candiace announces that her bald guy, Chris, looks like a rodent if he doesn't have a beard. When the ladies look at Candiace like she's crazy, she says it's okay because he calls her chipmunk. Robyn asks why the name chipmunk doesn't make her sad, but princess does. For the record, both names make Candiace sad, but no one gives a damn.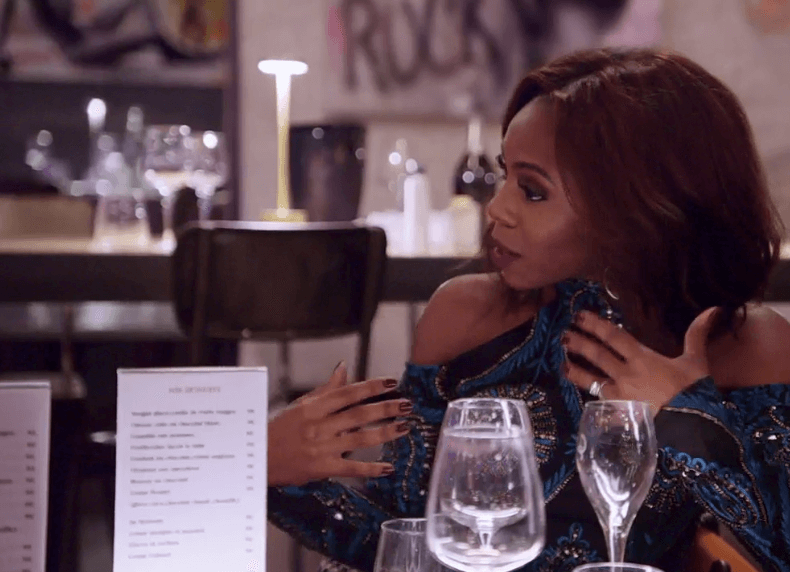 Two seconds after Monique says she hopes tonight goes better than last night, it doesn't. Karen tells Gizelle she's not taking inventory of her makeup company, so don't check stock on her fragrance line. She's sensitive right now. Gizelle asks Karen if that's the reason she's not wearing her wedding ring. Bam! But Karen has a perfectly good reason for not wearing her ring: because.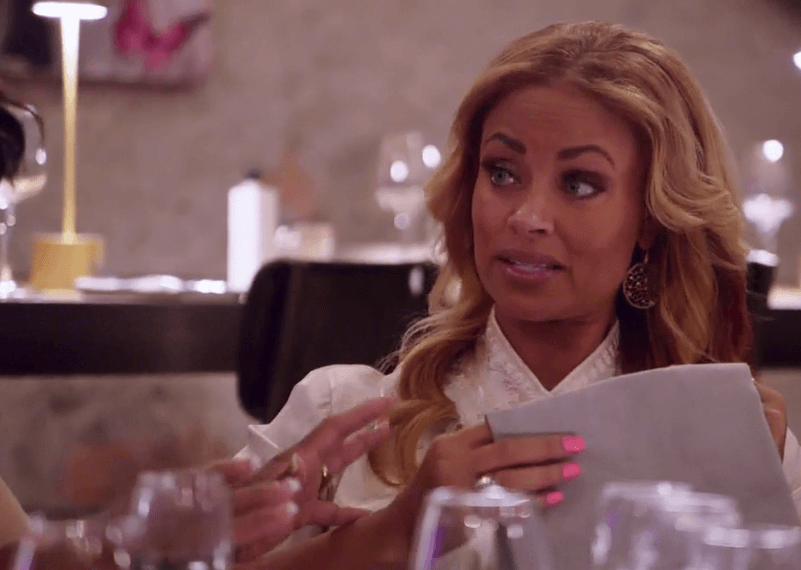 Ashley attacks Karen once again, calling her liar. Karen tells Ashley to shut her mouth because Ray worships the ground she walks on. Ashley shakes her head and says not according to Karen's drunk everything man, Matt. According to drunk Matt, Ray is moving to Florida with or without Karen. Gizelle says that doesn't sound like a rock solid marriage to her. But give the ladies credit, instead of taking it to the next level, Gizelle and Karen call a truce. Because at the end of the day, Karen has a man to lose. Gizelle does not.
Time for a nice dinner now? No ma'am. Ashley's not done throwing stones at the people in glass houses. Next are Charrisse and Monique. Ashley announces that Charrisse accused Monique of friend poaching. Charrisse calls Ashley a bold faced liar, but she's not. Gizelle even confirms Ashley's claim that Charrisse was starting to see Monique in a "different light." Monique says she's married to a famous ex-football player and has her own contacts. You've got to love the irony of that statement.
So let's talk about Kyndall. Monique explains she invited Kyndall to her event because Gizelle was not attending it. Robyn says the real reason Monique invited Kyndall was to get at Gizelle. But that's not the real reason. The real reason is Charrisse was the puppet master. She wanted to get back at Gizelle for outing her and her fireman boyfriend on WWHL. This whole time Gizelle was busy hating on Monique when she should have been hating on Charrisse. Pass the popcorn.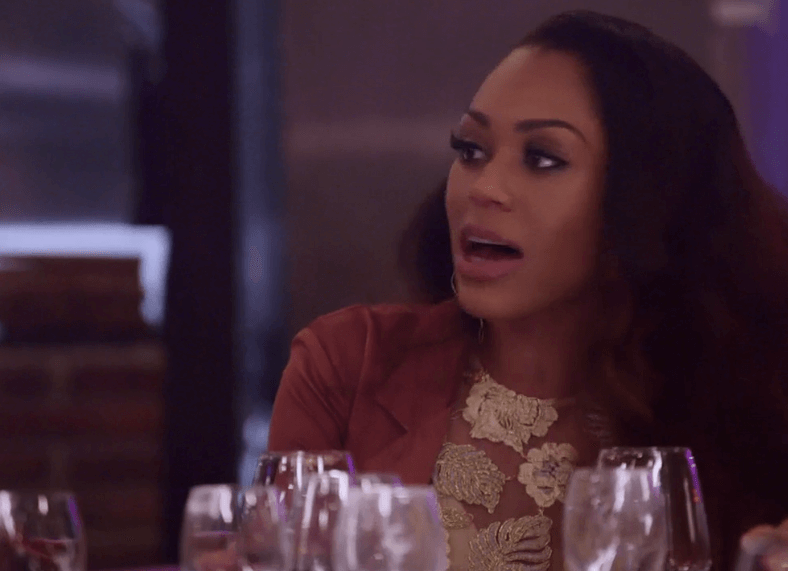 Meanwhile, the ladies are asked to leave the restaurant because the waiter is tired of them. So much for the night life. But before they go, Candiace wants to make this about her. She complains how the ladies laughed at her last night when she revealed something important to her. What do the ladies do this time? Laugh some more. Bless her heart, Candiace actually thinks these ladies give a damn. Monique is the only one to apologize.
It's day three in Cannes and the ladies are doing their own things. Robyn and Ashley are sunning by the pool. Candiace, Karen and Charrisse are at a café having tea. And Monique and Gizelle are about to have a messy breakfast. Candiace divulges to Karen she feels like no one takes her seriously. Karen says, Girl, it's your own damn fault. Karen explains the faux pas at last night's dinner was Candiace went last with something weak. Go big or go home with these femme fatales.
At the pool, Robyn and Ashley are still laughing about laughing at Candiace. Robyn gets a phone call from Juan and shows off her lingerie coverup, while Ashley looks on with envy. She used to pick on Robyn for loving Juan. Now who has the sucky marriage?
Charrisse joins Karen and Candiace at the café and tells Candiace her problem is all the bragging she does. Nailed it! And really, if your biggest problem is your boyfriend calls you a princess, consider yourself lucky, and melodramatic. Karen imitates Candiace as a pageant queen and Candiace starts to cry. Charrisse advises Candiace to quit trying so hard and let the friendships form organically.
Now for the sit down with Gizelle and Monique. Looking fresh and pretty, Monique knocks on Gizelle's door who's wearing a robe and obviously didn't know Monique was coming. With the gorgeous aqua water as the backdrop, Monique explains she just went along with Charrisse, who was the mastermind of #Kyndallgate. Gizelle isn't feeling it. She accuses Monique of spearheading it from that point on and claims the only reason Monique is backtracking now because this makes her look bad. Monique denies being shady and says if she was being shady, Kyndall would be on the trip, in the suite, with them now. Gizelle is like, Oh no you di'ent, and informs Monique she's a ninja waiting to take a shot and blow her face off, and she won't miss. Isn't that lovely. Monique is calm, eating her fruit cup, and I'm wondering what she's going to say. But then the three dreaded words come up: To be continued. La merde!
Tune in next week when Ashley and Karen argue some more over their equally dysfunctional marriages. Tell me what you think. Whose marriage is more in the dust, Karen or Ashley's?
"Like" us on Facebook "Follow" us on Twitter