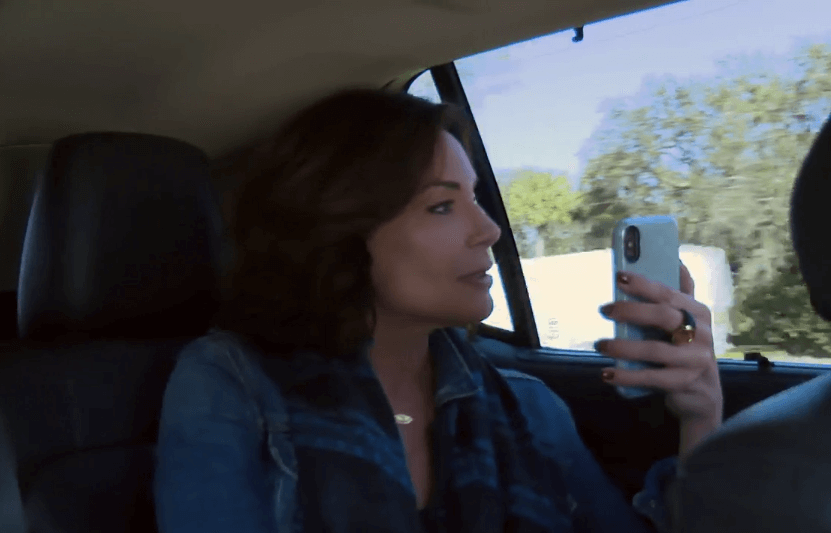 Pack your bags we're going to the Grace Mayflower Inn and Spa with The Real Housewives of New York City! The purpose of the trip is to lift Luann's spirits after recently checking out of a totally different kind of "resort." Dorinda stops by Luann's apartment to check on her friend and tell her the plans.
Luann looks great. In fact, she enjoyed rehab so much, she didn't want to leave. They have yoga and acupuncture and exercise and therapy and massage. We should all go. Luann acknowledges returning to her life in New York's fast lane will be tough, and this is why Dorinda wanted to do this for Luann, to help her ease back into polite society by putting up with these lunatic women in confined quarters. I mean what could possibly go wrong?
Luann tells Dorinda she knows Ramona tried to get an invite to Tom's New Year's Eve party, begging the question, what the hell was Ramona thinking? Dorinda calls Ramona a slob-kabob and she should know.
The ladies are going in clusters to the spa. In the SUV is Carole, Tinsley and Ramona. Carole plans to get to the bottom of things with Luann that way she can avoid any awkwardness. Then Carole says the real crime was the dress Luann was wearing when she was arrested. Way to kick 'em while their down, Carole.
Luann and Dorinda ride together and Luann has her tell-all moment. This whole disaster began with her poor decision to go to Palm Beach two days early and stay with her friend Julie. There was a problem at Julie's house. Her cat had the audacity to meow. How rude! Anyway, instead if killing the cat, Luann checked into The Colony hotel to drink her sorrows away with a polo player. Not a bad plan, unfortunately every plan has its limits.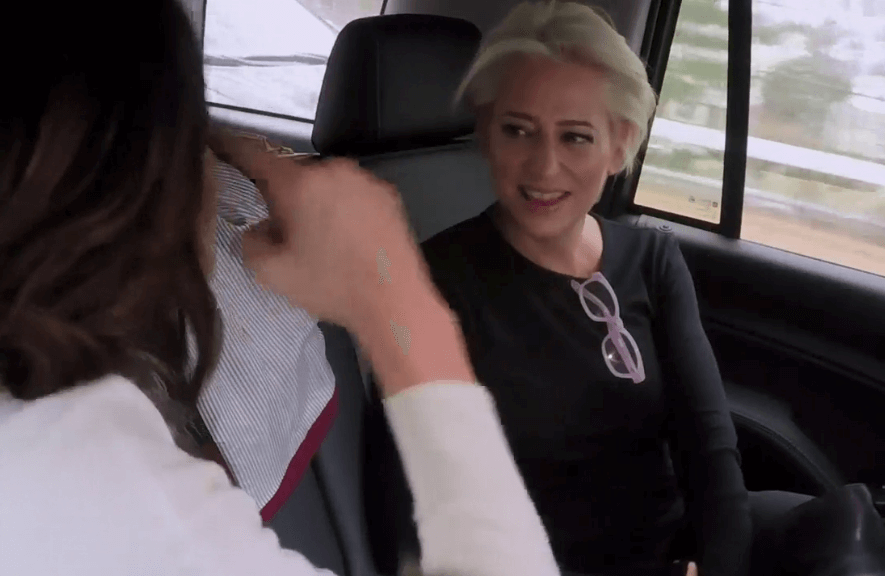 Here's what happened. Luann was getting "rambunctious" in the bar so the polo player suggested they take it to her room. Incredibly drunk, Luann brought him to the wrong room on the wrong floor. Once inside the room, she and her polo player started getting busy and then, yada, yada, yada, the police arrested Luann. To make matters worse, in jail she was only served bologna sandwiches with mustard packets inside the bread. They won't be getting a good review on Yelp from Luann, that's for sure.
When Dorinda and Luann arrive at their beautiful cottage at the Mayflower, fine wine and bubbles await them. Oopsie. But Luann is cool with Dorinda drinking and grabs sparkling water for herself.
Sonja and Bethenny are on their way together, riding in a limo. Bethenny had reached out to Carole to ride with them, but of course, Carole has to be with Tinsley. Sonja says she feels Dorinda is needing extra attention right now. They arrive at the Mayflower and greet Luann with hugs and gift bags filled with detox stuff from Bethenny. In the lobby, Luann explains she's been served a large piece of humble pie that she nearly choked on. Sonja says she hasn't had a drink since October and Dorinda says she's been inspired by Luann to drink less…than Luann.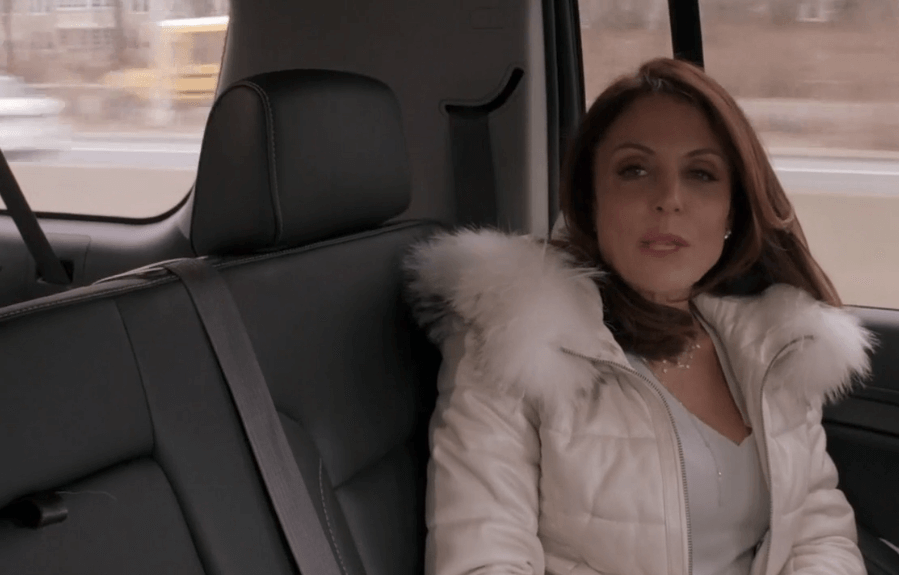 Dorinda wants to keep everyone in the lobby, but Bethenny wants to get her room now, probably before Ramona gets there. Off she goes. Sonja tells Luann she was invited to Tom's NYE party, but ignored the invite. Luann tells Sonja she heard Ramona tried really hard to get an invite to Tom's party and finds this to be very uncool. Just then, Ramona, Carole, and Tinsley arrive. Hugs for everyone, though we know the good feelings won't last.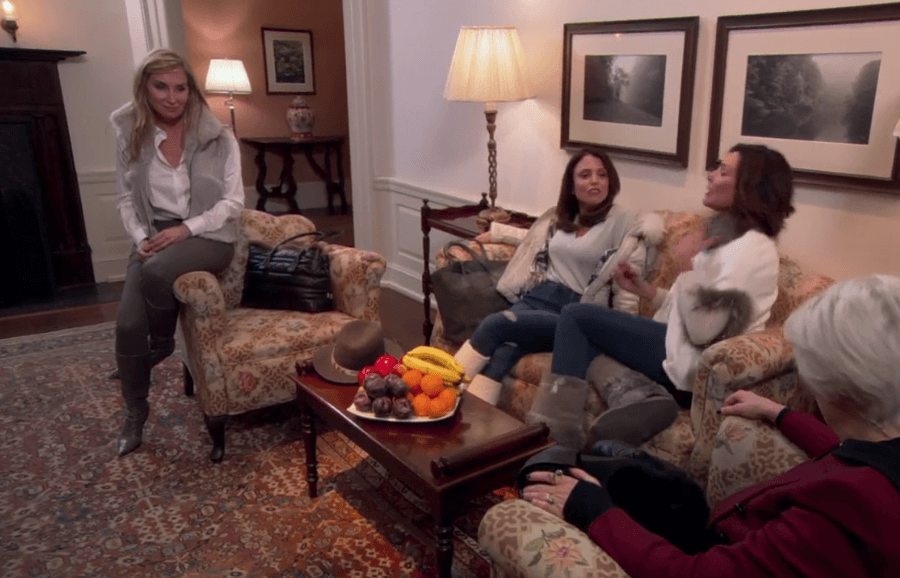 Ramona slathers on the compliments to Luann, telling her she gets to be a princess all weekend long and she'll do whatever Luann wants. Luann asks Ramona to shut up about her holidays. Ramona admits to being in Jupiter for New Year's, but that's all she says because Carole starts asking Luann questions like she's covering the arrest for ABC News. Luann says the saddest part of the story was she never got laid by the polo player. So sad.
The ladies retreat to their rooms before dinner and gossip about Luann. The harshest critic is Tinsley. She thinks Luann seems "too great" and the enormity hasn't hit her yet. But the biggest thing that pisses Tinsley off is now her mugshot is recirculating online thanks to Luann because people are searching for "housewives arrested in Palm Beach."
Ramona stops by Luann's room to kiss some more ass. She talks about how proud, happy, and excited she is to be there with Luann because life is all about lying to our female friends. Her compliments must feel like, "honey that you can't wipe off your skin." The interesting thing is, Luann doesn't call Ramona out. I guess she's waiting to serve the slob-kabob over dinner.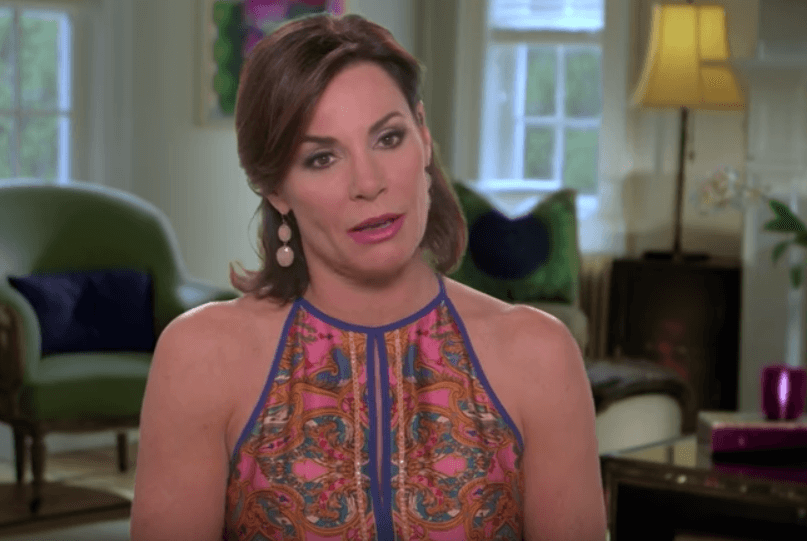 The ladies go to dinner in town and thankfully are given a private room. They discuss spa treatments while the wine is poured and Luann drinks soda. Carole offers some nonsense about fingernails growing longer when you aren't having sex and Ramona says she has a music soundtrack she plays during sex. I'm pretty sure it's on a cassette.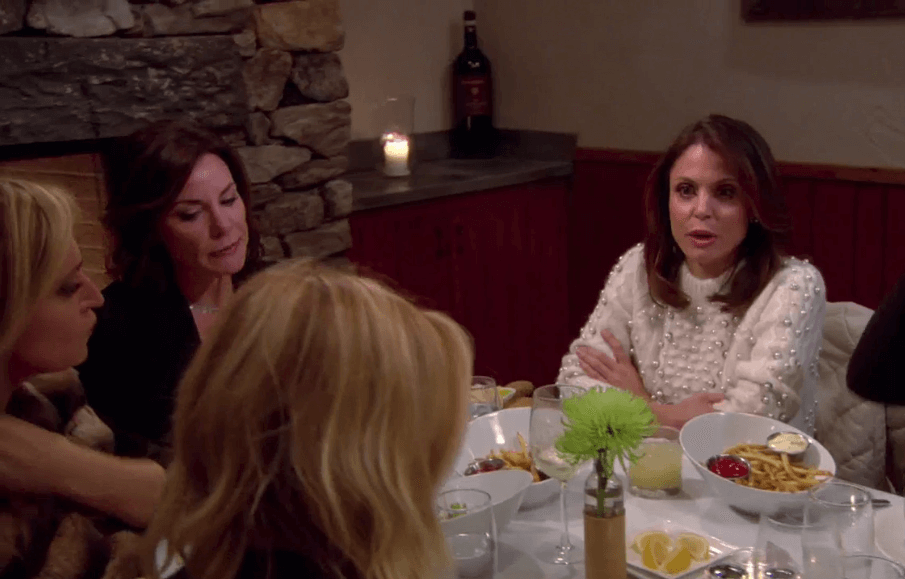 Luann tells Bethenny that Tom invited Sonja to his NYE party, but she didn't go. She then tells Bethenny that Ramona tried to get an invitation to Tom's party, but was turned down (ha-ha) because of the boat's capacity – the same boat his engagement party was held at. Ramona is defiant and unapologetic about this. She says it was her friend Laurie who wanted to go to Tom's party, not her. Ramona was simply being a good friend by calling Tom repeatedly and begging for an invite.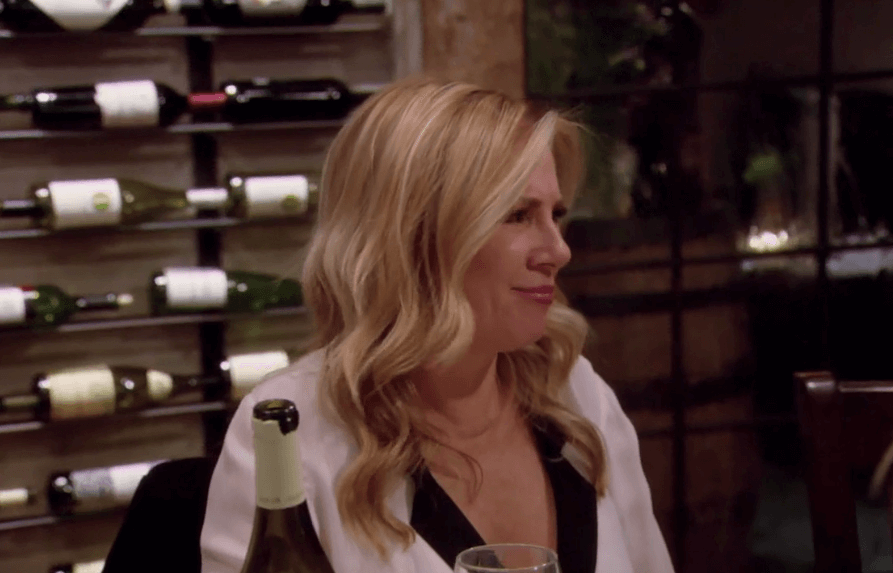 Ramona seems to think it's no big deal because she went out once with Tom first. Everyone at the table agrees what Ramona did was fucked up. Ramona blames Luann for not inviting her to their wedding. Then for a joke, Ramona announces she's having a party next week and Tom's invited. I'm surprised no one suggests that Ramona go home.
The ladies return to the cottage and get ready for bed. Carole and Dorinda continue to try and explain to Ramona how wrong she was for trying to get an invite to Tom's party. How would Ramona like it if they went to Mario's party? Ramona says she has never claimed to be perfect. Carole explains it's not about being perfect, it's about being loyal. Bam!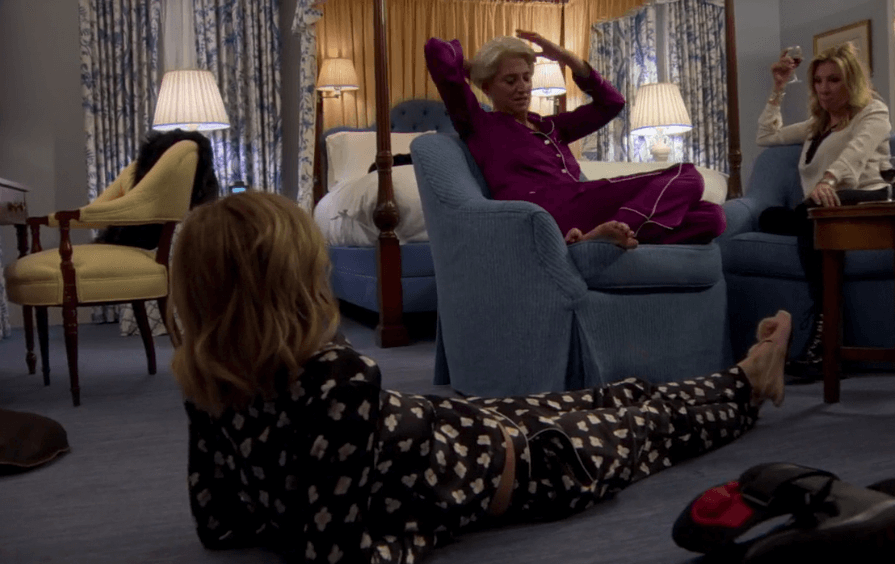 It's a new day and Luann wakes up without a hangover — which is unusual with this group. Luann tells Dorinda that although Ramona is pathetic, instead of being angry, she has decided to feel sorry for her. The ladies all gather for breakfast and Sonja points out her slippers with the Morgan (J.P. Morgan that is) family deer crest on them. Dorinda is mortified and takes offense to this — how dare Sonja wear the Morgan family crest when her marriage ended in divorce! The Medley's have a family crest, too, but she would feel like an idiot wearing it. Bethenny jumps in to remind Dorinda, that she still uses her ex husband's last name so knock off the bullying.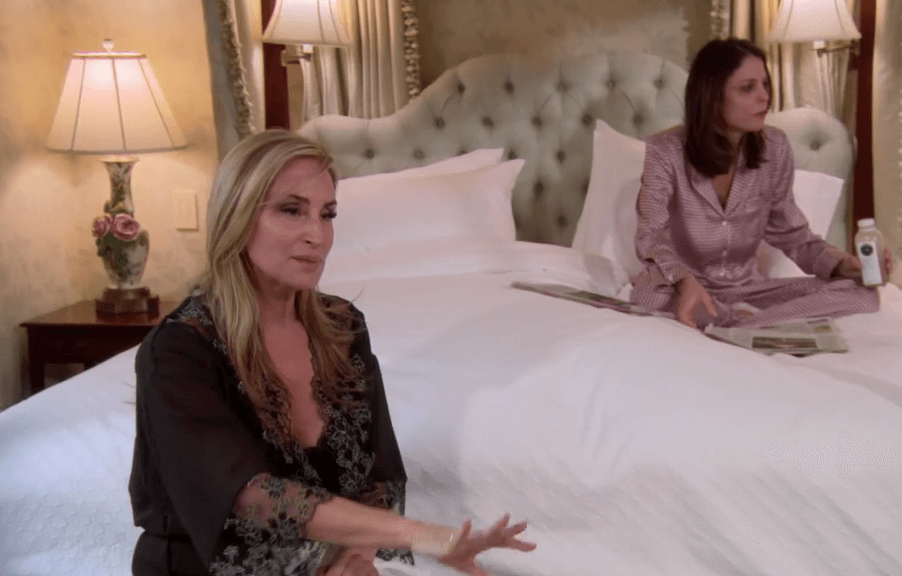 The plan is for everyone to get over themselves and enjoy the spa, but thirty minutes later, Luann gets a call from her publicist who is getting calls about her release because Ramona posted the photo online of the ladies at last night's dinner. Luann was specifically told by the judge to keep a low-profile. So much for that. When Carole explains to Ramona she shouldn't have posted it, Ramona explains that everyone looked pretty, so it's okay, besides she wasn't told not to post it. Ramona has a point. You need to tell her it's in poor taste because Ramona can't figure that out for herself.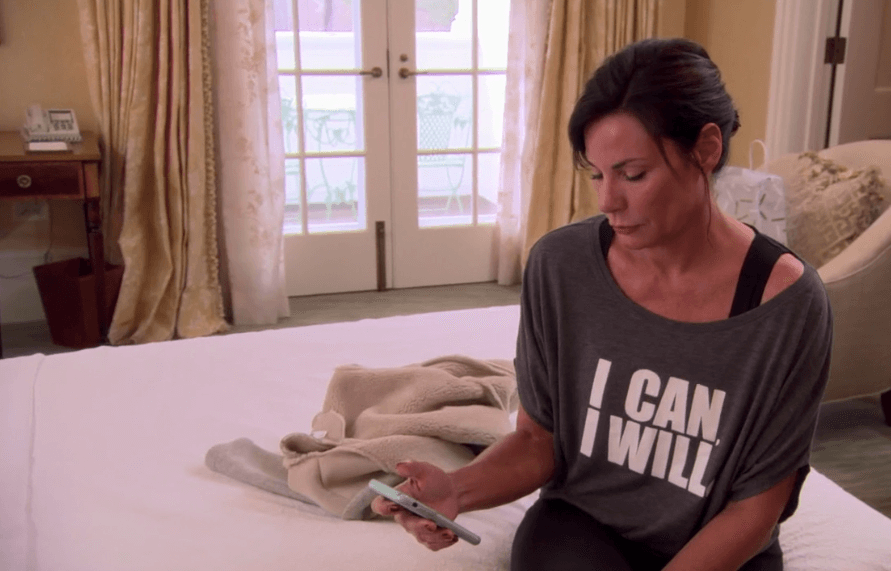 Tune in next week as the RHONY ladies try to disrupt not only their stay at the Mayflower, but the other guests too.
"Like" us on Facebook  "Follow" us on Twitter and on Instagram