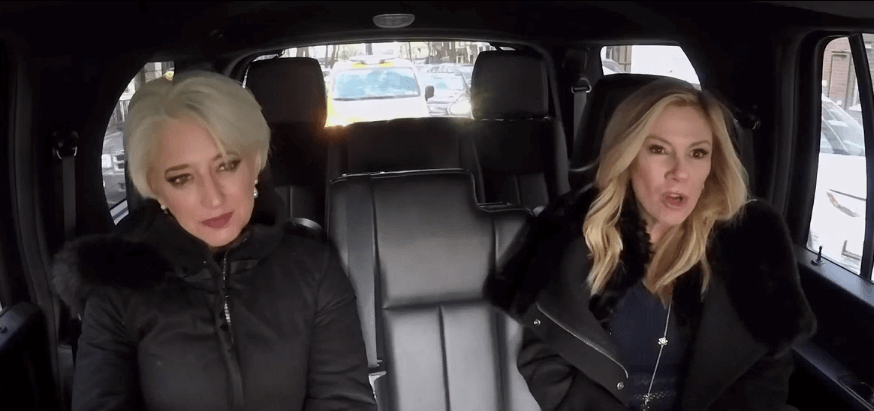 We begin The Real Housewives of New York City with the somber news that Bobby Zarin has passed away after battling cancer. Ramona and Dorinda are dressed in black and on their way to the funeral. Ramona says she was able to see Bobby and visit with Jill prior to his passing. She and Jill hashed things out and everything's better because life is short. In her testimonial, Dorinda explains Jill's husband's passing is a relief, which sounds cold, but he's out of pain now.
Bethenny hasn't spoken to Jill in six years. Can you believe that, six years? That's a long time. Bethenny says she loved Bobby and he loved her, despite the ongoing fight with his wife. Bethenny got the news from Sonja while in Aspen so she booked a private plane and came back to New York to attend the funeral. I mean commercial just wouldn't do. And Luann will not be attending since she's in rehab which totally sucks for her.
Flashbacks are shown of Bobby in better times. He was such a nice and funny man. Jill is a lucky woman to have had a partner who always made her feel so special.
We aren't shown the funeral – because that would be tacky – but afterwards Bethenny wanders aimlessly, saying she can't leave…until she talks to Jill. Jill tells Bethenny she's alone now and doesn't know what to do. So what does Bethenny say? Tells her, We're all alone. Some more than others, sweetie. Then Bethenny concludes her insults by telling Jill she's surprised there aren't gift bags.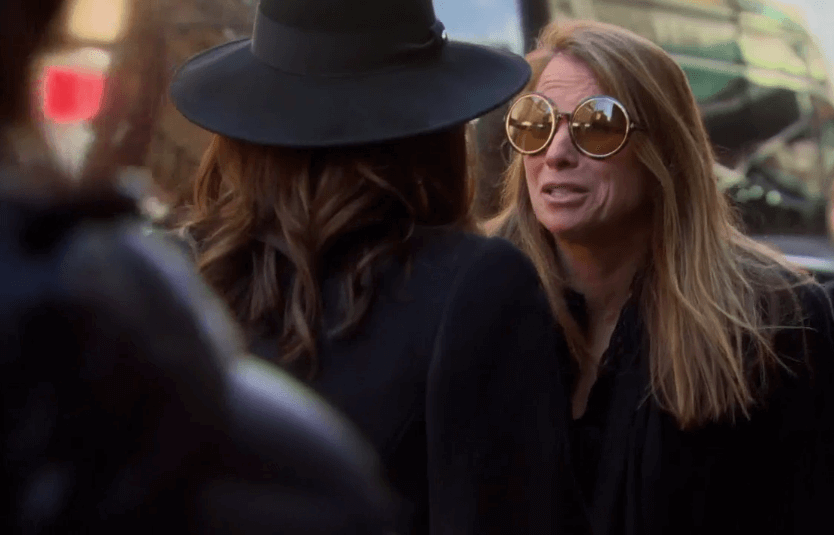 On the way home, Bethenny receives a call from Luann from rehab. She apologizes for not being there for the funeral, but explains she's doing really well in treatment despite the center throwing the worst New Year's Eve party ever. Luann actually cries, then gets off the phone so she can go to yoga. Why is it always yoga after the fact?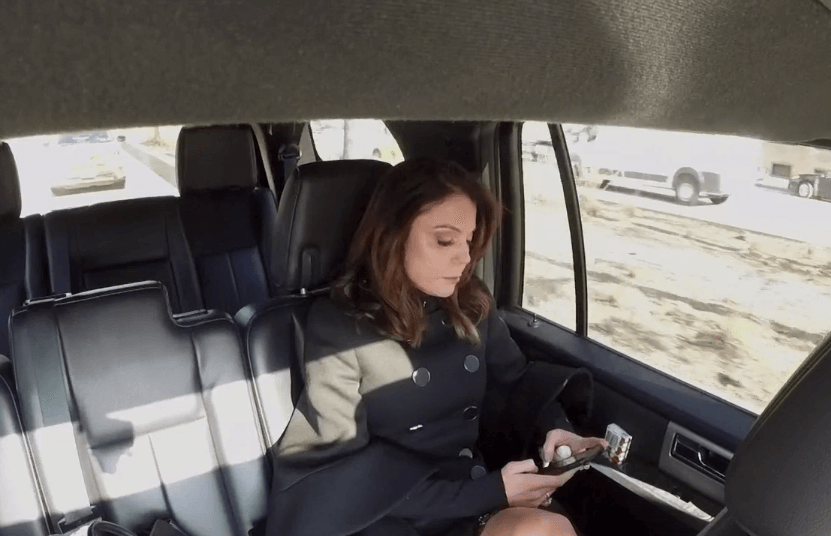 We interrupt this episode of Real Housewives to show you two commercials with the Real Housewives. Pa-leeze! Seeing them during the show is enough.
Next up we join Tinsley and bff Carole as they go to the hamam which is like a steam mausoleum in the basement of her hotel. They are only wearing white towels. Thanks for the beaver shot, Carole. Tinsley says Sonja was a sweet houseguest and it's better to get along and go along. Carole tells Tinsley she and Bethenny hugged it out, but she's only cautiously optimistic about their friendship.
Ramona is remodeling her home in the Hamptons. The end.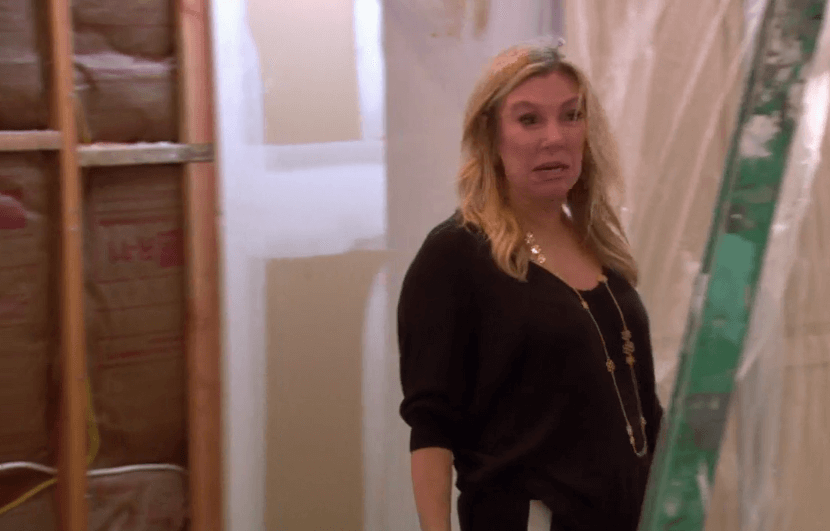 Tinsley's mom arrives in New York with Bambi and Tinsley is way more excited to see the dog than her mom. Tinsley and her mom dump the dog and head to the bar where Dale takes a dig at her daughter about her overindulgence with alcohol. Tinsley admits to self-medicating as a way to cope with the pain in her life. Duh, mom! Everybody does it! Just ask Luann. Dale hands Tinsley her invoice for her frozen children and explains she had an oops moment with Scott and his mom over the holidays.
After Scott's mom said that he had time to figure out a baby timeline, Dale informed them that Tinsley does not have time and Scott needs to jump ship soon if this is not for him. What made it so funny was they were all on a boat at the time. So funny. But Tinsley does not find it funny and is really, really upset…until her mom suggests they go try on wedding dresses so she can pretend to be a princess. It's agreed that Scott is not to know about their plan to jump the gun broom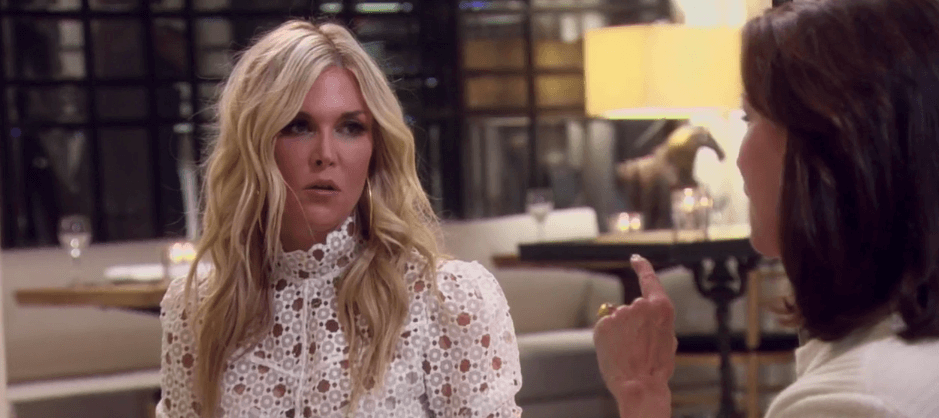 Onto Carole and the looming deadline for her Cosmo piece. Her editor calls because the article on confidence is due in a few days and she'd like to look at the first draft. Problem is, Carole hasn't written one word. Maybe Carole lacks confidence. In her testimonial, Carole tells us she hasn't spoken to Adam in two months and for all she knows he could be engaged. Sounds like somebody's going to miss a deadline.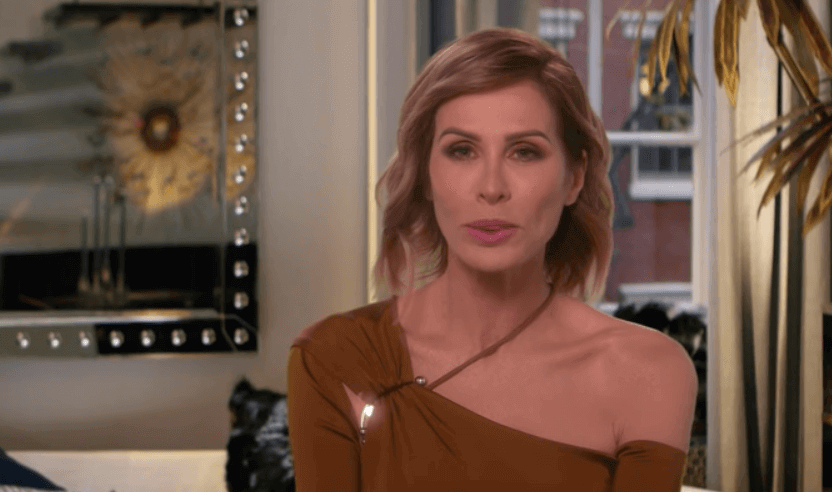 Next we join Tinsley and her mom Dale at the wedding dress boutique. They kick things off with champagne. Tinsley says she doesn't want a big dress, but then pulls a big dress to try on. Its ball gown for the bargain price of $5,280. Tinsley loves it because she feels like a princess, which is all that matters. The next dress is more "whimsical" and $55 cheaper.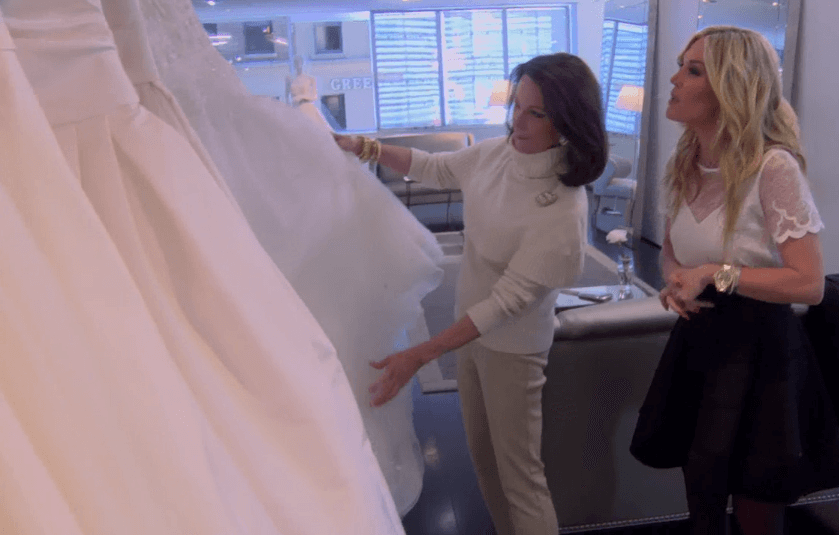 While wearing the gown, Tinsley and her mom call the frozen egg baby doctor to check on their frozen children. Mom and grandma cry when they see the baby blobs. The doc recommends Tinsley retrieve more eggs for eggstra insurance.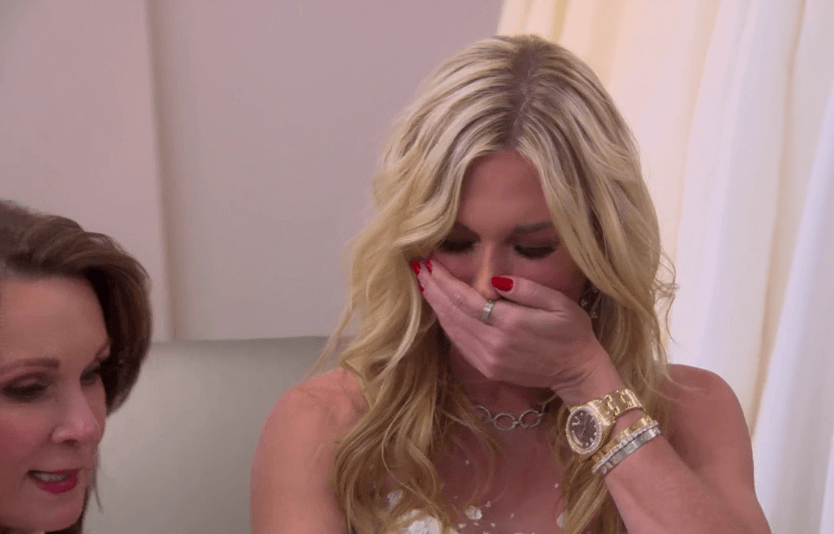 Bethenny stops by Sonja's place to bring more Skinnygirl jeans because the entire world is demanding them. Sonja shows Bethenny her new shoes from her Sonja Morgan New York line, which are really cute. It's her first licensing deal so maybe she'll actually make some money this time. Bethenny is just back from visiting Jill and it has transformed her. Jill was happy to see her and this made Bethenny happy. The best part was when Jill finally admitted she was wrong. Sonja shows Bethenny all the repairs on the townhouse. Spoiler alert: We do not get to see the new sink which replaced the broken one due to the sex incident.  Bethenny suggests that Sonja get the fax machine out of the bedroom and send it back to 1990.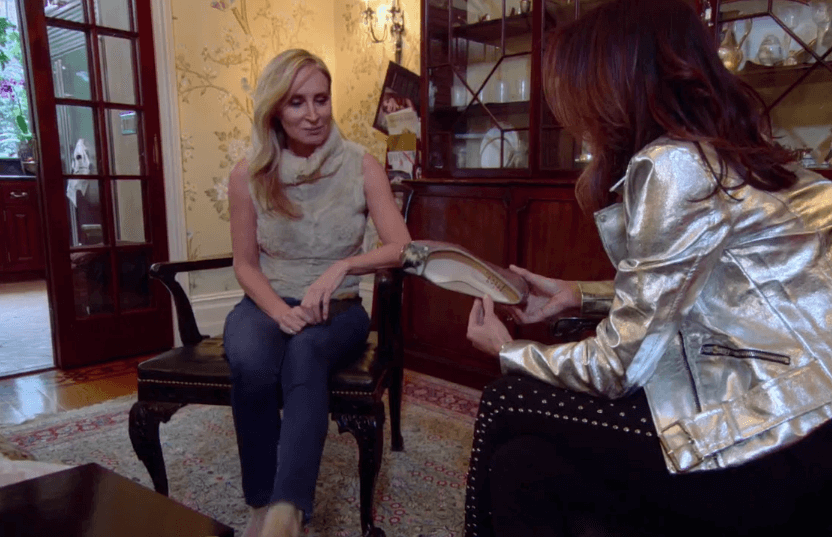 Did you know the newest workout craze is pretending you're in prison? Sign me up! Carole brings all the ladies along to meet the ex-cons turned instructors. The owner, Cos, was in the clink for six years on drug charges, and let me tell you, he knows his way around a jumping jack. And for some reason, Carole tells Cos the entire story about Luann. Everything. One guy wants to know if Luann's married. She's available! But before they can work out they must have their mugshots taken, which Tinsley is super excited about. Bethenny, however, isn't digging the workout. She doesn't like people yelling at her – because that's her job. But there is good news, the gym only hires ex-cons so fingers crossed they'll need a yoga instructor. The girls discuss going to a spa after Luann gets out of rehab. According to Dorinda, the ladies can drink at the spa, but Luann will be taking a very short break.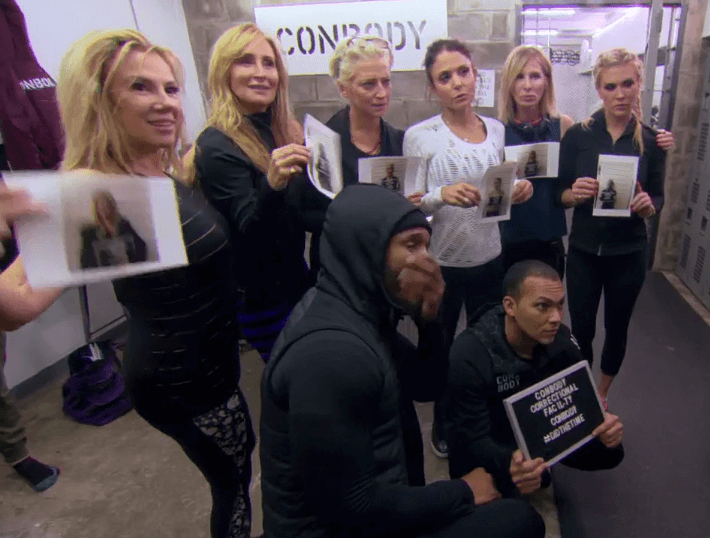 Cut to West Palm Beach and Luann is a free woman. She's out of the treatment center and on her way back to the Big Apple. More flashbacks are shown of the media coverage of her arrest. She calls Dorinda to say how happy she is to be coming home and admits to self-medicating with alcohol. Luann says she has a new lease on life and has big plans for herself. Big plans. Big.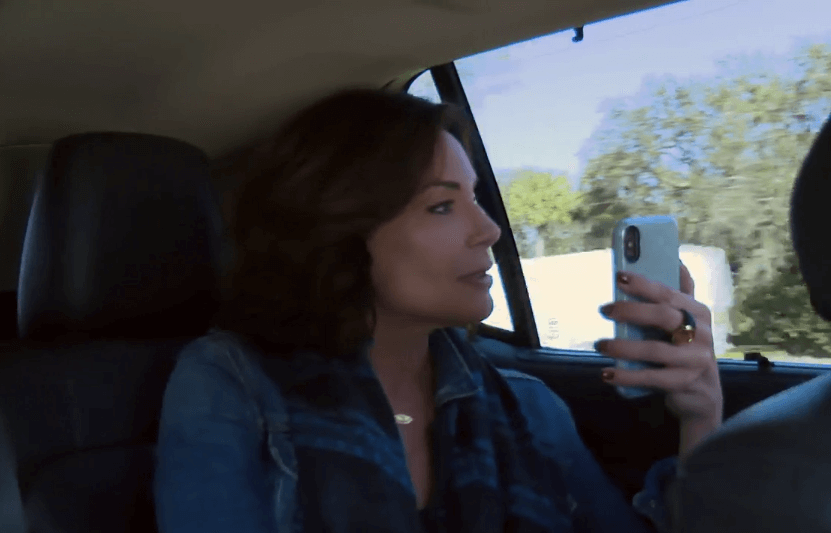 Tune in next time for the ladies trip to the spa that is anything but relaxing.
"Like" us on Facebook "Follow" us on Twitter and on Instagram