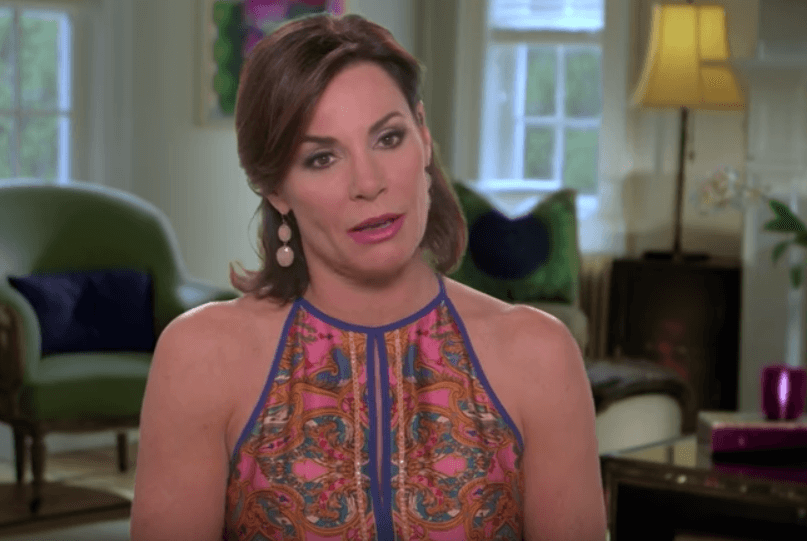 We join The Real Housewives of New York City not in Palm Beach where we left off, but in the Big Apple for the purpose of getting the ladies to provide their judgement and ridicule thoughts and prayers for their friend, Luann, and her Christmas Eve arrest.
Tinsley calls Carole who's in Los Angeles. She mentions her wonderful trip to Palm Beach, and by the way, did you hear about Luann? During Carole's testimonial she says she heard about it from a friend, thinking it was a DUI, then looked it up online and discovered it was a shit storm. In Tinsley's testimonial she describes being a few blocks away from Lu when this all went down. She's the most empathetic because she too has been arrested in Palm Beach. So what does Tinsley do when she reaches out to Luann? Asks her to come over for a cocktail. It's the polite thing to do, y'all!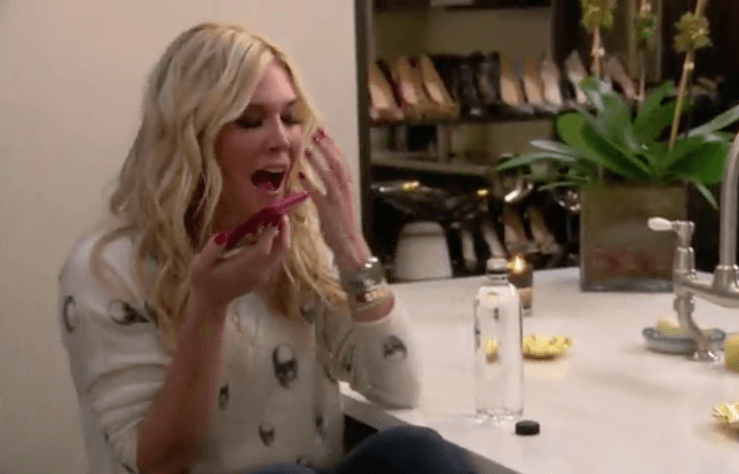 In the car ride to nowhere with Ramona and Dorinda, they discuss what they know about the Luann situation. Dorinda tells us per Lu's tweet, Luann will be voluntarily checking into an alcohol treatment center. According to Dorinda, Luann is not ready to be back in polite society. Seriously? What year does Dorinda think it is? Ramona says Luann has admitted to self-medicating, but this arrest in Palm Beach was "bad." Guess what else is bad. Going to Tom's NYE party and not admitting it. That's really bad. Ramona says she ran into Tom three or four times at various parties. Dorinda announces that anyone who went to Tom's New Year's Eve party is a low-life. Ramona says nothing but shrinks to half her size.
Because Bethenny has no friends, she discusses Luann's arrest with her driver, Kevin, after they've discussed the weather. During her testimonial, Bethenny explains that Luann will handle this embarrassing event in a myriad of ways. Deny and blame. Accept and evolve. Cry and be vulnerable. Yes. No. No. Kevin asks if 21 days is long enough for Luann to get adequate help – which is a legit question.
More news clips are shown of Luann, mugshots are shown of both Tinsley and Luann, but the conversation moves on to Bethenny's Skinnnygirl party. Carole is not going. Tinsley is going. Ramona is not going. Dorinda is going. Obviously Luann is not going and we don't know about Sonja. Ramona says she wouldn't go even if she were invited, but no one believes that. Dorinda says she's going even if she didn't get a proper thank you for the nutcracker. I guess she's officially the proper police.

Next we join Sonja in her coffin bed. There is dust everywhere due to construction and she's lined her four-poster bed with plastic. Sonja's testimonial about her text to Luann said she's there for her, but she's keeping her nose out of it. Instead Sonja will move in with Tinsley for a few days and stick her nose into that.
Since Ramona considers herself to be a modern-day Benjamin Button, she's starting her own skin care line that smells like grapefruit. Ramona informs Dr. Lewis how intelligent and fabulous she is. The doctor just nods, wondering if it's too late to back out excited about the joint venture.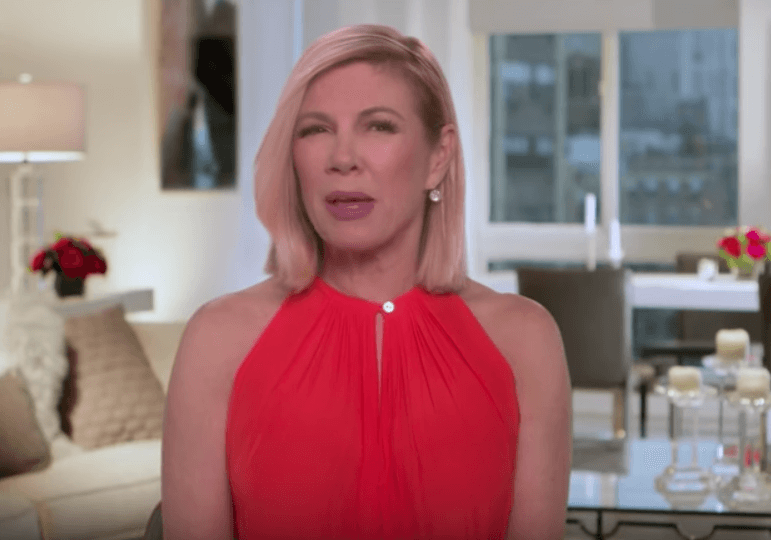 Poor Kevin is stuck yet again being Bethenny's driver/therapist. On the way to her party, she confesses that things are rocky between her and Carole. Over the holidays, Bethenny texted Carole that she missed her and she seemed cold. Umm, what kind of response did Bethenny expect? Carole said, "Wow, that's a lot." Things are not great with Dorinda and Bethenny either over #NutcrackerGate, but no one other than Dorinda gives a damn.
The party is on and everyone is wearing Bethenny's new one-size-fits-some jeans. Tinsley is getting her drink on. Sonja arrives if for no other reason than to eat the vegetables. Dorinda arrives in a boot because a huge, silver salt-shaker fell on her foot. Bethenny apologizes to Dorinda for not acknowledging the nutcracker and things go south from there. Everyone gets thrown under the bus and deny and blame are driving.
More gossip about Luann continues. Everyone now says they saw this coming a mile away. Dorinda, Bethenny and Tinsley have a laugh over the fact that Luann should become a magician since she's so good at getting out of handcuffs. But there is progress. Sonja doesn't pick up the young guy at the party. Woo-hoo!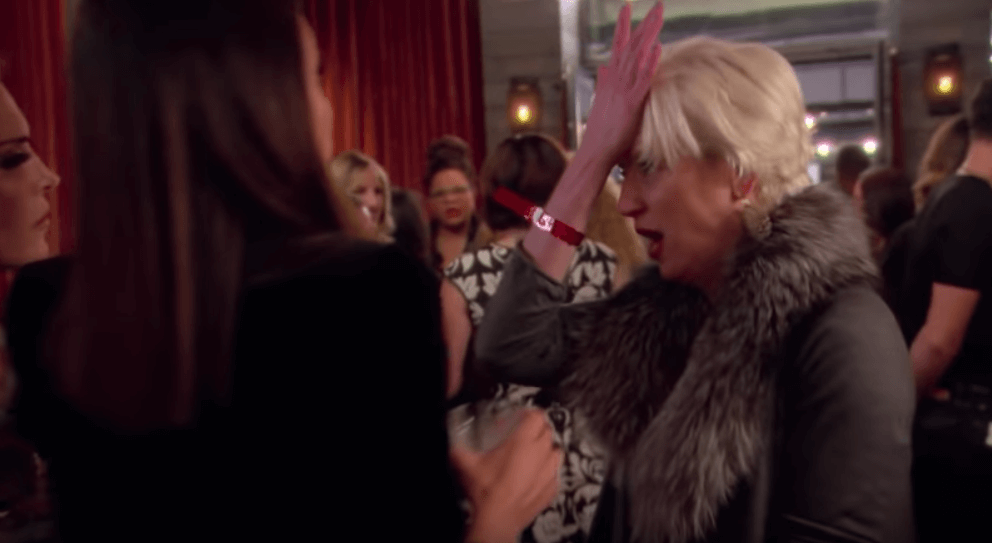 The following day Carole and Bethenny meet at a cafe to discuss their fledgling friendship. Bethenny drags herself in, severely hungover from her party, dressed like the abominable snowman. They begin on the safe subject of Luann. Carole chuckles as she describes her favorite part of Luann's meltdown when she said she was going to kill everyone. Good times.
They talk about their changing vibe and Carole drones on about how she didn't know something shifted until Bethenny got hostile. Bethenny claims she's not upset about her charity, but at the time, Bethenny thought Carole and Adam had broken up and that's why she trashed him. As for Bethenny saying Carole seemed sad, Carole doesn't want Bethenny talking to others about her. So where do they go from here? Nowhere. They reluctantly hug it out and nothing is accomplished.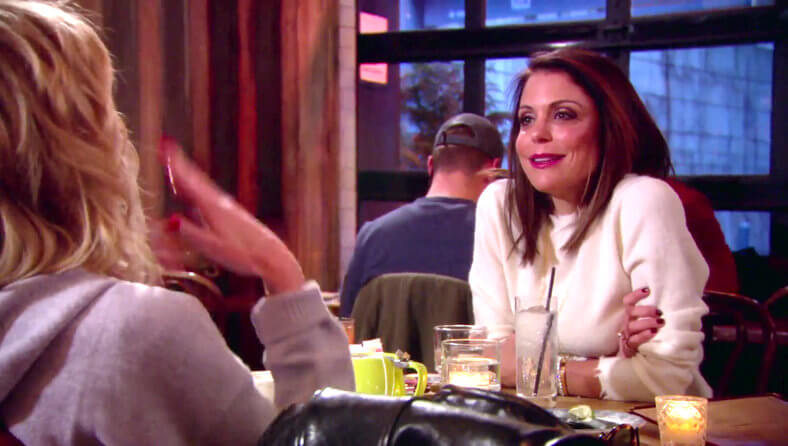 Over at Tinsley's place, her housemate, Sonja, arrives in a big, fluffy, black hat that has swallowed her head. Here are Tinsley's rules: there are no rules. But Tinsley has something better in mind. She's gotten Sonja the penthouse suite and a real, Louis Vuitton bag, filled with goodies so she doesn't have to deal with her can totally relax in her own space.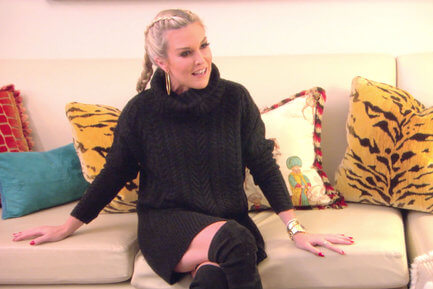 At last hear from Luann when she calls Dorinda from rehab. Luann explains that she hit a brick wall and all the memories came rushing back. Here's what happened, Luann went to Florida early to spend time with a girlfriend before joining her brother in Jupiter for Christmas. Luann made the mistake of visiting all of the familiar places she went to with Tom. She sat in the same seats, ordered the same drinks, and BAM!!! Five minutes later she was in and out of handcuffs. Luann says the hardest calls to make were to her kids and her mom. Dorinda tells her this was a blessing in disguise because Luann could have really hurt someone, other than herself. The thing about hitting rock bottom, there's no place to go but up. Of course, there's also sideways.
Tune in next time when Bobby Zarin passes away and Jill and Bethenny talk about better times.
"Like" us on Facebook "Follow" us on Twitter and on Instagram