All I have to say about tonight's episode of The Real Housewives of New York City is holy crap. It's jam-packed with lots of fighting between the ladies. I mean, everyone gets a little crazy during the holidays, but you can feel better knowing your life will never get this crazy.
We are still in the Bazurkshires at the 1920's murder mystery dinner where Carole and Bethenny's friendship is about to die. Bethenny has gotten up several times to leave the room, claiming she's done with the conversation, but because Bethenny must always have the last word, keeps coming back to counter whatever Carole is saying. 
They only thing they can agree on is that over the summer they were "in different places" though Bethenny blames Adam, calling him an operator. Carole and Bethenny continue to argue when Luann interjects that Adam is an operator who jumped from her niece to her supposed friend. No one cares what Luann thinks until Carole announces that Bethenny called her a loser. Bethenny accuses Carole of acting like a 7 year-old who wishes she were a 45 year-old. Double burn. Luann says if she's a loser, then the rest of the world sucks. Which it does. Dorinda yells at the girls to work it out, but nobody cares what she thinks either. Bethenny loses it and tells Carole she has betrayed her, but doesn't admit to calling Luann a loser, nor does she deny it. Nothing is accomplished. 
But they aren't done. Carole leaves the room, and Tinsley and Ramona follow. Ramona says they're on Team Carole until Bethenny enters the room, and then Ramona changes teams, claiming Bethenny loves Carole. Desperate to save the evening, Dorinda sticks her face into her birthday cake, with the candles lit. Speaking of lit, Dorinda does it two more times. Happy birthday, Dorinda!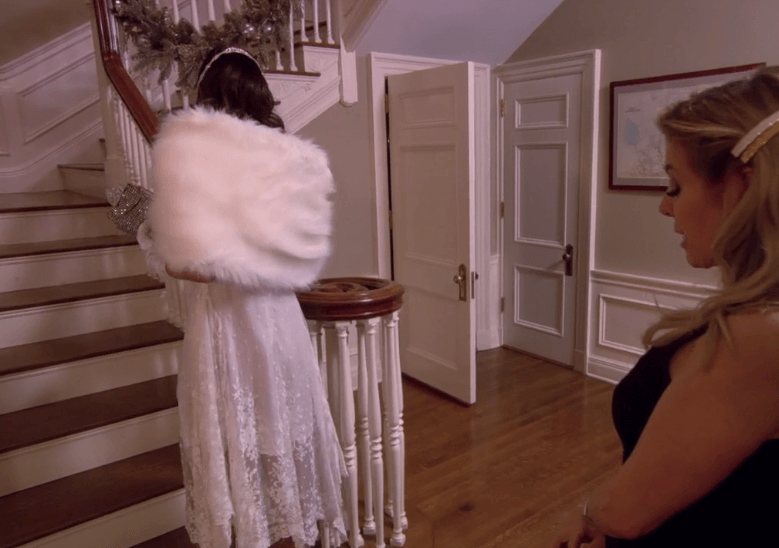 Next we see a naked Bethenny as she and Dorinda fight over an elf suit. Somebody's desperate for airtime. Dorinda and Carole are caught gossiping about Bethenny just as Carole calls her a narcissist. Dorinda locks Carole and Bethenny in the room to force the ladies to put the toothpaste back in the tube, like that's ever possible. Bethenny blames Adam, again, and accuses Carole of being more into herself, her hair, her clothes and her Tinsley. That wasn't the deal. Carole was supposed to be only into Bethenny. The ladies agree to take it from a 10 to a 7. Meanwhile, the rest of the ladies are partying like rock stars downstairs, humping on the dance floor, as they say. The following morning the ladies are massively hungover, but Dorinda was smart enough to plan a one-nighter with this group, and everyone leaves.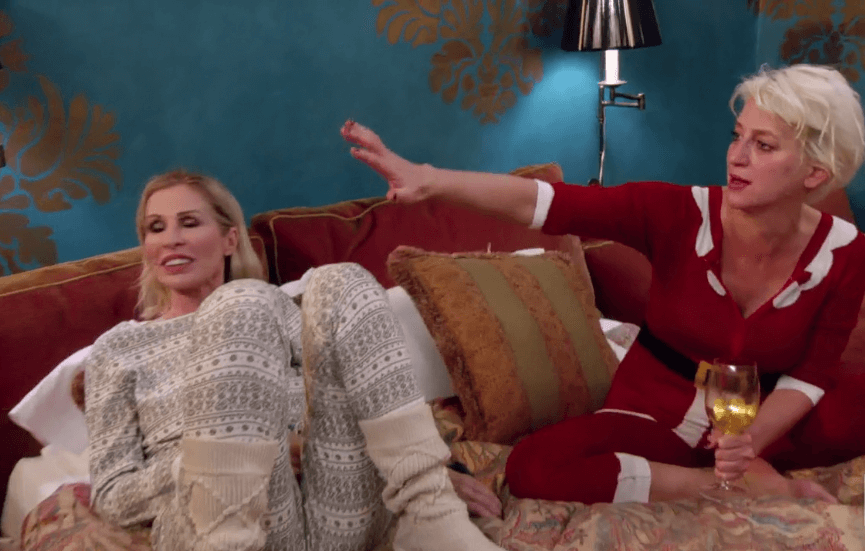 Back in the Big Apple, Sonja is wearing a caftan from her Grey Gardens collection, ushering in contractor Leo into her townhouse to fix the sink she broke in 2008 having sex with a hedge fund guy.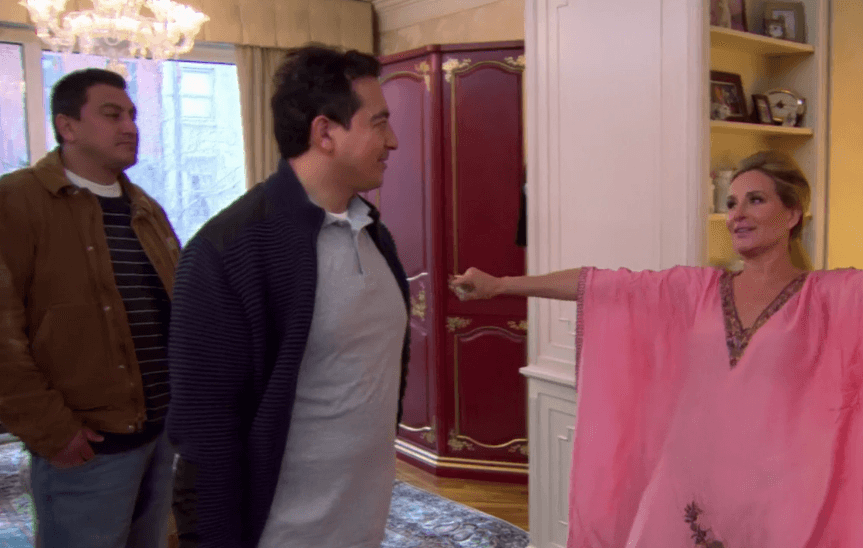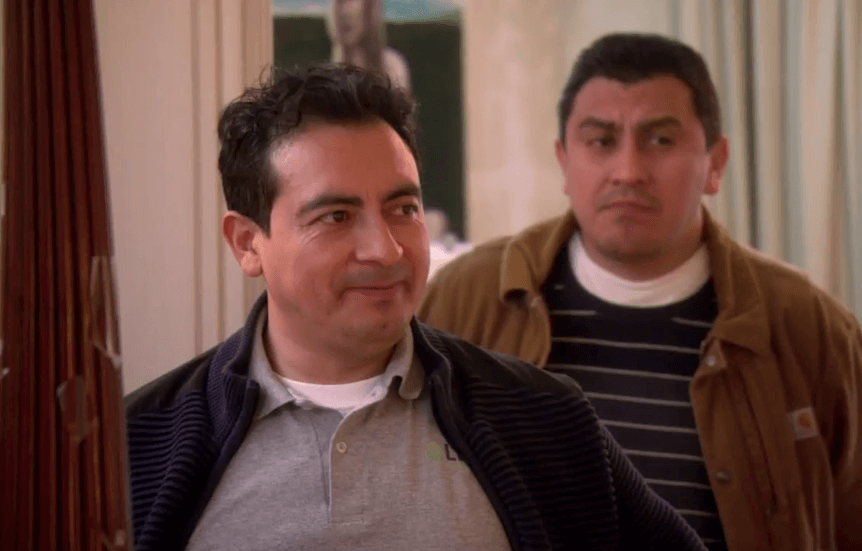 Over at Bethenny's place she is preparing for an in-the-city holiday party just for the ladies. As they trickle in, Sonja asks Tinsley if she can stay with her for a couple of days after the holidays while her house is under construction. Tinsley says sure. Can't wait to see this train wreck. The ladies play the white elephant game the wrong way. No one steals a gift. How boring is that. Ramona gives her gift away, which she is criticized for by Bethenny as being an infomercial, which is the very definition of irony.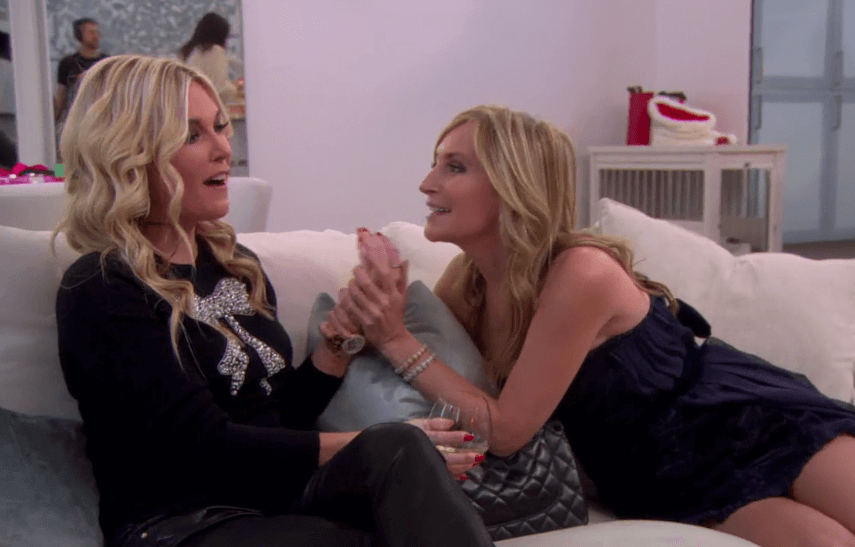 There's a knock on the door and Bethenny screams. It's the nutcracker that her daughter wanted but couldn't have. Dorinda found the only one in NYC and had her decorator bring it over to surprise her. Bethenny only thanks the decorator. Over and over. 
So as the women eat and drink, they discuss their holiday plans. Tinsley says she'll be in Palm Beach. Luann announces she'll be there, too. For the record, Sonja did mention maybe this wasn't a good idea because he ex would be close by. Luann says there's no problem because she'll be in Jupiter which is like 20 miles away. Nothing to worry about here, folks.
Bethenny congratulates Luann for moving on so quickly, especially since Tom already has a "busted up, banged up girlfriend." First of all, what the hell does that mean? And second, Luann had no clue Tom has already replaced her. Not cool, Bethenny. Luann thinks the "dick" should be more discrete, but other than that, no worries at all about being nearby during the Christmas holidays because Luann will be spending all her time with her brother and his family. So it's all good.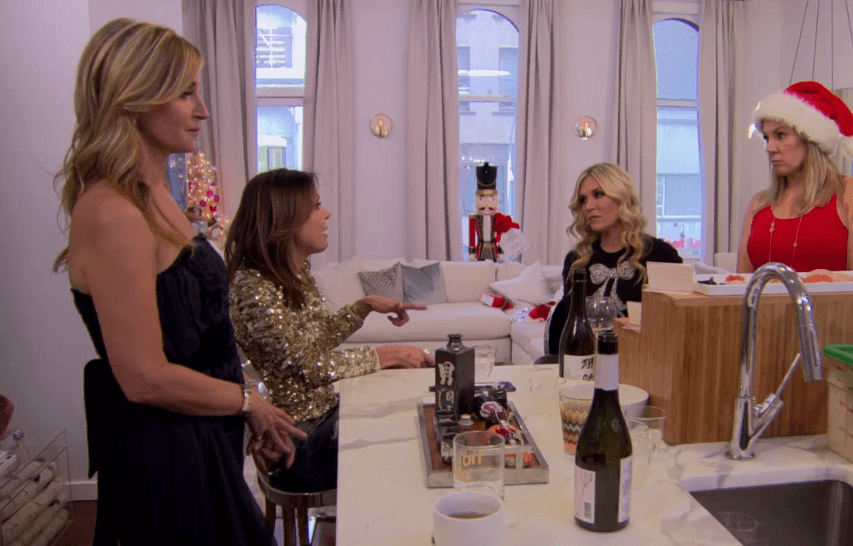 Luann, Carole, and Dorinda leave Bethenny's apartment and the rest hang back. Bethenny brings up that Carole seemed sad – and it's Adam's fault. The remaining ladies toast to getting sweaters next year that say, Ho, on it. Can't wait! There's nothing cuter than middle-aged women calling themselves ho's, am I right?
It's time to donate blood! Luann is hosting a Red Cross donation drive to which she cannot donate. Neither can Sonja or Carole. Bummer. They have this rule that you can't donate if you've been in certain countries or are underweight. Oopsie. That's all of them. Bethenny saves the day by sending $1,000 in gift cards. Sonja asks Carole if she's okay because everyone who's anyone is saying she's sad. Well guess what, she's sad now. A little later, Ramona also asks Carole the same question, but adds lonely to the mix. Carole says Bethenny is projecting. She's the one who's sad and lonely. (It's a tie.) Carole stirs the pot by reminding Ramona how rude Bethenny was to her about her anti-aging products. Ramona and Sonja end the scene talking about poop.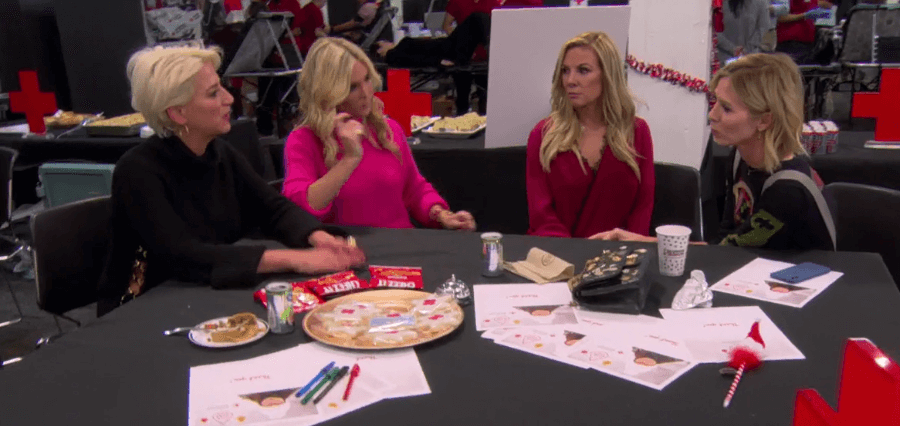 A few days later, Ramona is walking her dog when she gets a call from Bethenny. Sonja apparently told Bethenny everyone was asking Carole if she was sad, but Ramona is in no mood to listen to her. Bethenny tells Ramona to quit enjoying their downfall. Ramona lets loose. She accuses Bethenny of never being supportive of women and lists every way she's screwed someone over. The two argue but we can only hear Ramona's side of things, and to tell you the truth, I'm more worried about Coco in the street, too close to the traffic. Ramona hangs up on Bethenny and they walk off. Crisis averted.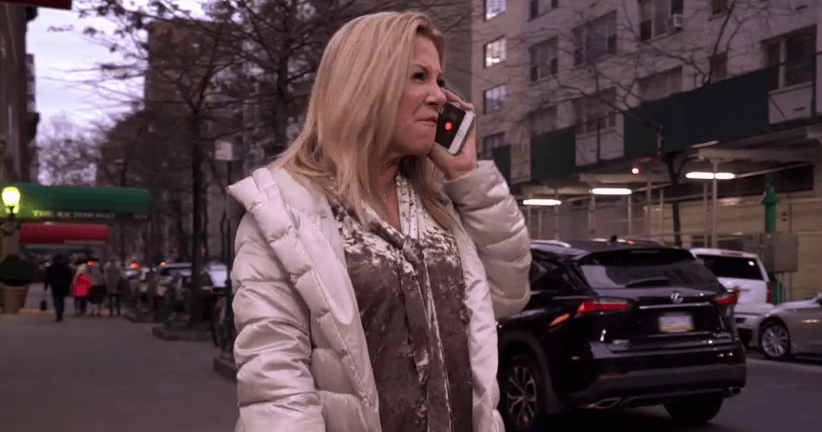 Over at Luann's new furnished penthouse apartment, her realtor brings an orchid to celebrate her fresh start in life. The place is totally cute and Luann is thrilled to wipe the slate clean before the holidays. Lu shares her fabulous holiday plans. First she'll visit her brother in Jupiter, Florida, and then she's going to get trashed in a hotel bar in Palm Beach, get arrested and go to rehab travel to Chile for a wedding. Three cheers to Luann for having her life in perfect order!

Forty-eight hours later Luann is drunk, arrested, arguing with police, escaping handcuffs, and slurring her words. She's charged with battery of law enforcement, disorderly intoxication, resisting arrest with violence, and corruption by threat. Luann is told by the judge to hire a lawyer and stop drinking. I guess one out of two is better than none.
Don't miss next week! 
"Like" us on Facebook  "Follow" us on Twitter and on Instagram