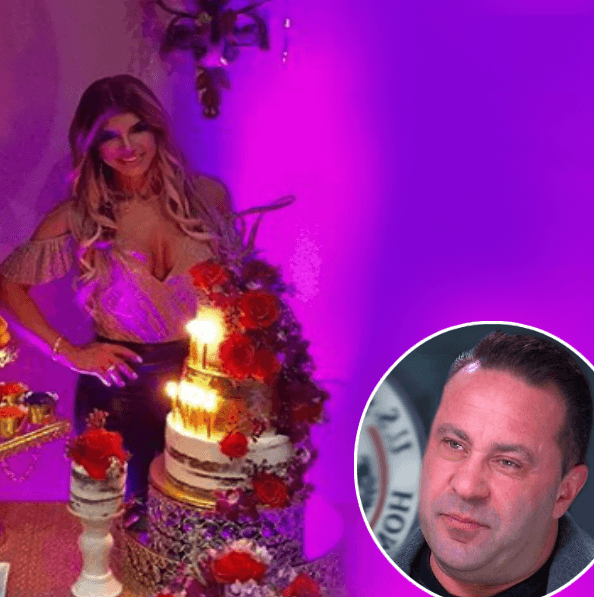 Joe Giudice's birthday came and went — with no public acknowledgement from his wife, Real Housewives of New Jersey star, Teresa Giudice.
On May 22, Joe spent his 46th birthday behind bars — but Teresa failed to toss her jailed hubby a shout-out — instead posting a gushy thank you to her daughters.
Teresa's four daughters surprised the reality star with a deluxe birthday bash, on May 19th. Teresa, 46, publicly thanked her girls on May 22nd — Joe's actual birthday.
"Just wanted to thank my 4 beautiful daughters for an amazing surprise birthday party," Teresa wrote. "I am so overwhelmed with joy love you to the moon and back."

Although the couple's eldest daughter, Gia, wrote an emotional birthday message to Joe last year, this year, the teen's silence was deafening in 2018.
Joe began his prison stint in March 2016, after being convicted on multiple counts of fraud. He is expected to be released in March 2019.

The family birthday snub fuels rumors that a divorce is on the horizon. Teresa admitted in September that she had not seen Joe in several months, and sources tell Radar Online that the girls are not interested in communication with their father.
As reported, Joe's deportation after serving 41-months in federal prison is unavoidable — upon his release in March 2019, the father of four will be handed over to the custody of Immigration and Customs Enforcement (ICE) to begin deportation proceedings.
Will Joe exit his prison cell — and land in divorce? Let us know what you think!
"Like" us on Facebook "Follow" us on Twitter and on Instagram