Jeff Lewis Accuses #RHOC Star Vicki Gunvalson of Trying to Get Him Fired By Bravo! (Listen HERE)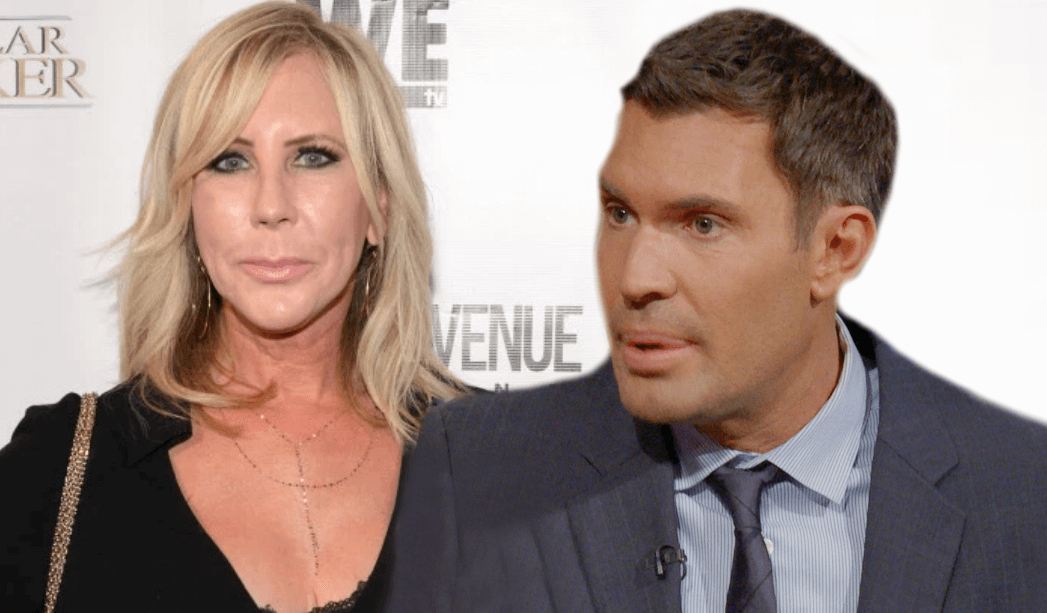 The feud between Real Housewives of Orange County star, Vicki Gunvalson, and Flipping Out personality, Jeff Lewis, is heating up, after Jeff jabbed at the reality star's weight during an episode of his Sirius XM radio show, Jeff Lewis Live.
Vicki took note of the the hit on Twitter — and the gloves came off.
Jeff is now claiming that Vicki is plotting to get him booted off the Bravo payroll.
Jeff revealed on his May 25th broadcast that two unnamed RHOC cast members had warned him that Vicki was out for blood.
"If you remember last week, I read a text from Vicki Gunvalson. She was very upset with me and since then, I've heard from two of her cast members that she is going to get me fired," Jeff said. "So, she apparently is on the rampage for Jeff Lewis, and she's working towards getting me fired from Bravo."
Jeff made another snarky remark about Vicki's weight, still denying that he was fat-shaming the OG of the OC.
"That's what I heard from two cast members. She's pulling her weight, so to speak," said Jeff. "I am not fat shaming. I am not fat shaming."
Vicki was apparently alerted to Jeff's comment by devoted superfan, Corey Larrabee. Jeff is now theorizing that Vicki was the one who had the diss  exposed.   
"She did not stumble upon this Tweet. This is Corey. This is her good friend of 11 years. After investigating, we've actually seen him on the show," Jeff revealed. "This is just allegedly. This is just my guess on what happened. I think she had her friend plant that Tweet. I think she then had blogs and news outlets pick it up."
Jeff cranked up the heat, reassessing old drama in light of the latest controversy. Jeff reports that he's now convinced that Vicki was indeed aware of her ex-beau, Brooks Ayers' alleged cancer scam. Jeff also believes that Vicki was behind last season's ongoing gossip, questioning Eddie Judge's sexuality.
"So now I'm wondering, when someone goes to this extent to have their best buddy of 10 or 11 years plant tweets, seems pretty manipulative, seems pretty divisive," Jeff said. "We all kind of questioned her for last season for planting this whole theory that Tamra Judge's husband was gay which we all don't believe."
"For the last couple of years since this whole Brooks cancer scam came out, I really defended Vicki. I just really thought truly honestly that she didn't know about it," Jeff explained. "But now, I'm going to change my answer. I'm going to say I think she knew about it and I think she is a liar. Based on what's happened to me over the last couple of weeks with her, based on what happened to Tamra and Eddie, I do think she probably knew about it."
Listen below.

Jeff later shaded Vicki's ego — but chose his words carefully.
"The other thing too is I would never think I had the power to get anybody fired," Jeff remarked. "And, the fact that she thinks she has the power to do that – I think it's kind of a misplaced sense of importance."
Interestingly, Bravo bigwig, Andy Cohen, phoned in during the show, seemingly to set Jeff straight. His light-hearted spanking was met with laughter — but Andy's message was clear.
"Vicki's not going to get you fired — I am," Andy quipped, after scolding Jeff for his loose-lipped dialogue.

Andy also noted that Jeff needed to keep the behind-the-scenes chatter "under the radar." Jeff slickly diverted the narrative away from Vicki, labeling himself "the Bravo cheerleader."
Flipping Out is headed into Season 11, and The Real Housewives of Orange County Season 13 trailer is expected to be released this week.
"Like" us on Facebook  "Follow" us on Twitter and on Instagram 
Becca is a Senior Editor for All About The Tea. She's a coastal girl who loves the outdoors, and writing about the sneaky and silly side of reality TV. Her bio is short, but her snark is endless. She loves writing for the sharpest posters in the world.