Welcome back to The Real Housewives of Potomac. Better late than never, right?! We rejoin the ladies during their not very lady-like luncheon. Ashley interrupts the arguing by reminding everyone they will be spending several days together, so knock it off. The ladies groan and go look at the rooms. Thank goodness they approve.
Candiace calls her fiancé Chris to complain about the group. Ashley delivers all the luggage because the entitled women are too lazy. When she arrives at Karen and Gizelle's room, they cackle like witches suggesting Candiace's designer luggage really belongs to her mother. (They're probably right.) Monique can hear all of Candiace's complaining from the hallway, so the two have a sit down. Monique tells Candiace she is on the verge of being iced-out, girl. Forget about being an open book – that's not the kind of reading these women do.
As the ladies get ready for dinner, Gizelle gets a call from her boyfriend Sherman who's been ghosting her. Nothing comes of it except to remind us that something's up between the lovebirds. Gizelle stops by Robyn's room to judge Monique for being drunk again – which is fine with – as long as she's not driving the shuttle bus.
At dinner, Ashley is texting and not paying attention to her guests. It's her mom asking for more money. Just say no, Ashley. Gizelle asks how things are going and Ashley informs them her mom has one week to move out because Michael has dropped the gauntlet. The ladies are on Team Michael on this one. Speaking of moms, Candiace's mom is calling, but she's doing the smart thing and ignoring her.
Ashley explains tomorrow's activities. They will break into two groups, some will go fly-fishing and the others will go clay-shooting. Karen says she wants to shoot it up because she's still harboring aggression with these ladies from her meeting. Really? Haven't we moved past this? Apparently not. Karen now wants the ladies to apologize to the broke Bill Gates. Gizelle says she'll do it and I'm pretty sure Karen will regret this.
Robyn doesn't understand what Gizelle is apologizing for – calling him Uncle Ben? Karen says Robyn is the dizziest bitch at the table. Charrisse tells Karen to apologize for the B word, but she doesn't have to apologize for the D word. Karen says she has a fire in her belly, which can easily be taken care of with antibiotics. The women all retire to their villa and keep the partying going in the bubble-less hot tub.
The next morning the ladies are moving a little slow. Gizelle and Charrisse are chatting over breakfast and we learn that Charrisse has some dirt on Karen. Apparently Karen has conveyed a deep, dark secret she will soon regret. Can't wait to hear what this is, but first the ladies must fish and shoot.
The fishers are: Karen, Monique, Charrisse and Gizelle. The shooters are: Ashley, Candiace, and Robyn. So much for Karen and her aggression. I guess she wants a quieter day. The ladies each get schooled on what they're doing. Gizelle is the first to catch a fish and Candiace is the first to hit the clay. In fact, all the shooters do well except for Ashley, but once she pretends the clays are Michael and her mom, she turns into a sharp-shooter.
It's picnic time and the topic of apologizing to Ray comes up again. Sigh. Charrisse asks Karen if she remembers what she agreed to last night. She promised to set up Charrisse on a date with old blue eyes, Karen's married driver. I don't think this is the news we were waiting for, but it's pretty good. Will it happen? Probably not. Word on the street is he's still involved with Karen, per Ashley's step-son. Gizelle recommends that Karen shut it down with Ashley and her mouth.
On the way to the next adventure, the shooters talk smack about Monique. Ashley tells Candiace and Robyn on the day Monique crashed her Bentley she'd sucked down four martinis. Dang, woman! But there's no time to judge reflect, it's time for the ropes course. The women take turns climbing a jungle gym 60 feet off the ground, but Gizelle and Karen want nothing to do with it. They go to the kiddie course and struggle with that. Mission accomplished, the women bond.
It's day-two, dinner time. Everyone is at the table except for Ashley. She's making an entrance on the phone with Michael. After she arrives, the dinner begins nicely, but that doesn't last long. Monique starts in with Candiace, however it's quickly brought back to her ass for flip-flopping. Candiace apologizes for the geriatric grandma and bitch moment comments.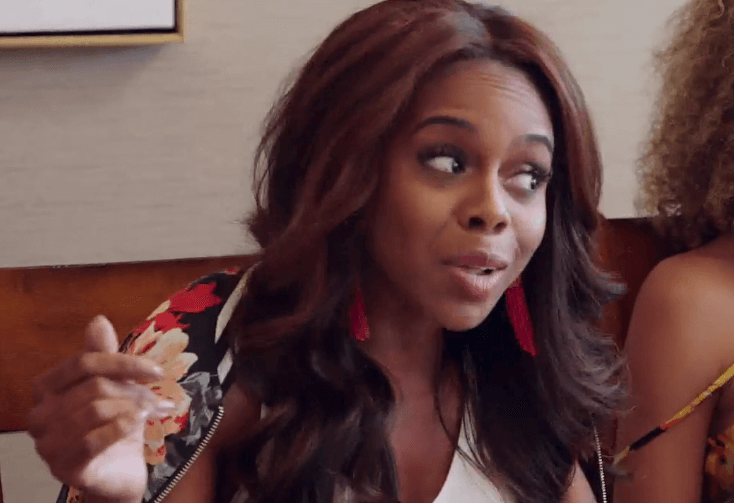 Moving on to more drama, Robyn confronts Monique on her drinking problem that Ashley has told them all about. Monique denies having four martinis. She had two, maybe three, definitely not four, though her throw-up threshold is five. Monique denies she was drunk and explains there's a difference between feeling sleepy and feeling tipsy. She says there's also a difference between being busy and being drunk. Guess what, I'm pretty sure there's a difference between jail and prison. But ain't no one buying these excuses, especially Karen, who freely admits to her DUI. She warns Monique not to "blow" her future. 
The conversation switches to Karen telling Ashley she has several male friends, so quit talking smack about her. Ashley asks if she and Ray have an arrangement. Karen asks if Michael has an arrangement with the man in London. Ashley says no. Ray hates this rumor about her blue-eyed driver, so the ladies question why Karen would continue to bring him around.
Finally Charrisse jumps in and drops the bombshell we've been waiting for. Last night, Karen confessed that Ray asked her for a divorce. Boom! The ladies' eyes pop out of their heads. Is it true? Karen says yes.
Grr! They end it here. Tune in next time when we get to the bottom of this!
"Like" us on Facebook "Follow" us on Twitter and on Instagram