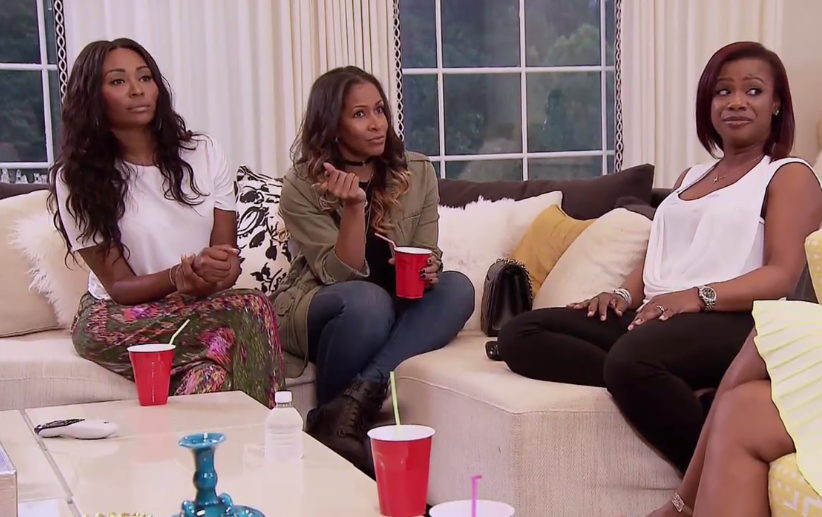 Welcome back to The Real Housewives of Atlanta! Things get messy this episode, starting with Kandi having a come-to-Jesus meeting at her house to set the record straight on her sex dungeon. Unfortunately it doesn't exist, even though Sheree, Kenya, Cynthia, and Shamea all want to see it. Kandi tells everyone once again about Porsha wanting to munch on her carpet 'til she's coming 'round the mountain.
Across town, Porsha is at her sister Lauren's house — spewing alternative facts her account of what went down that night, and as she yaks away, the question is, where is Phaedra? Why is Phaedra getting a hall pass? Porsha admits to having "beer goggles on 1000" that night. But get this, Porsha's rationale as to why she's telling the truth and not Kandi — because Porsha was smashed and Kandi was sober. You see, that makes it Kandi's fault. Porsha just graduated from the WTF academy.
Turns out, Shamea was there that night and knows the truth, or another version of the truth, but is choosing her words carefully. Shamea says she's never been asked by Kandi or Todd to come back to their house after a night of clubbing.
Back with Porsha, she tells Lauren that if you spill her tea, she's gonna throw yours in your face, and this leads to Marvin. Who's Marvin? That's Todd's alias when he's in New York, picking up women, according to Porsha. I'm going to go out on a limb and say if Todd were to choose an alias, he wouldn't choose the name Marvin. That name hasn't worked since Marvin Gaye used it.
But there's a new lie in the mix. Porsha is now saying Todd and Kandi tried to drug her and Shamea and bring them back to their sex dungeon. Even Sheree, who loves good shade, doesn't like these Bill Cosby allegations. Everyone agrees that Porsha's anger management has shifted into spin management.
Next up is Phaedra at church — hopefully praying for her salvation. She is thankful for the church's support during her tumultuous divorce. So now Phaedra wants to pat herself on the back and share all the joy she has inside. Get ready for an old-time revival coming up, so Jesus can fix the girls — cuz ain't nothing wrong with Phaedra.
The OLG restaurant is still not completed, but they are getting closer, so why not take a Hawaiian vacation? That's what Todd thinks. But he wants the boys from the hood to go too. So Peter and Bob will be invited. Kandi doesn't mind inviting Phaedra, but neither she nor Todd want Porsha to come along. Spoiler alert: she's coming.
Onto Kenya who is very happy dining out with her little brother Ronnie, her two nieces and nephew on a surprise visit from H-town. Ronnie asks about Matt, and Kenya says she hasn't seen Matt since the Charlotte debacle. Ronnie says Matt should treat Kenya like gold, and if he doesn't, melt him down and move on. Kenya wistfully reflects on better times when Matt wasn't crazy.
Cynthia and Kandi are meeting up for lunch with Phaedra to invite her to Hawaii. Cynthia hears that Peter is going, but thinks it might be a good idea to have some fun with him one last time. Mmm-hmm. Phaedra is not sure about the trip. She and Apollo went to Hawaii for their honeymoon and then disaster struck her marriage. The only way Frick will go is if she can bring Frack. Kandi says she's not inviting Porsha, but if Phaedra wants to bring her as her plus-one, she's cool with that. Cynthia brings up the sex dungeon, but Phaedra says she has nothing to do with that nonsense.
At the gym, as typical, Bob is sweating his ass off when Sheree stops by. Their relationship is moving along so Sheree is inviting him to Maui, but tells Bob they will not be sharing a room. Sheree tells Bob this trip will be a test to see if Bob is able to move to the next level. I don't think Bob cares. He wants to go on a free trip to Hawaii.
At the spa, Porsha and Phaedra are ready for some more embarrassing treatments. Remember the colonics? Good times. This time Phaedra will be wrapped in a trash bag and stuck in a sauna-sleeping bag while Porsha gets her tummy tightened by a red light – the kind cats like to chase. Afterwards, wearing a grass skirt and lei, Phaedra invites Porsha as her plus-one to Hawaii. Porsha pretends not to want to go, but get real, she wants a free trip to Hawaii, too.
Frick and Frack got stuck in traffic, missed the flight and will arrive later, so "Team Good Vibes" are on their way to Maui without them, singing hallelujah all the way. When they arrive, it's time to get ready for dinner. Todd tells Kandi he's tired and doesn't want to go because that's when everyone pops off. Note to Todd: sell these stickers at the OLG gift shop.
Frick and Frack arrive, and Frack has brought her boy-toy Todd, because it's his birthday and because she needs backup. They join the others for dinner. Porsha receives a lukewarm reception and Phaedra is late. Bone tired-Kandi leaves to go to the bathroom, then returns. There is zero chemistry at this dinner! The time in Hawaii is 9:30 pm, but Atlanta-time is 3:30 am, so Sheree decides it's the perfect time to clear the air about Porsha being a liar.
Get this y'all, Porsha is changing her story again. Now, it's Porsha heard that Kandi told someone that she was going to drug her and bring her to a sex dungeon. Kandi calls Porsha a "lying bitch." Porsha says she was drunk but Kandi was sober — so who better to remember the evening accurately? But guess who brought the receipts? Kandi! She hands out copies of the screen shots from Porsha after this bad night on the town. In it, Porsha, who lost her phone for three days, mentions she would never rape Kandi.
Kandi says this proves Porsha is the B in LGBT, Kandi calls Porsha a fraud and tells Porsha's Todd she feels sorry for him. Well you know Porsha does not like that. She tells Kandi she's with a fraud, meaning her Todd. Kandi speaks directly to Phaedra, who's just sitting there saying nothing, to check who she's running with because she's running with a liar. Even Sheree, who loves her some shade, tells Porsha to zip it about the alleged drugging.
Kandi threatens to sue Porsha and says it's taking every ounce of energy not to 'choke' the shit out of her. I don't think any of the women at the table would have lifted a finger to stop it, but Peter jumps up because he knows it's about to go down and this could be the last time he gets to insert himself in the girls' business. I don't know about you, but that anger management sure hasn't worked wonders on Porsha. What do you think?
Tune in next week when things get real freaky in paradise.
"Like" us on Facebook  "Follow" on Instagram