Dance Moms Recap: "The New Maddie?" [Episode 10]
​It's a new day at the ALDC, as Dance Moms begins this week. ​The girls and moms convene in the dressing room, where they welcome Brynn and her mom Ashley back.  They were out last week, but due to the persuasive powers of Abby, they are back, and ready to take on whatever the ALDC dishes out.  Pyramid time begins, everyone is wearing green, and we see Nia plunked on the bottom, and Kalani in the top spot for winning last week. The team is headed to New Jersey, and they learn that Cathy and her team from Candy Apples will be there, a sure way to heighten the tacky fun.  Holly remarks that Cathy hasn't been around much, so the expectations are high that Cathy will have a dastardly plan up her sleeve to get under Abby's skin.  Solos are doled out to Maddie and Brynn. 
The announcement is made that Sia's video, featuring Maddie jumping around in a wig, has landed four Grammy nominations.  Abby squeals with delight at the idea of attending, and Maddie agrees, but assures us that Abby will have to find her own date.  We are reminded that Mackenzie and Nia are reigning title holders, and are responsible for handing out the awards in their pageant garb, an idea that brings an enthusiastic "eh" from Nia. Abby calls her out on her joyless, blank expression, Holly cries "Enough!" and we're off.  Melissa wishes that Abby and Holly would talk, to which I respond, PLEASE NO! 
We skip over to Ohio, where Cathy and guest choreographer, Erin Bass are gleefully reminiscing about Abby's epic failure in LA, and how they want to pull a repeat upset with Erin, who is working with the group this week. The moms chat about Holly defecting from the ALDC in LA,  Holly expresses that she doesn't regret it, and mercifully has no desire to beat a dead horse with Abby.  The solo rehearsals begin, and we get a closer look at Brynn, a  beautiful dancer, who just needs a little kicking around by Abby to bring out her brilliance. She appears technically better than Maddie, who seems to be aware of it, and acts a little uncomfortable. Jill claims that she's not threatened, just territorial over anyone swooping in to steal her baby's solos, and the other moms just believe that the newbie fawning is just the same old, same old. Abby calls Ashley down, and assures her that Brynn is gifted, and her new favorite, for at least this episode. 
Over at Candy Apples, Erin has begun rehearsal on a group number that involves a gigantic, beige parachute-like skirt. Cathy reminds us that she is good and Abby is evil, which is a perfect tie-in with the number.  We hear of some discontent from Cathy's go-to leg lifter, Lucas, who is peeved that others are being favored over him. Cathy responds by asserting that he should be overjoyed to be lifting his leg for Candy Apples.
The next day the girls are talking in the dressing room, and Maddie pegs the nasty vibe between Holly and Abby as feeling like the nightmare that was the dynamic with Christy and Chloe. Maddie surmises that kissing Abby's large butt is the only way to dance misery free, and that Holly should try it sometime. We watch Maddie rehearse, as Abby informs us that due to Maddie's star power commitments, her training is slipping, and she had better watch out for that young whippersnapper, Brynn. Jill nosily bugs Ashley for info on her powwow with Abby, and after hearing of Abby's gushing praise over Brynn, Holly twitches, and comments that 'others' on the team never hear such support. Jill reminds her that the raving is just to illustrate just how amazing Maddie truly is, and that a win over Maddie just ain't happening.  Ashley looks clueless, and at a loss for words.
The two companies arrive at the competition to screaming hoards of fans, and Cathy decides to up her level of obnoxiousness and stand in the crowd with a bullhorn, where she proceeds to bray out silliness to anyone in her path. Erin plays along, clearly excited to have her time in the spotlight extended. Brigette pops in to wish luck to the ALDC, and it's obvious that a possible Lucas defection is on the horizon. Superstar Maddie performs, and despite her trying schedule, she dances lovely. Brynn performs, and she is impressive indeed, but Maddie was obviously given the choreography with more bells and whistles. As the group dances ready themselves backstage, Abby pep talks the girls through a clenched smile, to embrace the theme, while Cathy pushes her group to focus and win. Abby's girls perform, and other than the annoying close-up filming, it's nice.  The Apples hit the stage, and the number is super dramatic, but the gigantic swath of fabric blanketing the whole thing is distracting. It's time for awards, and predictably Brynn wins second and Maddie wins first for their solos. YAWN.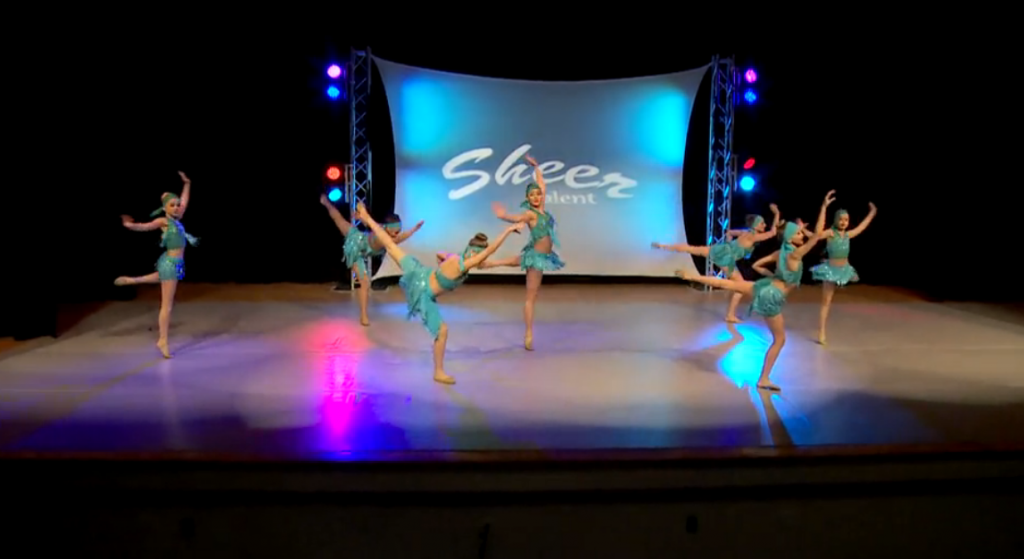 Another no brainer announcement…Abby beats the Apples, and wins the top spot for the groups.  The Apple moms offer their congrats, but Cathy is crabby, because she believes that they were robbed once again. Cathy points out that all of Abby's new dancers are in the front, but Jill simply brays WINNERS! Inviting a classy 'kiss my butt' from Cathy. Brigette snarks back at Cathy, which gets she and Lucas booted out of the dressing room. Lucas mouths off like a nighttime soap diva in training, agreeing with his mom that Candy Apples is a big doody face anyway, and completely undeserving of his raised leg brilliance.  Jill and Melissa scamper into the CA room, swipe the megaphone, and immaturely yell like obnoxious children to close out this episode.  How very appropriate.  See you next week for more pee-wee dance drama…can't wait!
"Like" us on Facebook  "Follow" us on Twitter and on Instagram 
Becca is a Senior Editor for All About The Tea. She's a coastal girl who loves the outdoors, and writing about the sneaky and silly side of reality TV. Her bio is short, but her snark is endless. She loves writing for the sharpest posters in the world.